SimOptions eSIM Tested in Malaysia [Recommended for Pan-Asia and beyond]
I tried SimOptions 'Smart Traveller eSIM' for my recent trip to Malaysia. Here is my review.
One of the best prepaid eSIM suppliers out there - SimOptions recently launched a new eSIM called Smart Traveller eSIM. It covers 27 countries including major Asian countries plus the United States and Australia. And it's quite affordable which is got my attention.
So I decided to try this eSIM for my recent trip to Kuala Lumpur, Malaysia 🇲🇾.
TLTR; it worked great and I can recommend it for anyone traveling not only to Malaysia but also to Asian countries in general ✈️
eSIM makes it really easy to switch cellular plan between your SIM/eSIM back home and one for your travel, all without a fear of losing a SIM. I would personally choose eSIM over physical SIM even if the price is a bit higher. Losing a SIM is a nightmare that I want to avoid. Also, instant delivery is such a pleasant experience.
This time I used iPhone 13 Pro but SimOptions eSIM works with Android phones too. Just make sure your phone is unlocked and supports eSIM.
How to buy Smart Traveller eSIM
Simply, visit SimOptions website 👇 and search for Malaysia.
At the time of this writing, it gives you two eSIM offerings that work in Malaysia.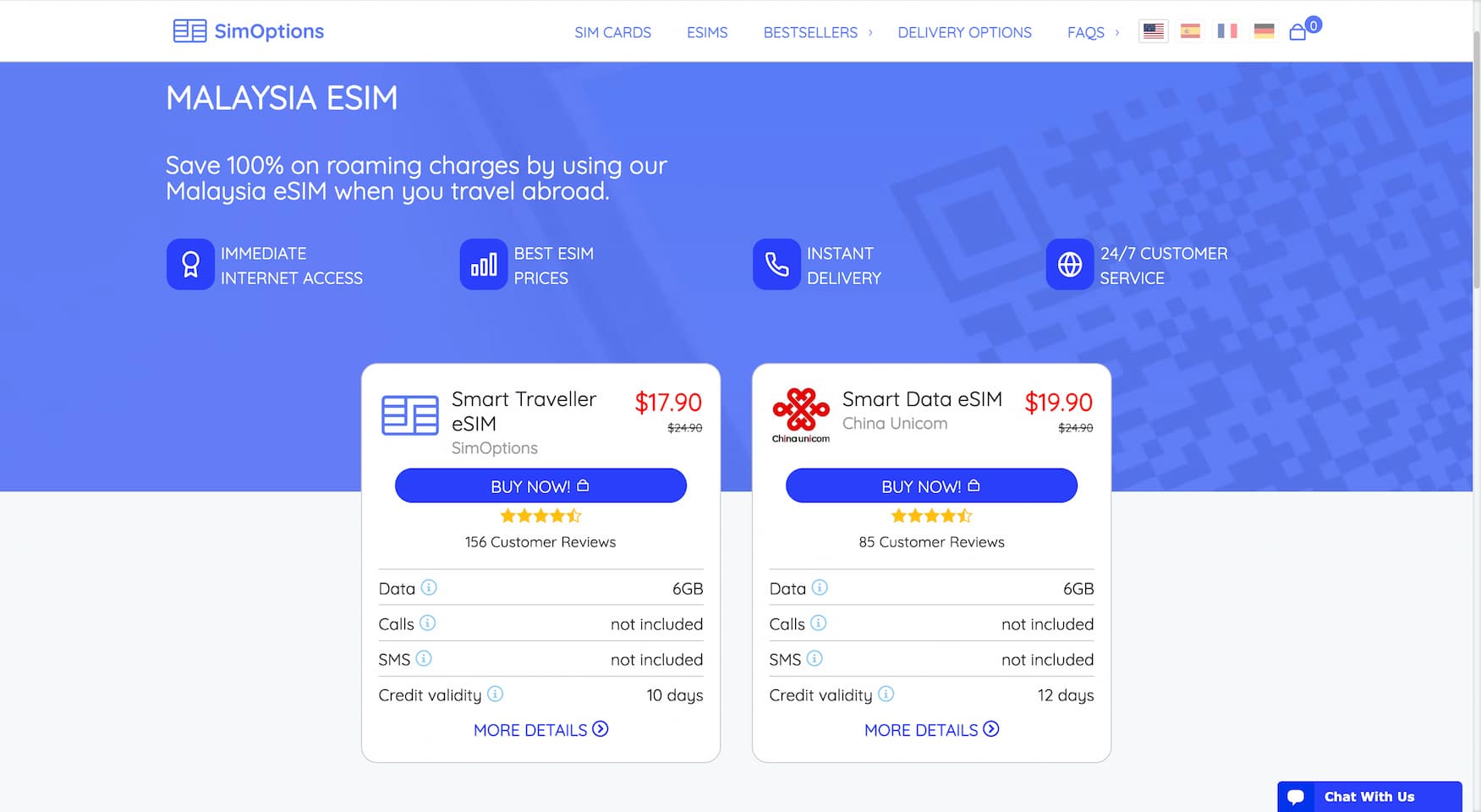 They are quite similar but with slight difference in country coverage. Unless you want to use it in Thailand, Smart Traveller eSIM is probably a better choice as it covers more countries with a lower price for the same data amount.
Smart Traveller eSIM details
comes with 6GB of data
valid for 10 days from the installation
immediately activated once installed
covers 27 countries
calls and SMS not supported
top-up not available
It's priced at $17.90, discounted from the original price of $24.90, which makes it a solid choice considering the 6GB of data that can be used across Asia, the United States, etc.
Checkout process
💡
Laptop or desktop recommended.
Checkout process on SimOptions website consists of three parts; Information, Billing, and Payment. Each step is simple and short so it won't take long to complete.
Once you hit BUY NOW button, you will land on this checkout page 👇

Here, you enter your name, email address, and phone number.
Then move on to Billing.

Here you enter your home address. But it does not mean something will be sent to this address, it's just for VAT purpose I believe.
The last part is payment. You can choose either credit card or PayPal as payment method.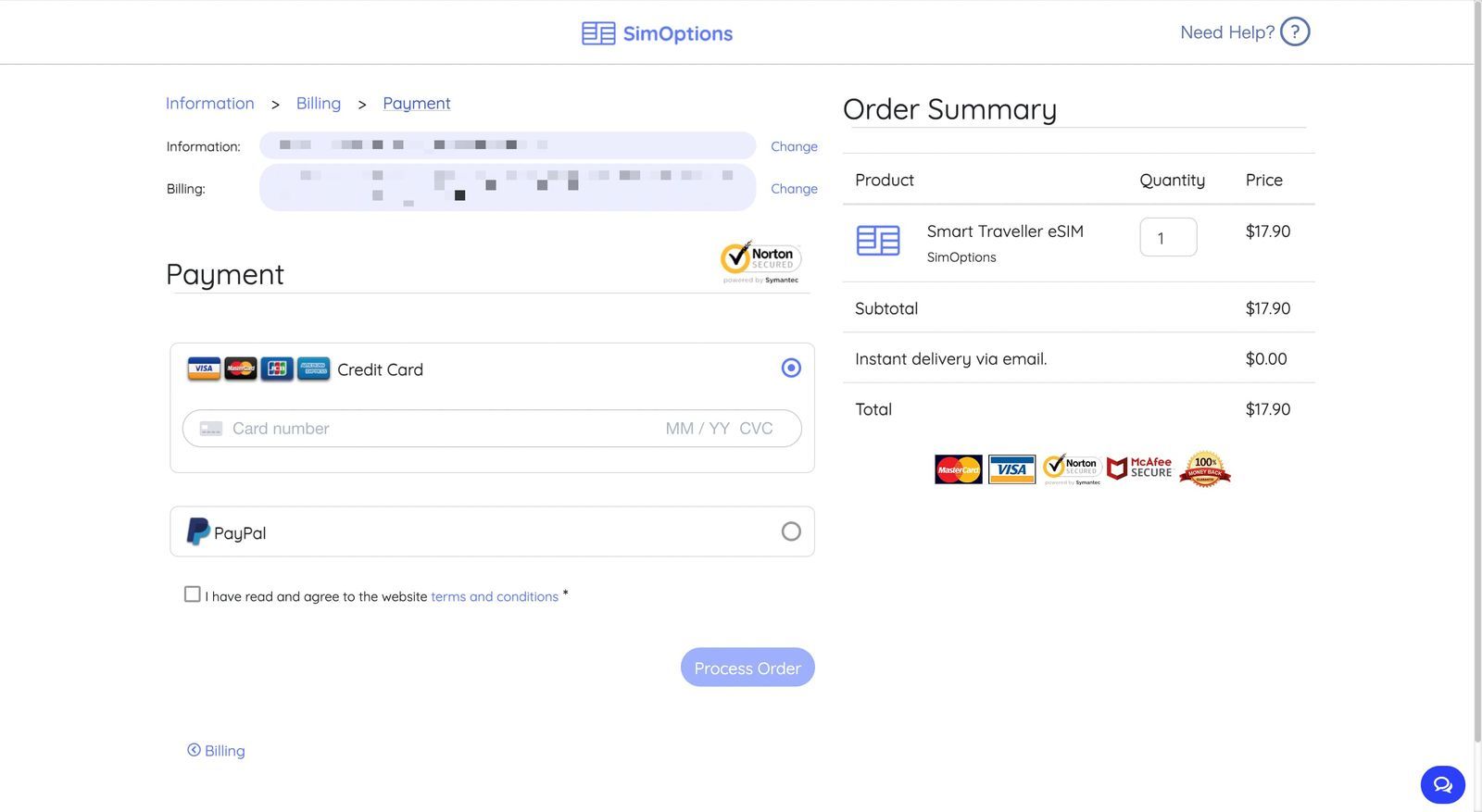 That's it. Once the payment processing is complete, you will receive a QR code to install the eSIM along with an instruction in PDF.
SimOptions does not ask you to create an account or anything so it's quite simple and straightforward checkout process.
eSIM installation
The email you receive after the purchase should look something like this 👇.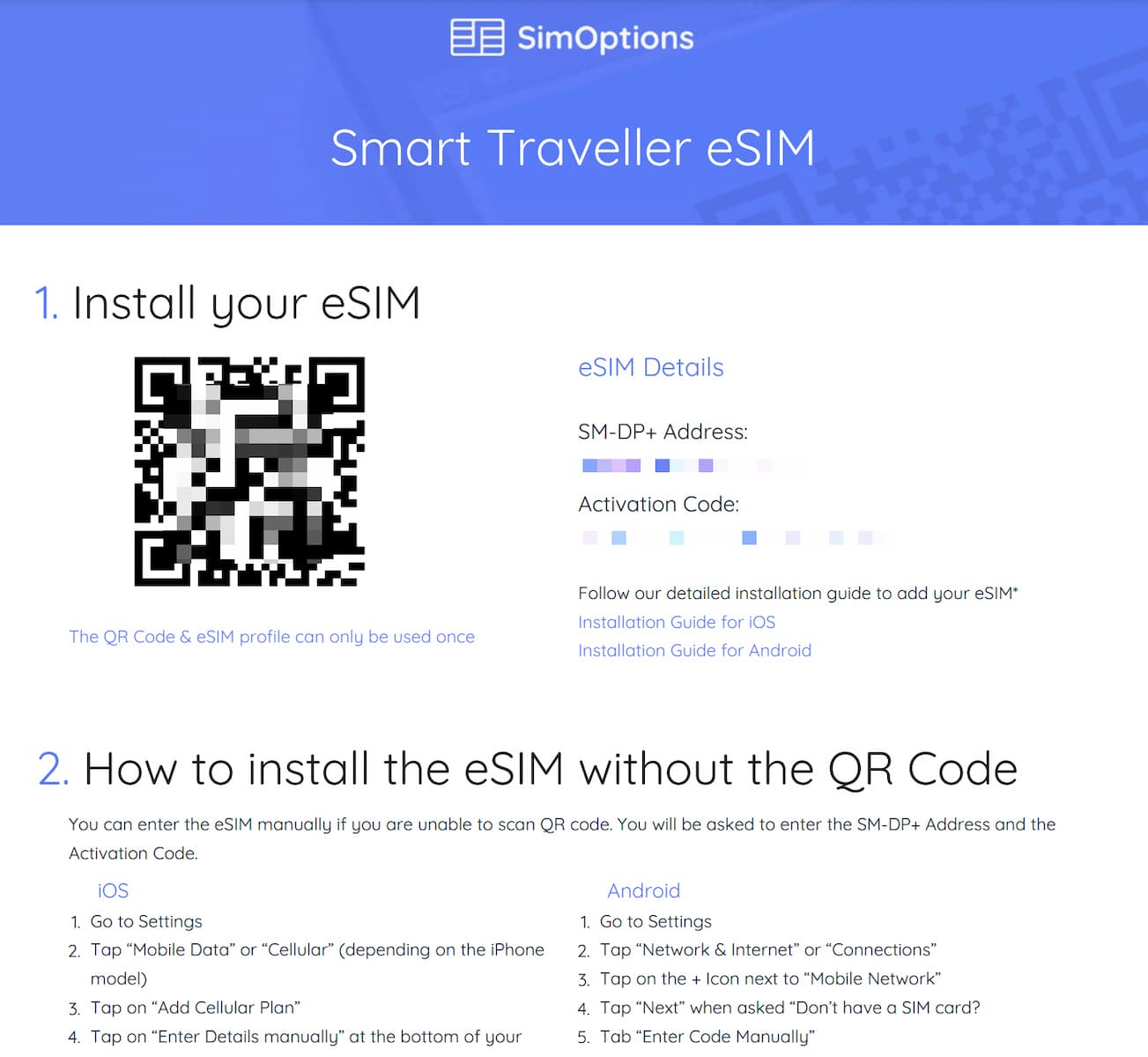 It contains the QR code, SM-DP+ Address & Activation Code for manual install, and the instruction.
Unless you don't have a way/device to display the QR code you received, simply scan the QR code on the device you want to install the eSIM into.
For iPhones, go to Settings -> Cellular -> Add Cellular Plan to launch camera.
The webpage below explains how to install eSIM on iOS devices step by step.
For Android users, check this page instead.
During the installation process, you will see 'dtac' as a carrier name. It means that this eSIM is provided by DTAC, a telecom company in Thailand, and uses their roaming network.
Internet connection in Kuala Lumpur
Once you arrive at the airport, turn on Data Roaming for this eSIM (Cellular Plan) and set it for Cellular Data to get connected.
The first connection always takes a bit of time. Probably a couple of minutes.
Smart Traveller eSIM from SimOptions (provided by dtac) connects to Digi network in Malaysia.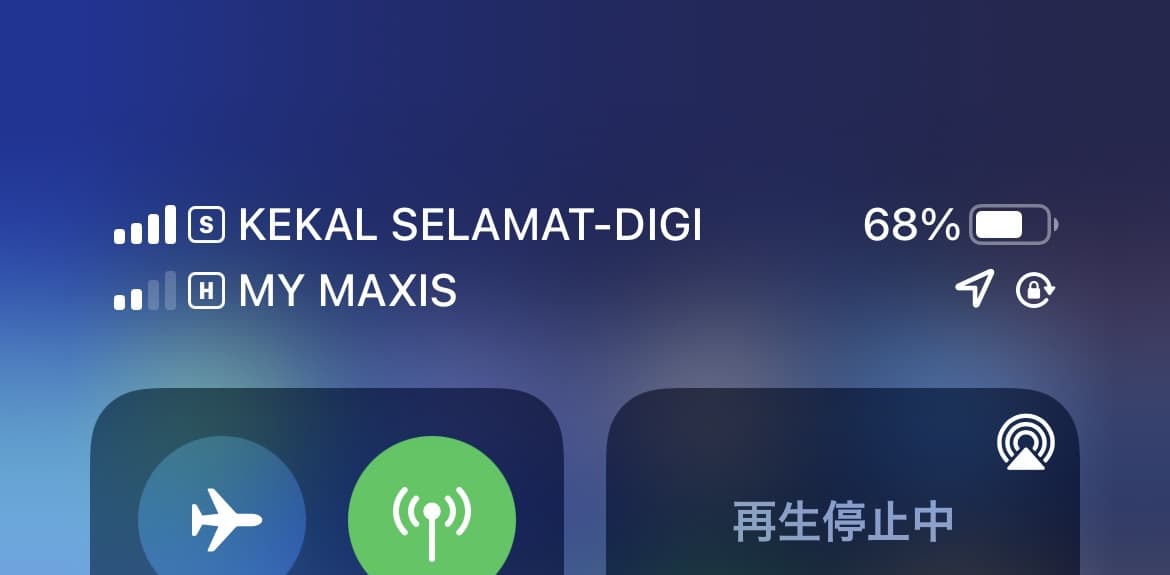 Digi is one of the big three telecom companies in Malaysia, with pretty good coverage and speed accordingly the information found online.
At least for my 5-day stay in Kuala Lumpur, the coverage was good. I got good reception (4G) pretty much all the time.
The speed was okay, partially due to the fact that my expectation for roaming eSIM was not that high in the first place.
I did Speedtest a couple of times in central KL and at the airport, and below are the results.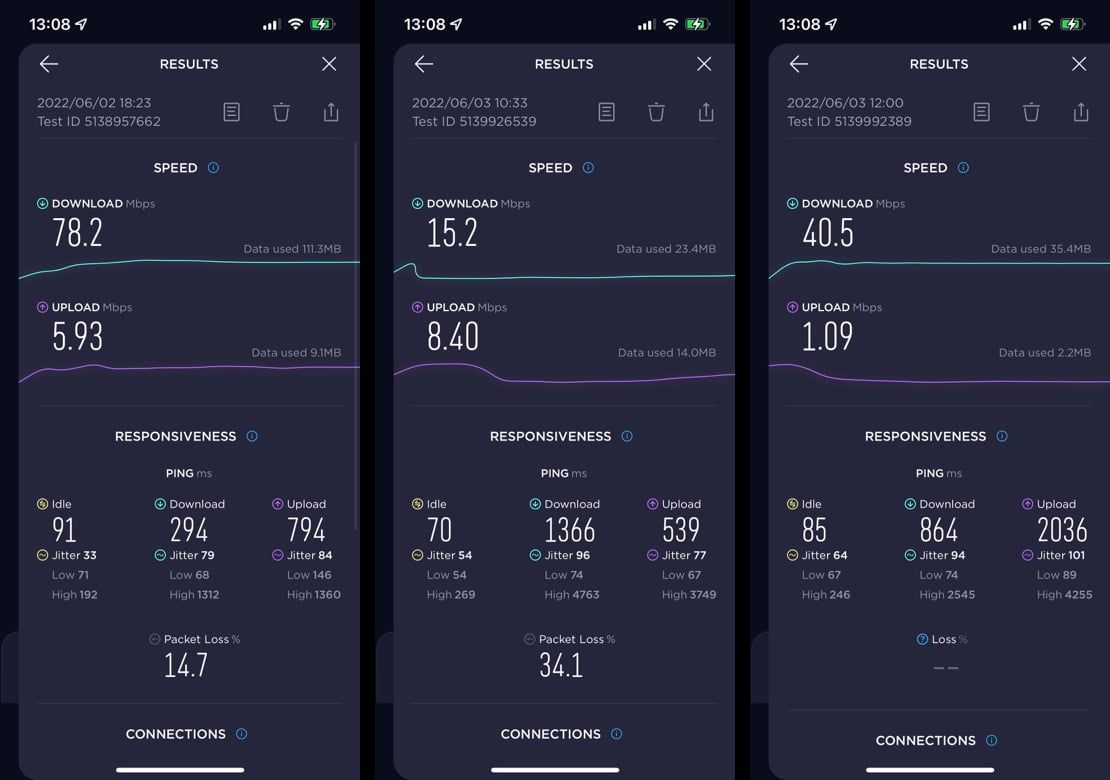 The Ping was less than 100ms which is not too bad for roaming I suppose. Download was quite good most of the time whereas Upload was relatively slow but I didn't mind it since most of my internet activities are predominantly download.
While using it I didn't feel any data clogging or instability, so overall the experience was fairly good. For me the most important thing when it comes to cellular data is that the data packet flows and I'm connected 24/7 without any significant latency issues. And this eSIM passed that bar. It worked just fine, and I was able to use internet all the time.
Plus, Personal Hotspot worked without any additional configuration which was a huge plus for me.
💡
To check data balance, dial *101*1*9# from the native Phone app.
---
This Smart Traveller eSIM from SimOptions could be a great solution for cellular data when traveling to Asia and Pacific countries.
Besides Malaysia, it covers Australia, China, Hong Kong, India, Indonesia, Japan, South Korea, Philippines, Singapore, Taiwan, Vietnam, etc.
And as I mentioned, it also works in the United States. It means people from U.S. can check and make sure of its connectivity beforehand. In fact, anyone who travels from one of the supported countries can test this eSIM in their home country before going on a trip. It's a huge relief I believe.
Lastly, SimOptions is not the only eSIM that works in Malaysia. There are many more options and you can check them on esimdb.com 👇