eSIM Troubleshooting: Common QR Code Issues and How to Fix Them
A detailed guide on eSIM troubleshooting specifically for QR code related issues.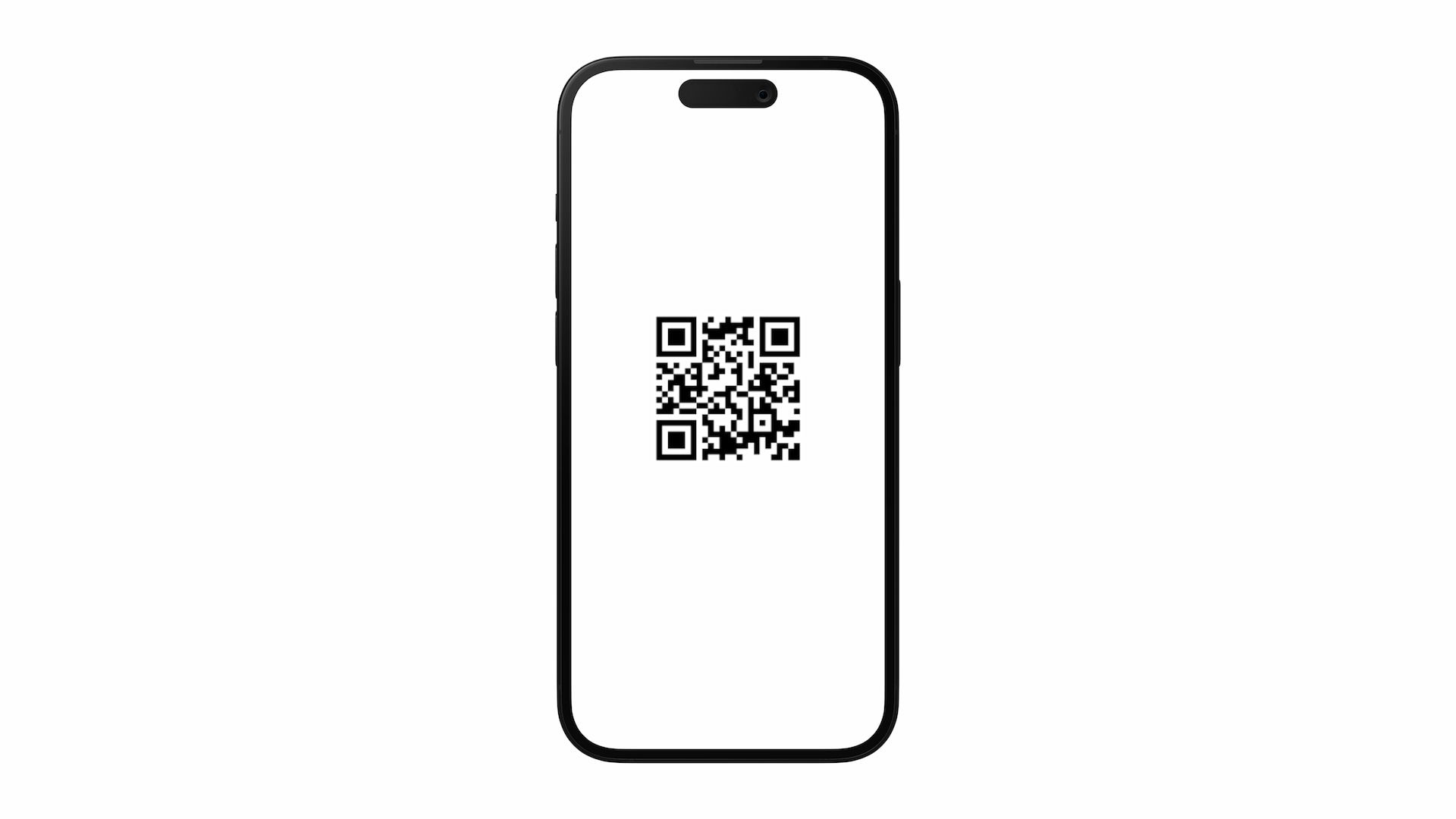 Let's dive into the frequent issues encountered with QR codes during eSIM activation.
It's worth noting that the same or similar issues could arise during manual eSIM installation using SM-DP+ Address and Activation Code.
💡
The error messages discussed in this article are specific to iPhone and iPad. Similar issues could occur with Android devices but the actual messages might be different. Here, we will be focusing solely on iPhone and iPad.
1️⃣ "eSIM Cannot Be Added - This code is no longer valid" Error
The error message "This code is no longer valid" usually means that the QR code you are trying to use to install an eSIM has already been used or has expired, provided that you've properly scanned it.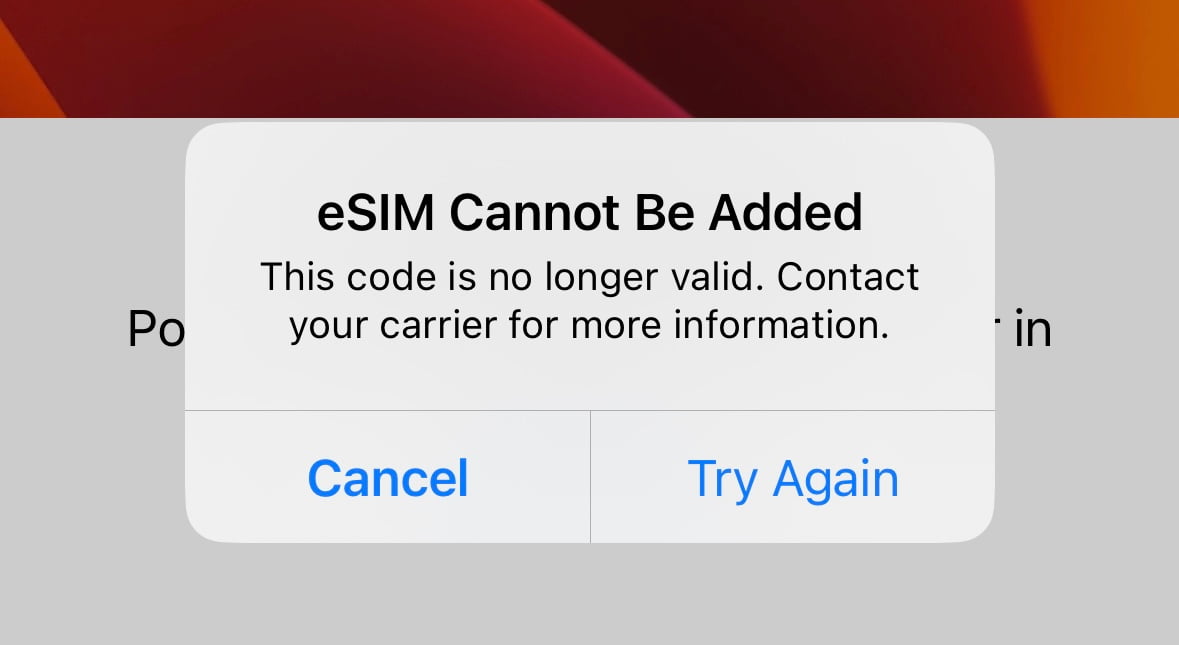 💡
iOS 15 and below might display a slightly different message like "Cellular Plan Cannot Be Added".
It's important to understand that in most cases, each QR code can only be used once. Even if you cancel the eSIM activation / installation in the middle of the process, it's likely that the QR code will no longer be usable. This is for security purposes, preventing any unauthorized use or replication of the same eSIM profile.
And that's also why you should avoid deleting an installed eSIM unless you're certain that you no longer require it.
How to fix
Well, there is no immediate fix when the QR code becomes no longer valid. In this situation, you should reach out to the service provider who issued the QR code and request a new one.
But please keep in mind that whether they can issue a new code or not often depends on their specific policies and the terms of service.
2️⃣ "Cellular Plans from This Carrier Cannot Be Added" Error
If the above message is displayed and you are unable to install an eSIM (unable to add Cellular Plan), it typically suggests that your iPhone (or iPad) may be carrier-locked.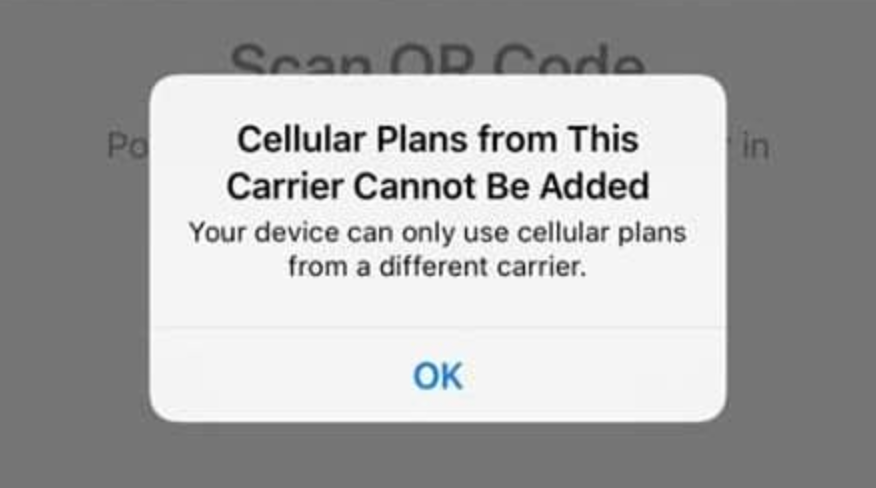 What is carrier-locked?
When an iPhone (or iPad) is carrier-locked, it means that it's tied to a specific mobile network carrier, normally the carrier that sold the device, and it can't be used with any other carrier without being unlocked first.
For instance, if you bought an iPhone that is carrier-locked to AT&T, you would only be able to use it with an eSIM or SIM from AT&T. It wouldn't work with an eSIM or SIM card from T-Mobile, Verizon, or any other carrier.
💡
iPhones and iPads sold directly by Apple are generally not locked. They work with any eSIM / SIM cards.
How to check whether it's carrier-locked?
Here are the simple steps to check if your iPhone is locked or not.
Open the Settings on your iPhone
Tap on "General"
Tap "About"
Scroll down to the "Carrier Lock" row. If you see a message like "No SIM restrictions" that generally means it's unlocked. If you see anything else, it might be locked to a specific carrier.
*The above method only works for devices running iOS 14 or later.
How to unlock
Since only the carrier to which the iPhone (or iPad) is locked can unlock it, you'd need to contact them and request an unlock. After you submit the request, it may take a few days to complete.
However, keep in mind that some carriers require a certain period of time to pass after the device has been purchased before they will unlock it.
There are also third-party services that offer to unlock phones for a fee. However, these can be risky and are generally not recommended unless you have thoroughly researched the service provider, understood the potential risks involved, and feel confident in their credibility and reliability.
---
Travel eSIM: the modern and hassle-free way to stay connected during your trips
If you have an eSIM-supported phone and plan to travel abroad, a prepaid eSIM can cater to your mobile internet needs in an unprecedented way.
Say goodbye to the hassle of swapping physical SIM cards and the worries of losing your original SIM.
Plus, with instant delivery and activation, it eliminates the need to find a local store for SIM purchase.
When you are ready to explore this option, make sure to check esimdb.com - home to the world's largest collection of travel eSIM services and data plans 👇