How to buy and activate Maya Mobile eSIM
A step-by-step guide to Maya Mobile eSIM purchase and eSIM installation.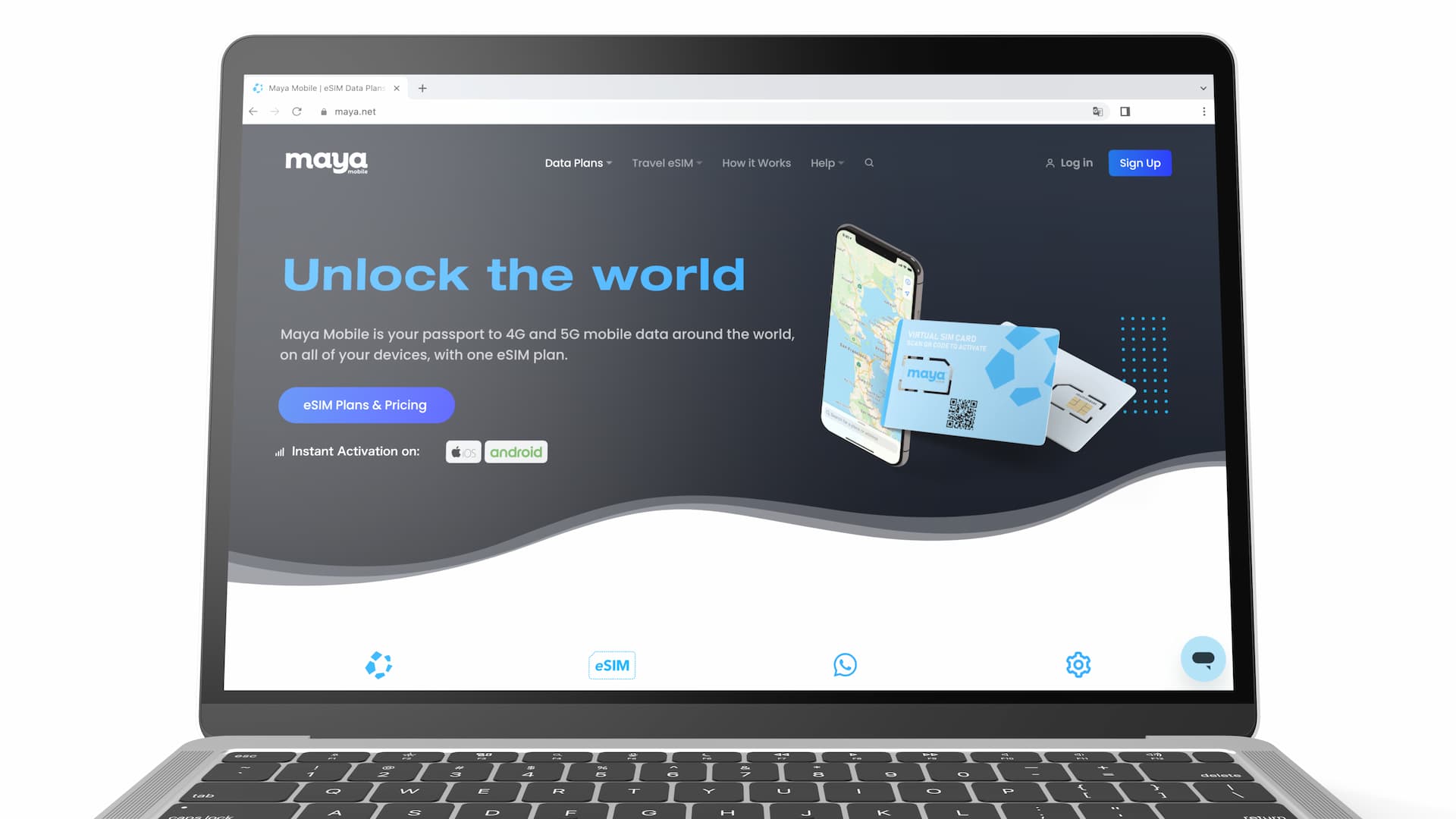 💡
The information in this article is at the time of writing.
This article explains how to buy, install, and activate Maya Mobile eSIM for your trip.
Maya Mobile is a US-based mobile data provider specializing in on-demand data plans with eSIM technology. For more information about their eSIM service, visit their official website below.

How to buy a travel eSIM plan from Maya Mobile
Go to Maya Mobile website and navigate to Travel eSIM from the menu.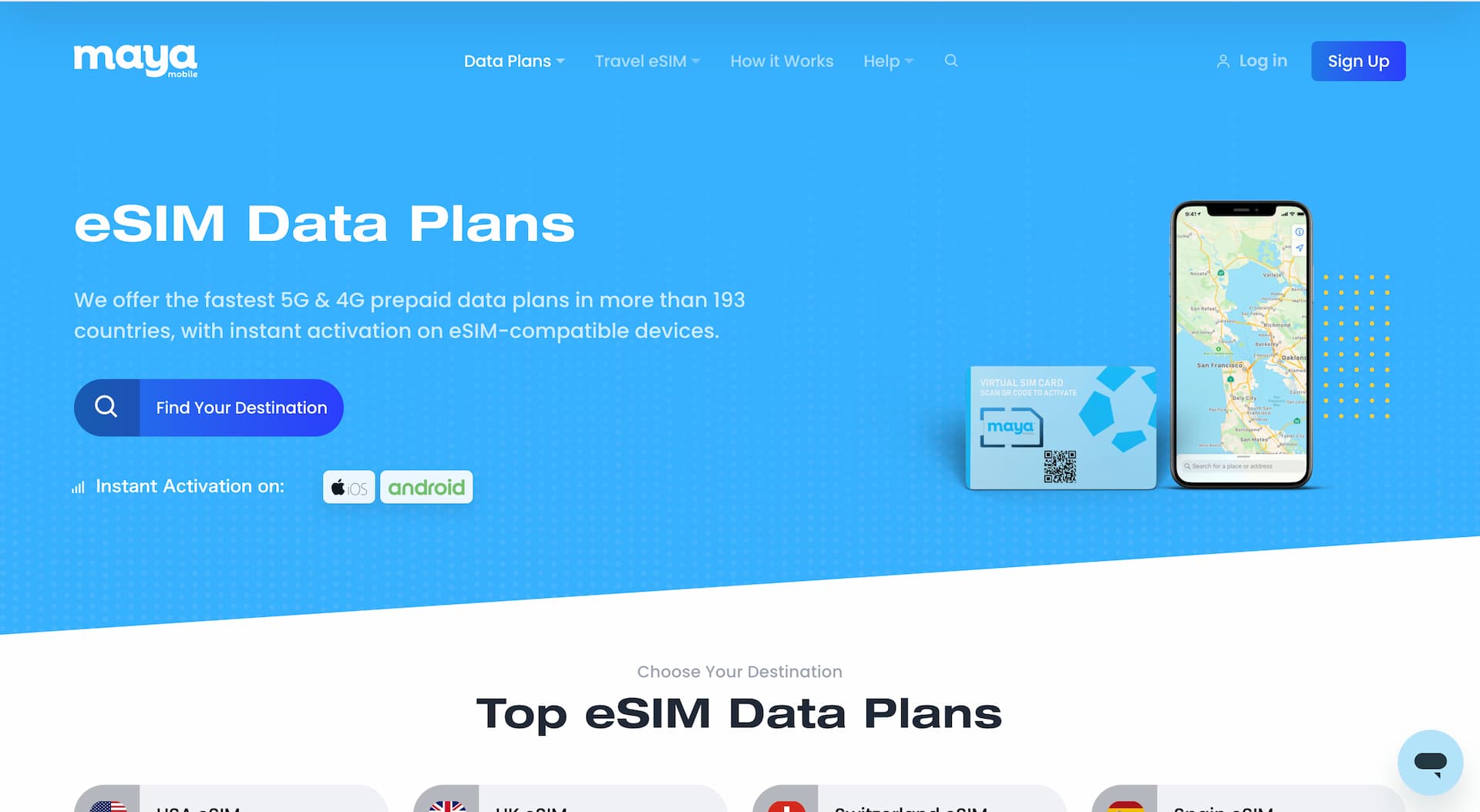 From there you can search for a country or region that you are traveling to. There are multiple ways to do that but the easiest way would be to type in the search bar.
Once you arrive on the page for a specific country or region, let's check what plans are available.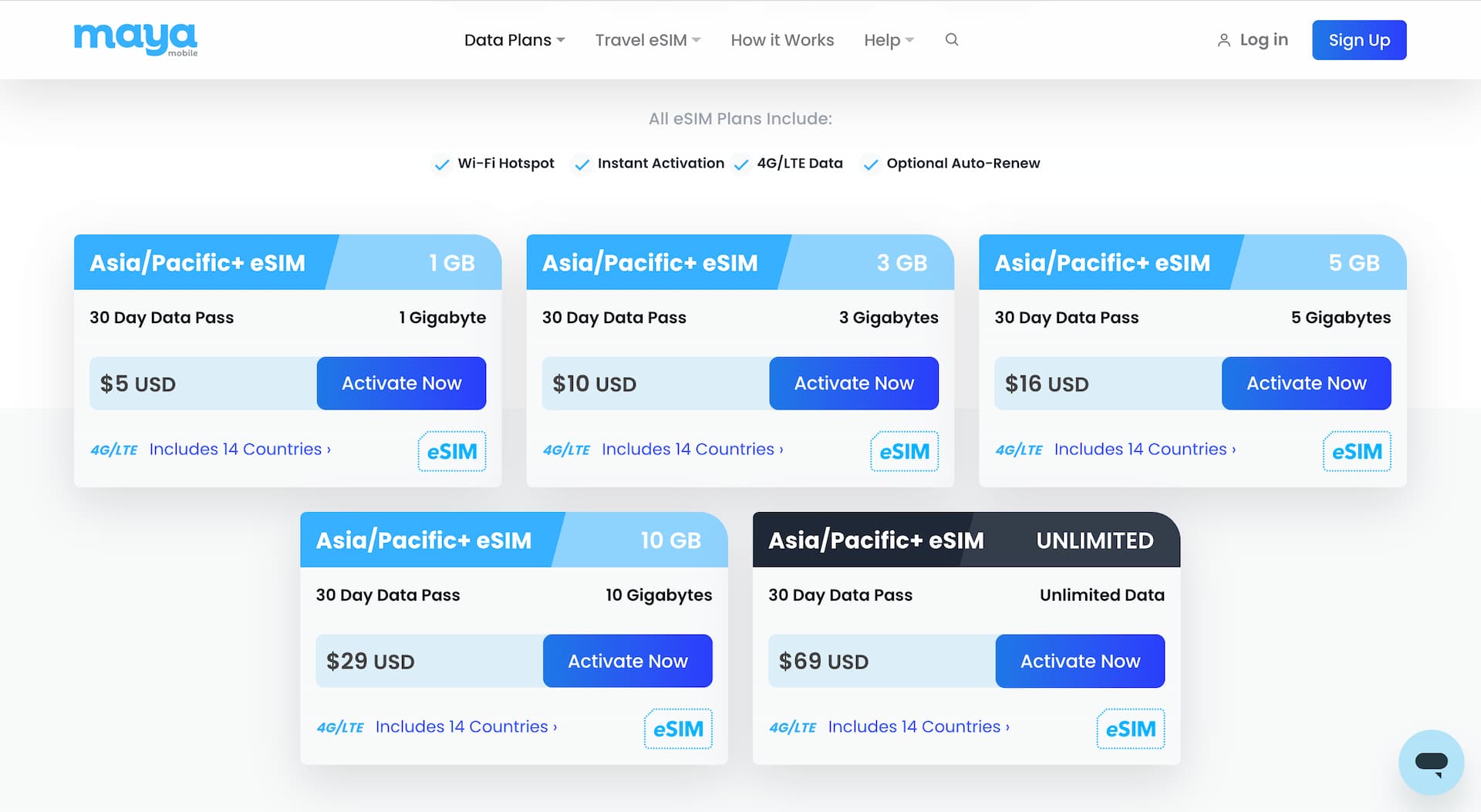 There are usually several plans available for each country and region. Pick one that suits your mobile data needs best, and click Activate Now.
💡
You may see a different currency rather than US$ depending on your browser language settings.
It will lead you to Review and pay. The first screen is to review your eSIM order, and the second screen is payment as well as creating an account which is the very last step.
Review your order details and be sure that the right data plan is selected. You can also set the starting date for the data plan here. *The 30-day plan validity starts on the day you select regardless of when you install the eSIM.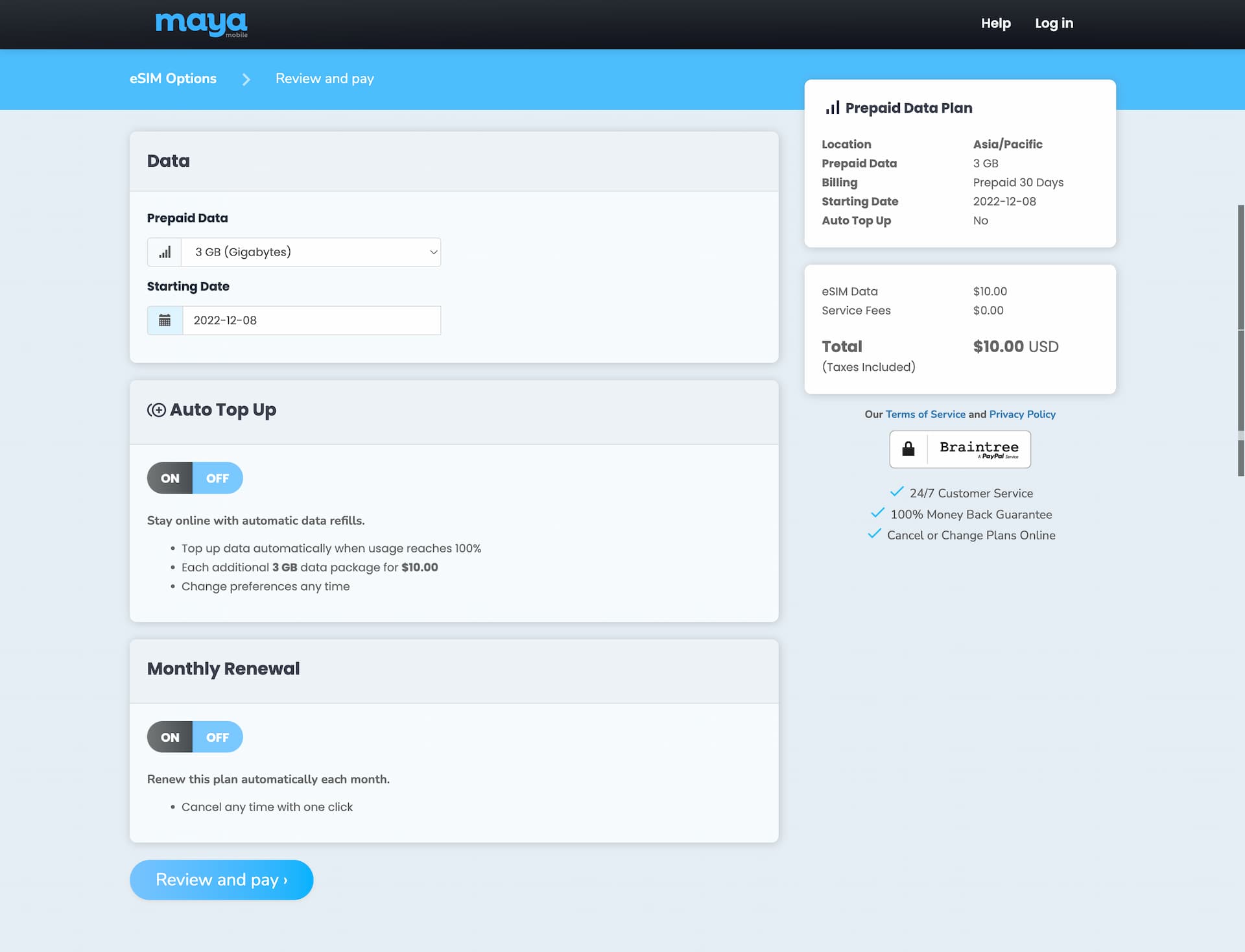 There are settings like Auto Top Up and Monthly Renewal but they won't be needed unless you don't mind being charged automatically in case the data or plan runs out. Be assured that they are turned off by default.
Off to the final step.
Just before the payment section, you are asked to enter the basic information such as name, email, password, and phone number to create your Maya Mobile account.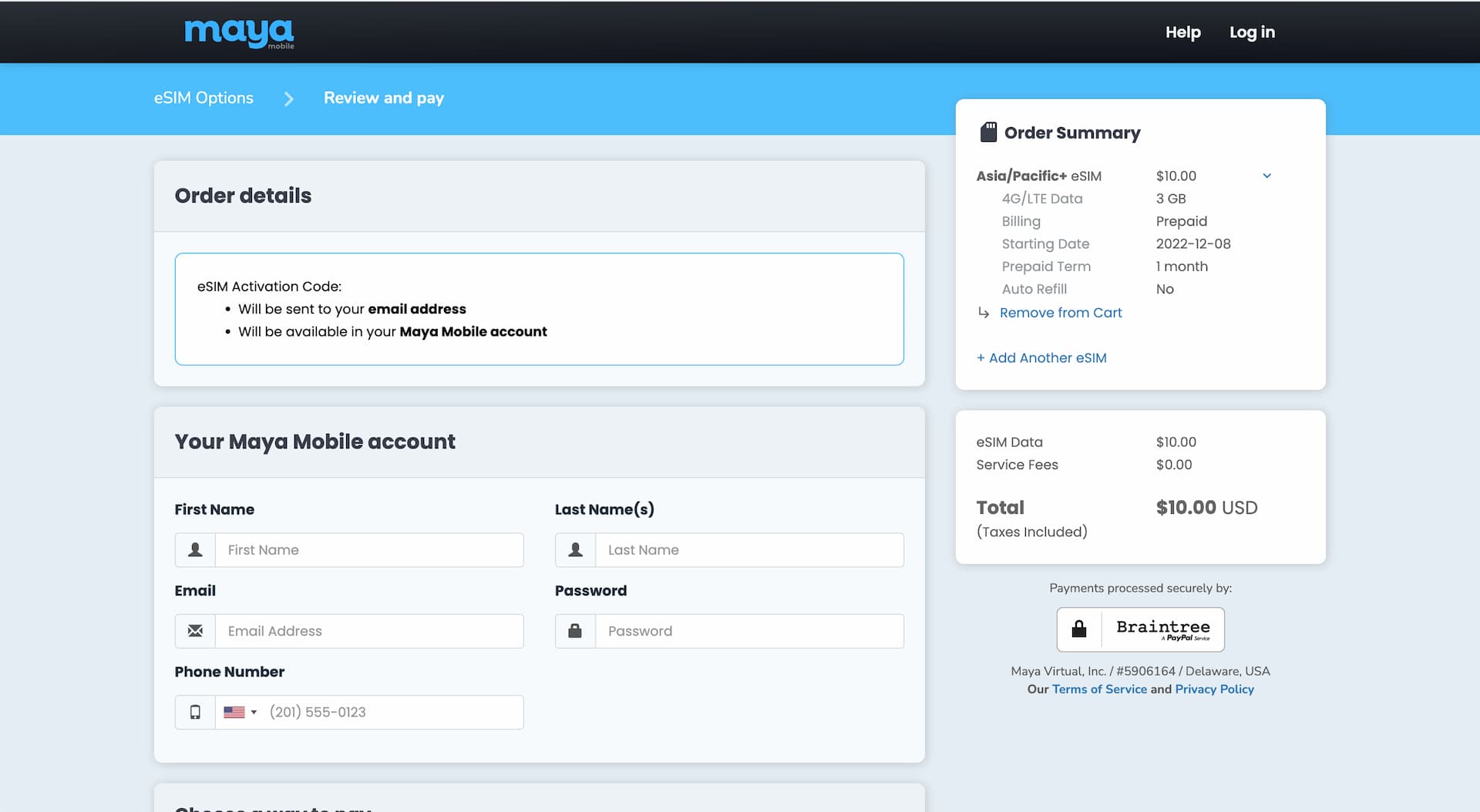 💡
QR code to install eSIM will be sent to the email address you entered. And the eSIM can be managed from your Maya Mobile account.
For payment, you can use either Card or PayPal. Once payment information is selected, hit Submit to complete your eSIM purchase.

When your payment is processed successfully, you will see the screen shown below.
It says the eSIM is pending with estimated wait time (for it to be ready to install) of less than 1 minute.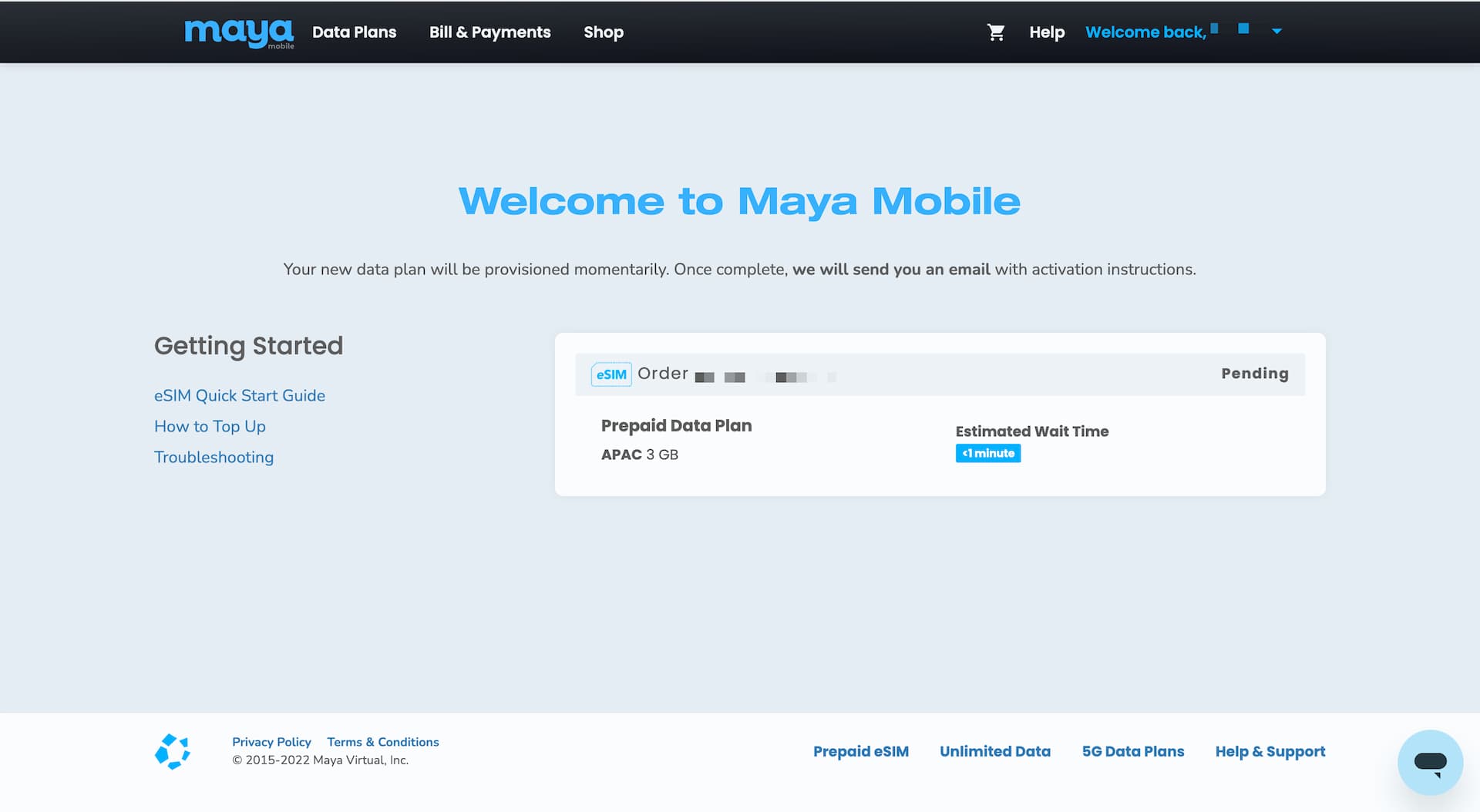 Once the eSIM is provisioned and the data plan is ready, the page will automatically changes.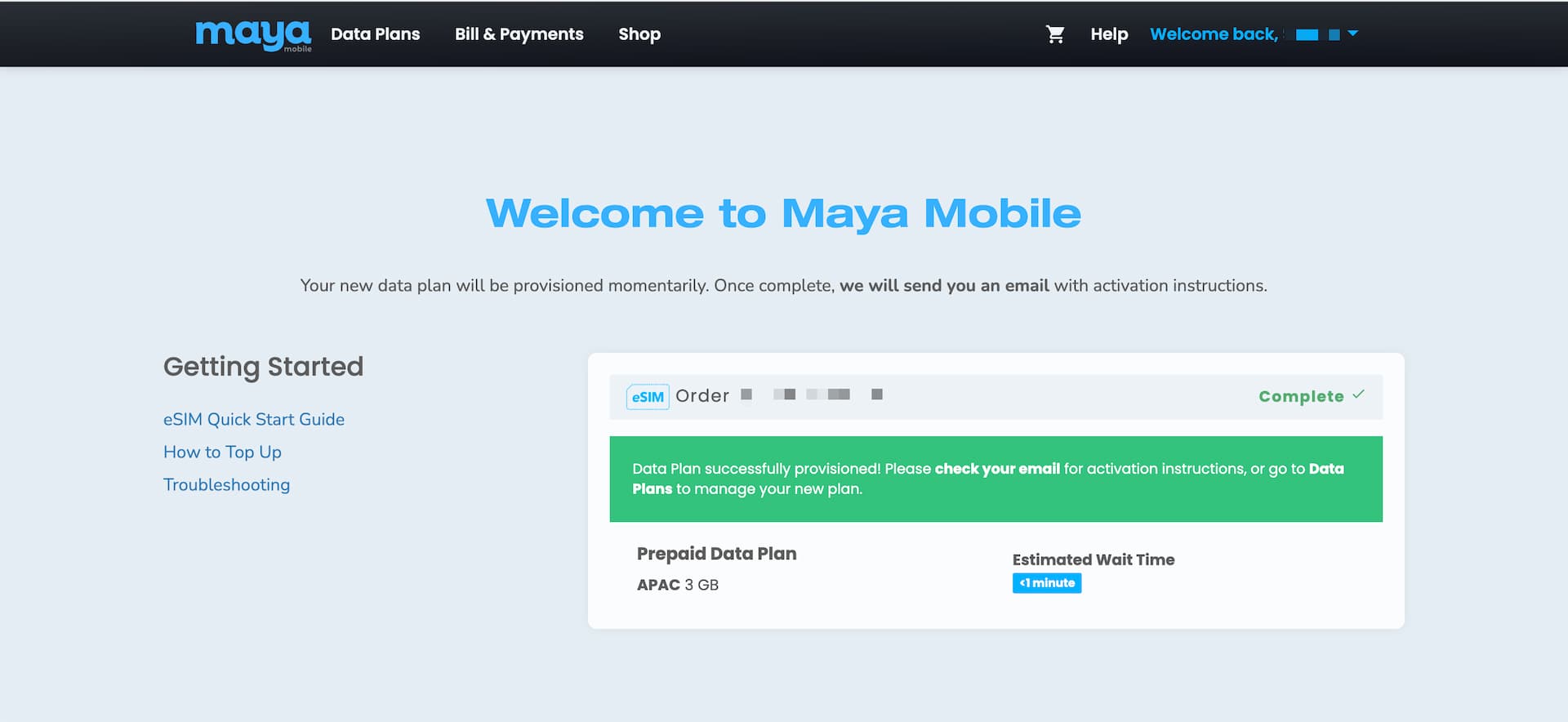 💡
Usually eSIM will be ready within 5 minutes.
By this point, you should receive a couple of emails from Maya Mobile. Next step is to install the eSIM from QR code you receive via email.
How to install (activate) Maya Mobile eSIM
💡
A stable internet connection is required for installation / activation. It's best that you install before you arrive at your destination (when possible).
When the status of the eSIM you purchased becomes ready, you will receive an email titled "Your eSIM is ready" which contains QR code to install the eSIM. (Here install, download, and activate all mean the same thing.)
Alternatively, you can log in to your Maya Mobile account to get the QR code.
Below is the screenshot of My account page. You can find Get Activation Code under the three-dot icon in Data Plans section.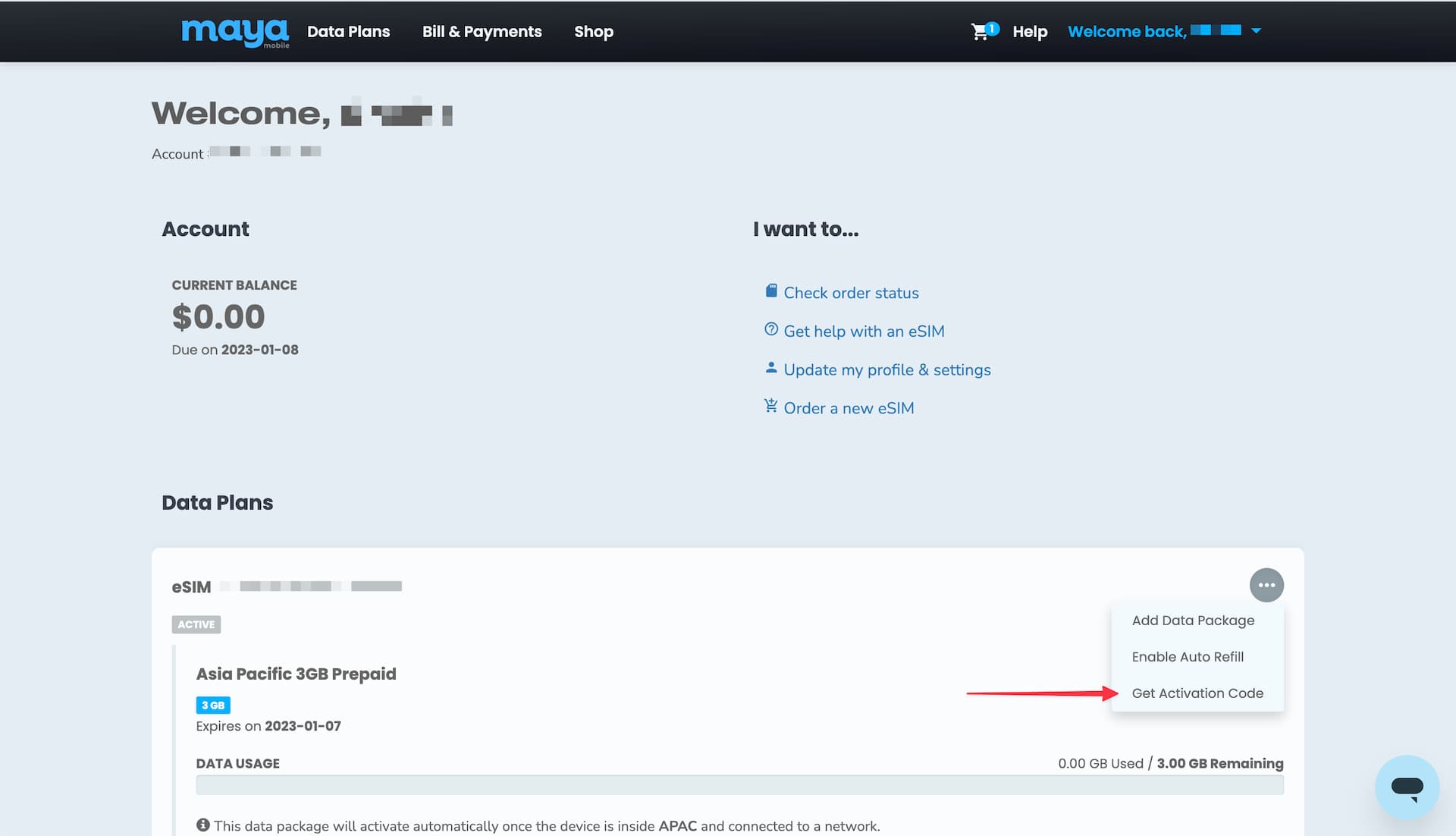 When you open it, it displays QR code as well as manual activation code.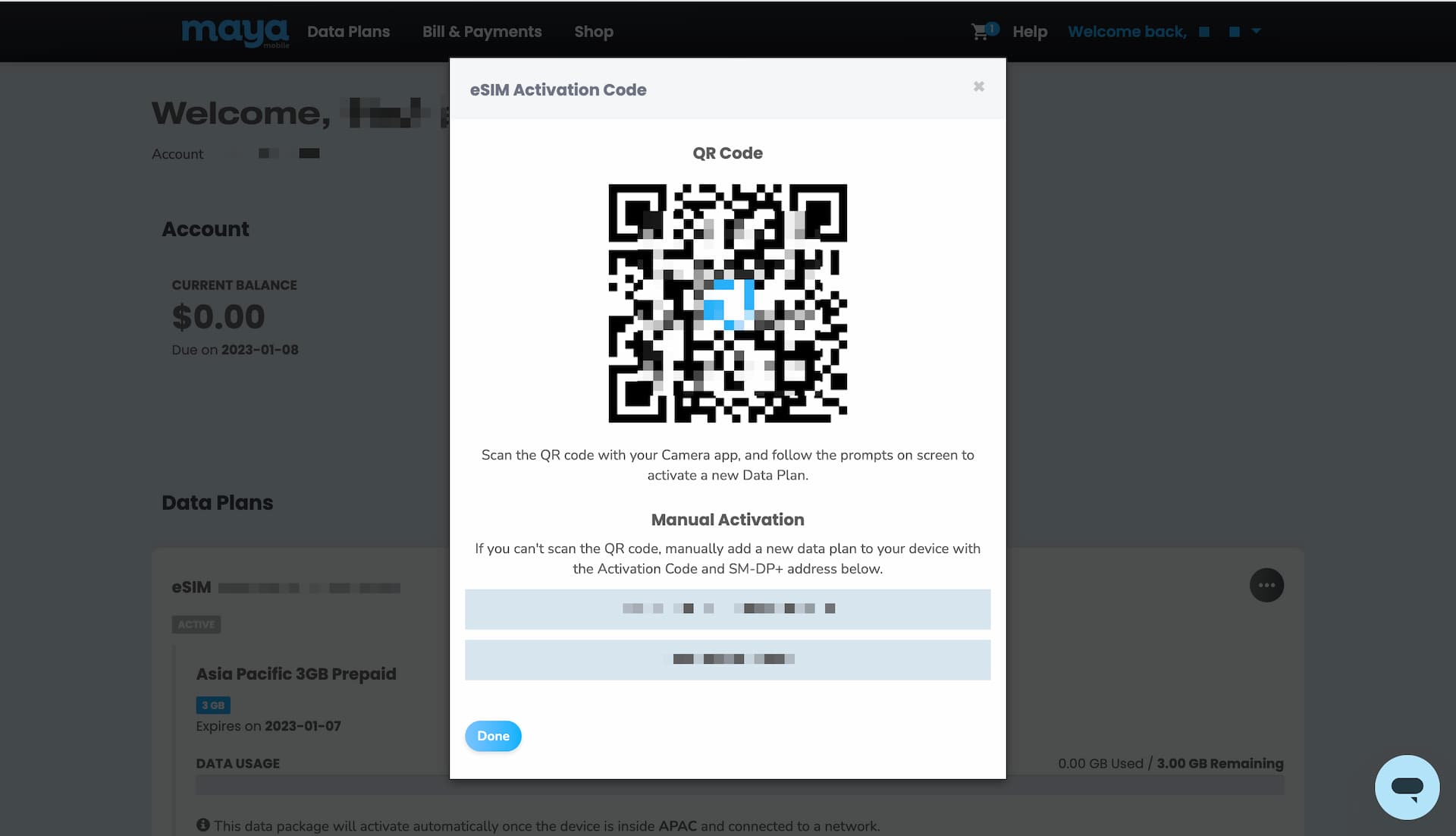 If you are not familiar with eSIM installation using QR code, we have instruction articles for iOS and Android devices 👇.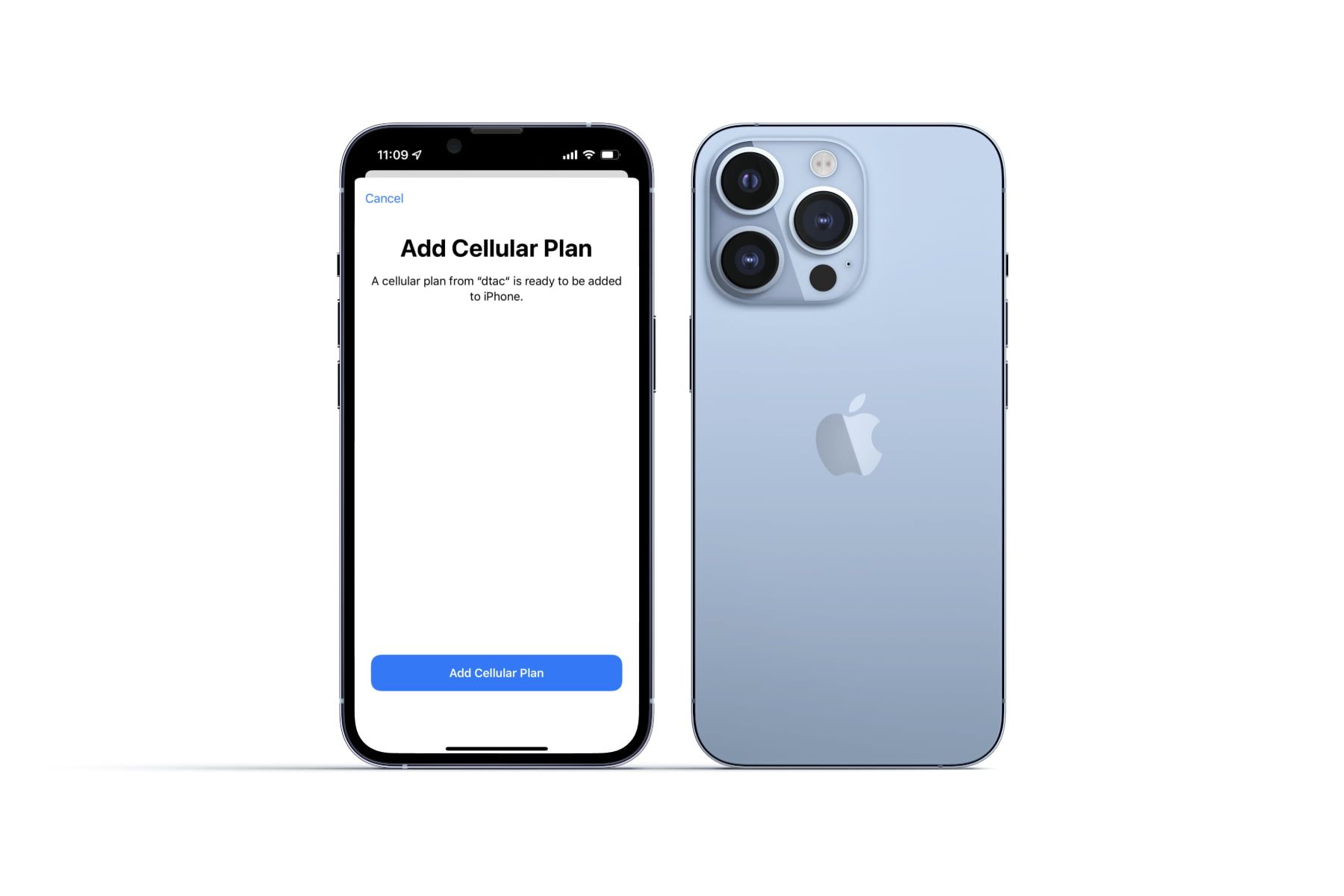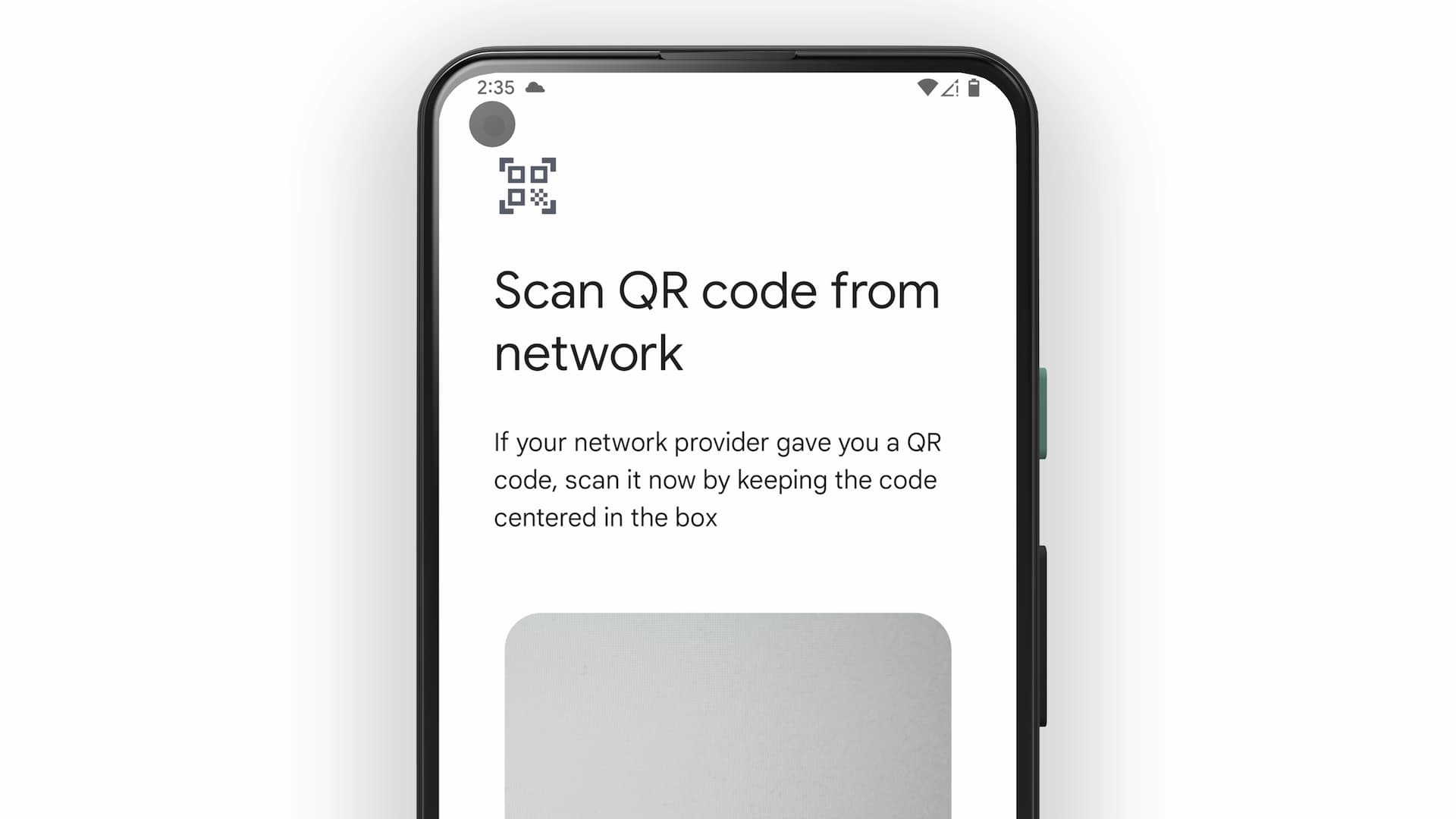 In case you can't use QR code, use the manual activation code (SM-DP+ address & Activation code) instead.
Congratulations, you are all set and ready to use Maya Mobile eSIM!
Important
In order to use your eSIM for cellular data, you need to turn on Data Roaming in most cases.
For Android devices, some eSIMs require you to configure APN (the instruction will be provided upon eSIM purchase).
The very first data connection at your destination may take up to 10 minutes or so.