How to buy and install Airalo eSIM
All you need to know to start using Airalo eSIM.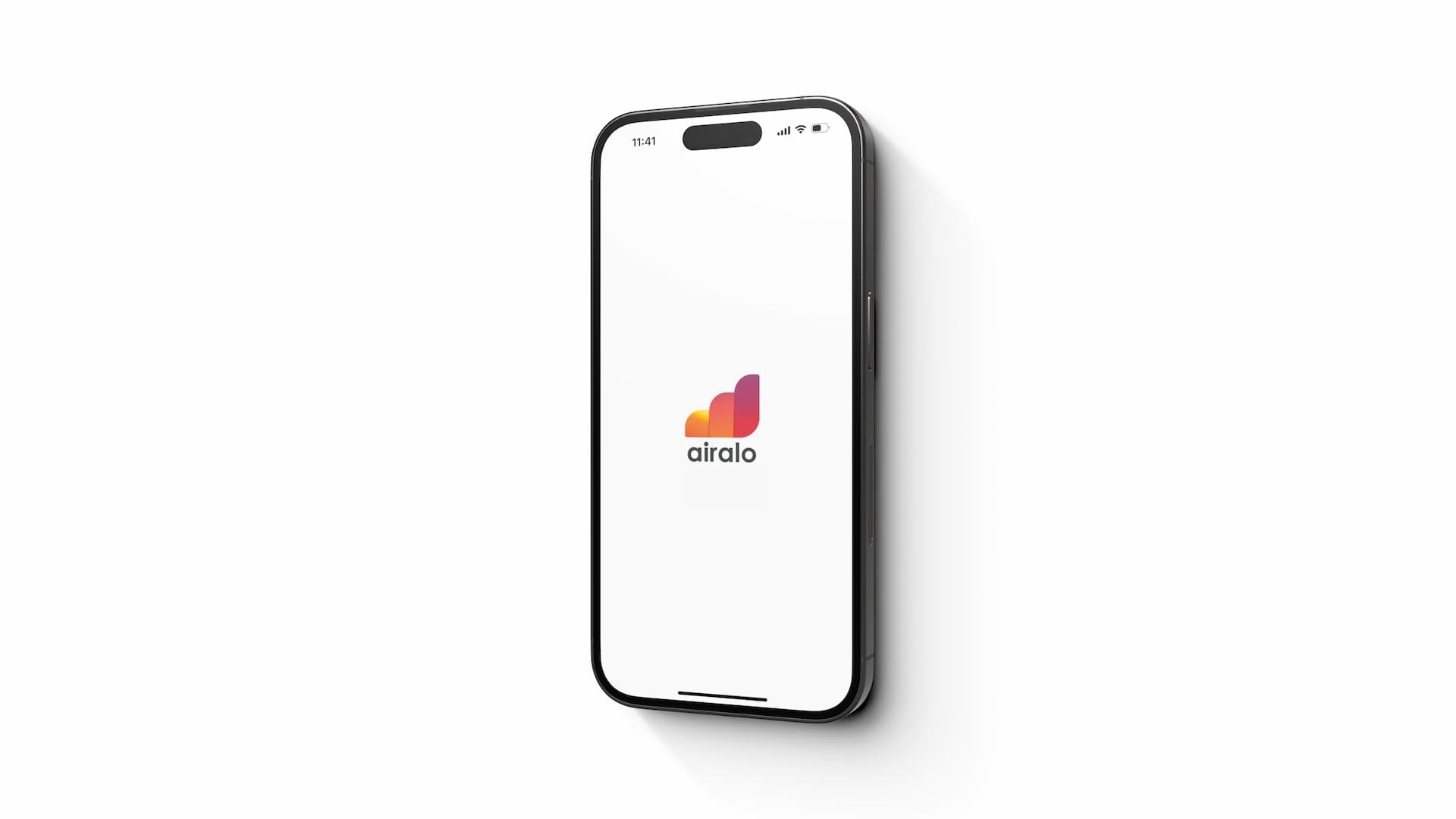 💡
The information in this article is at the time of writing.
This is the step-by-step guide with screenshots to how to buy, install, and use eSIM from Airalo.
For more information about their travel eSIM service, visit their website below.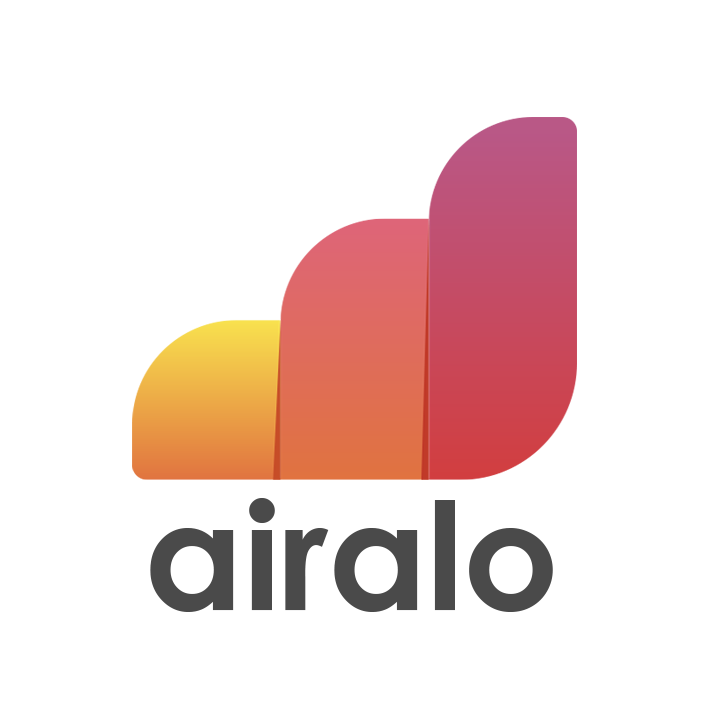 How to buy eSIM from Airalo
💡
Apply Promo Code "ESIMDB10" to get a 10% discount on Checkout!
Desktop 🖥
First, go to Airalo website.
On their home page, you will see a search bar where you can simply type a name of the country or region.
Alternatively, you can scroll down and choose from popular countries or switch tabs to Regional eSIMs or Global eSIM.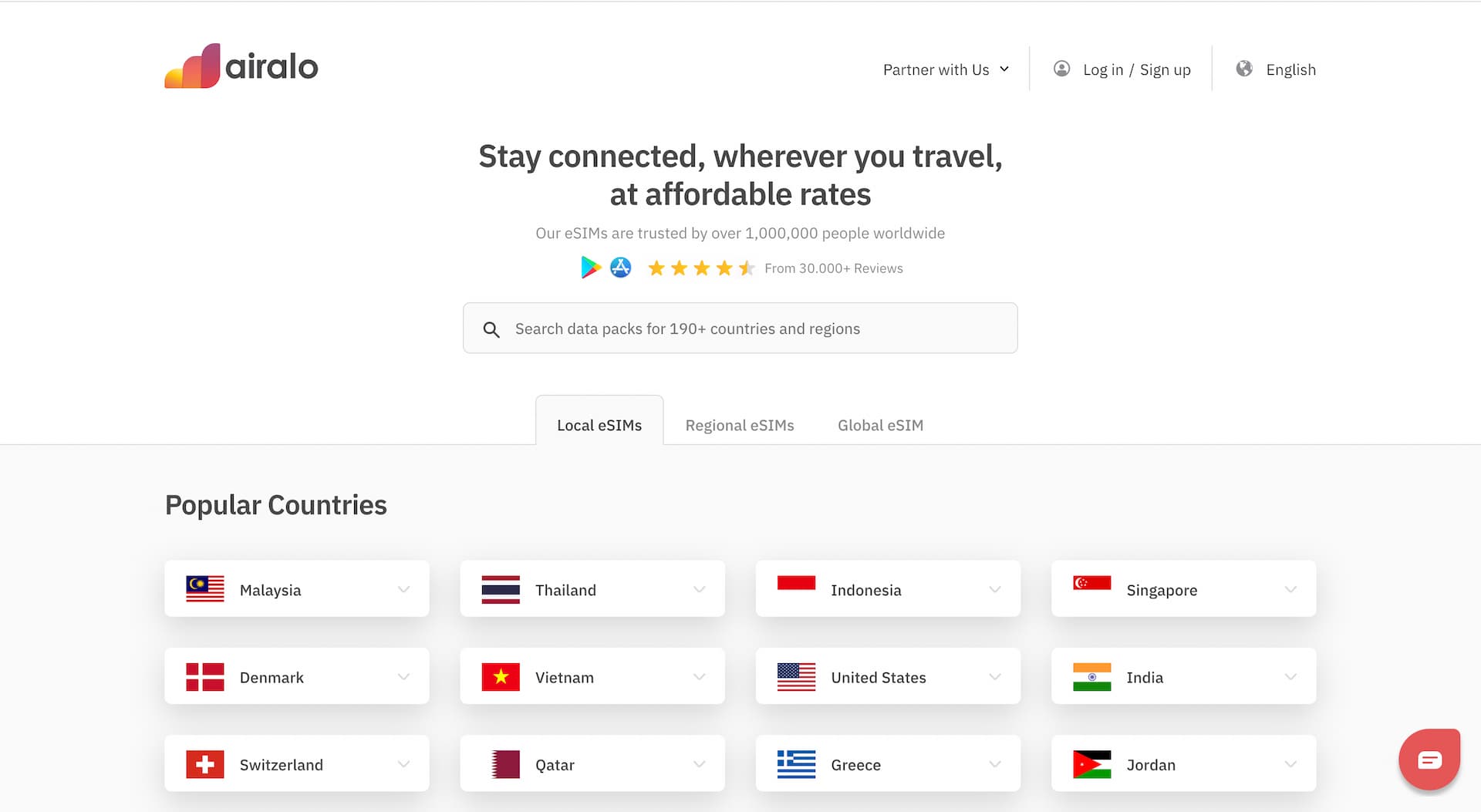 Once you find an eSIM / data plan you like, simply click 'BUY NOW' to proceed to the checkout.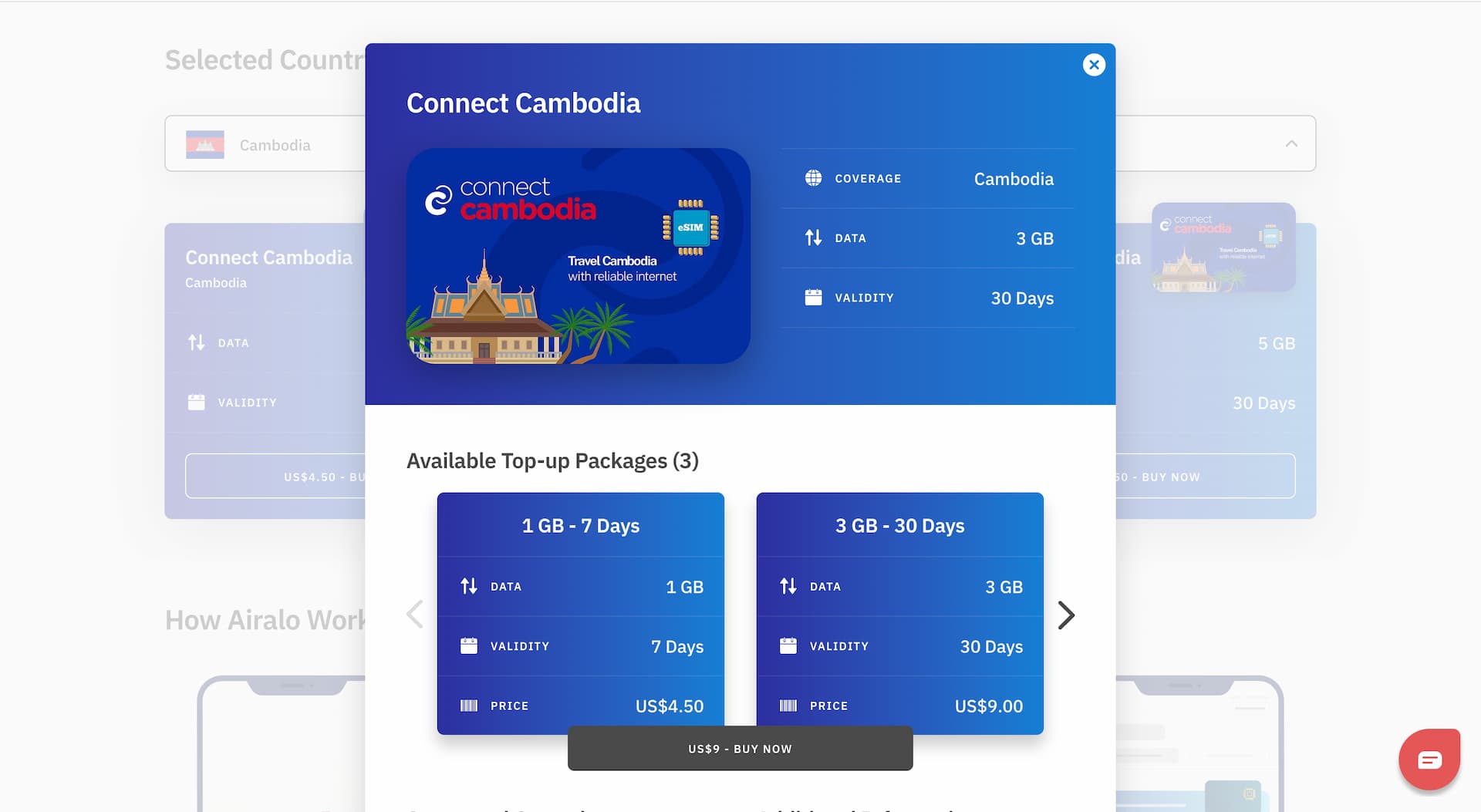 Before the payment, you will need to create an account. (If you already have one, just log in.)
The sign-up process is easy and straightforward. You can sign up with Apple ID, Facebook account, or Google account. Or enter your name, email address, and password if you do not wish to use a third-party account.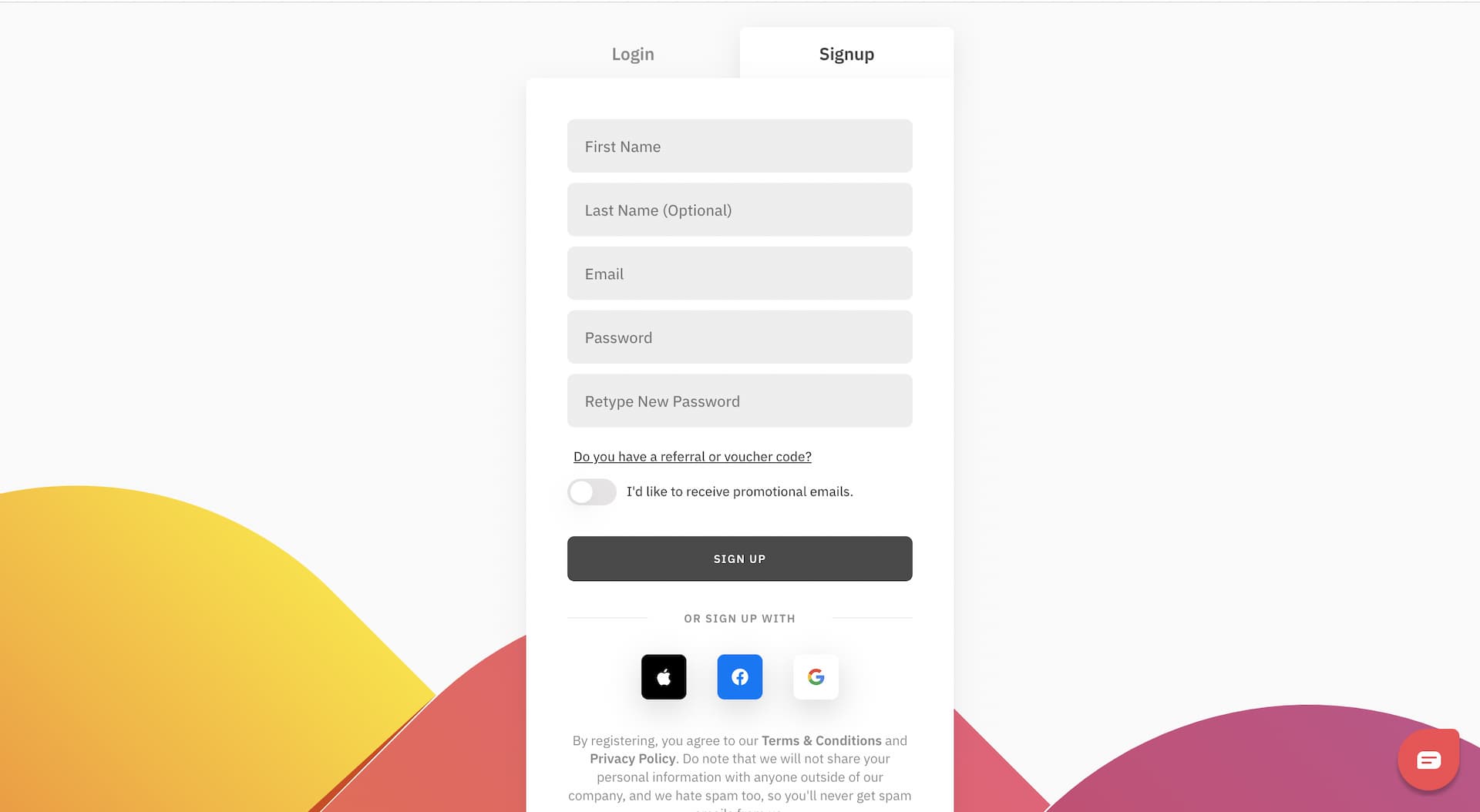 If you choose sign-up with email address, you will receive a verification code to verify the email address you entered.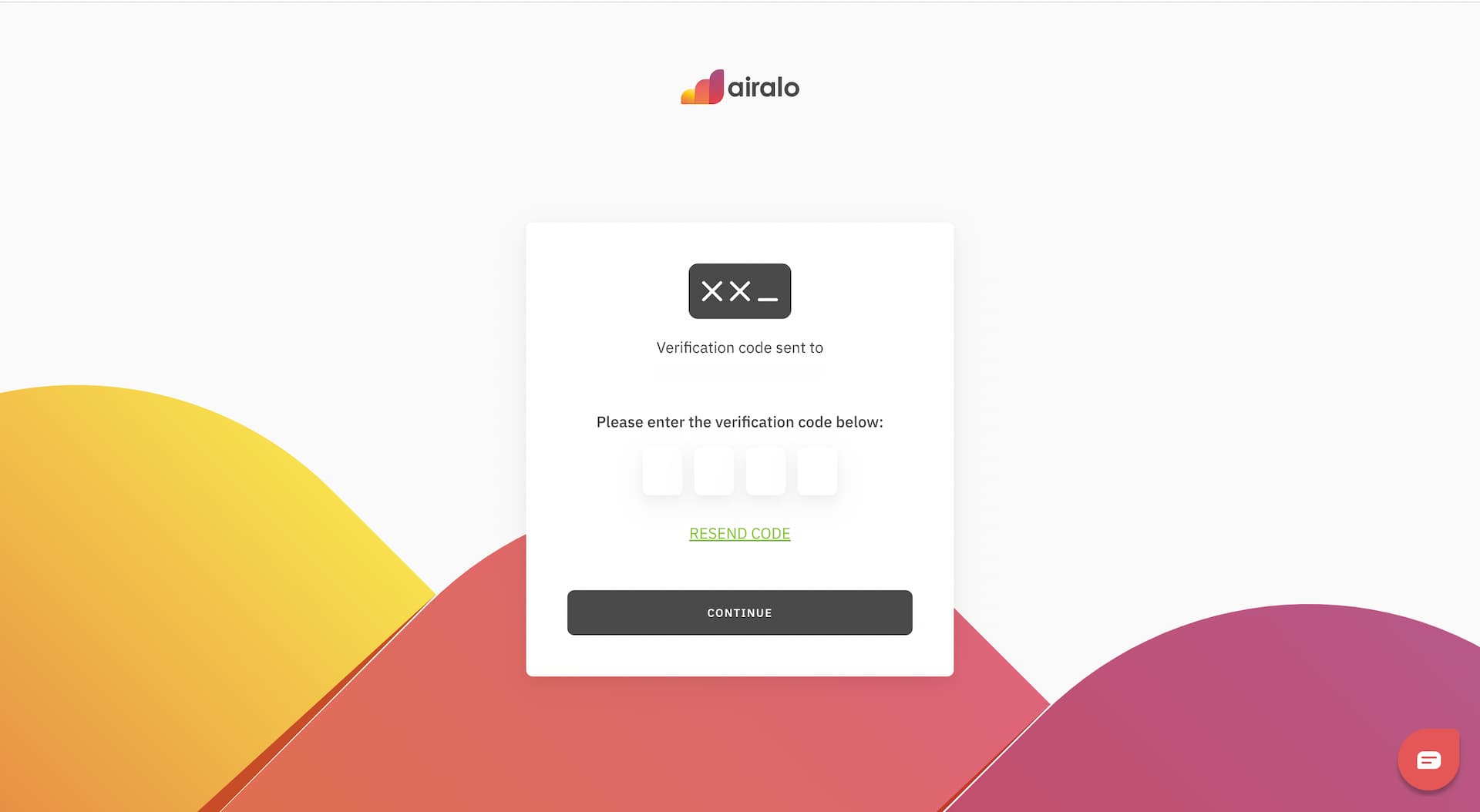 After you've signed up or logged in, choose a payment method which is the very last part of the eSIM buying process.
They accept Google Pay, Credit / Debit card, PayPal, and Alipay.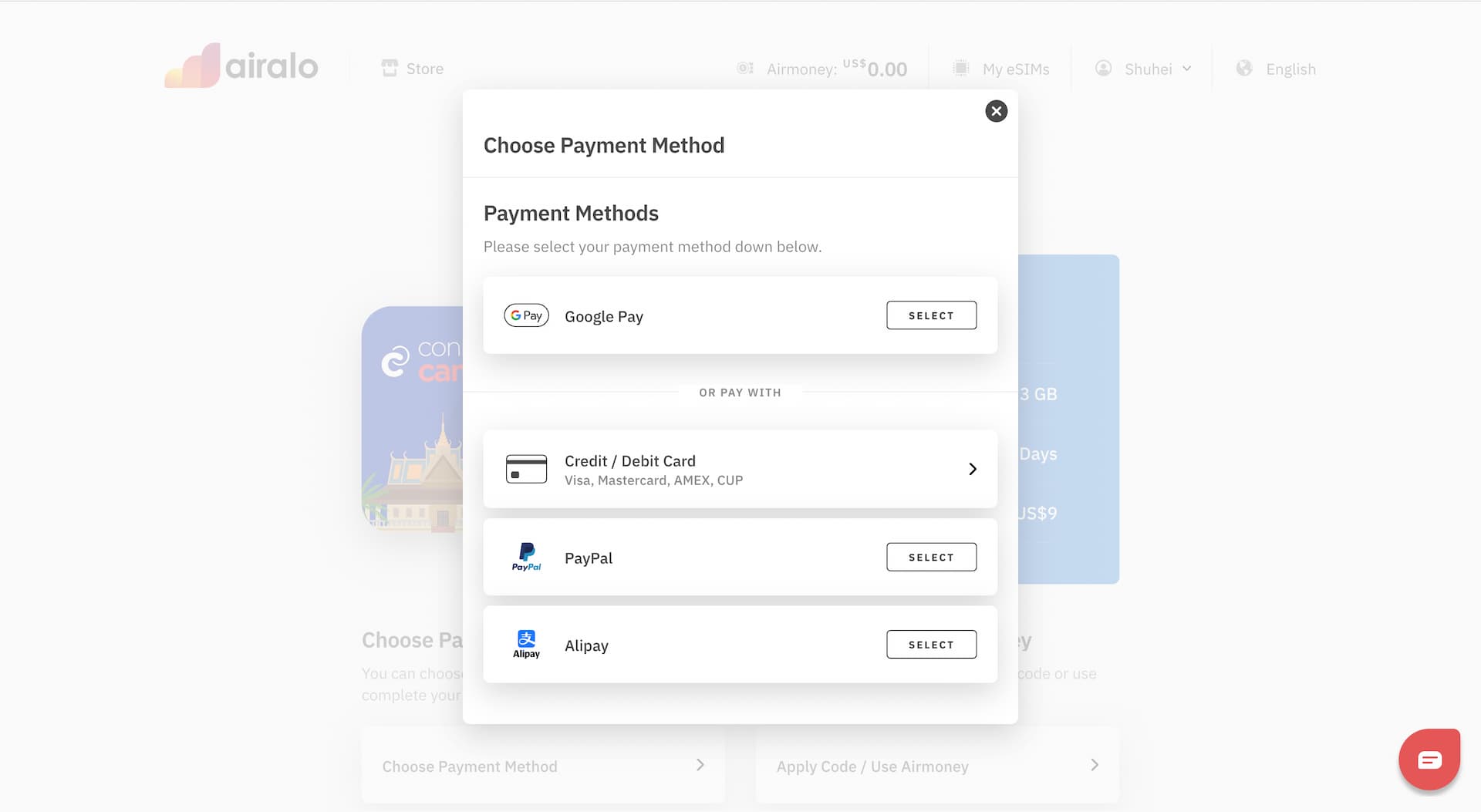 If you select Credit / Debit card, enter your card details. If you choose Google Pay, PayPal, or Alipay, you will be redirected to the checkout window in the final step.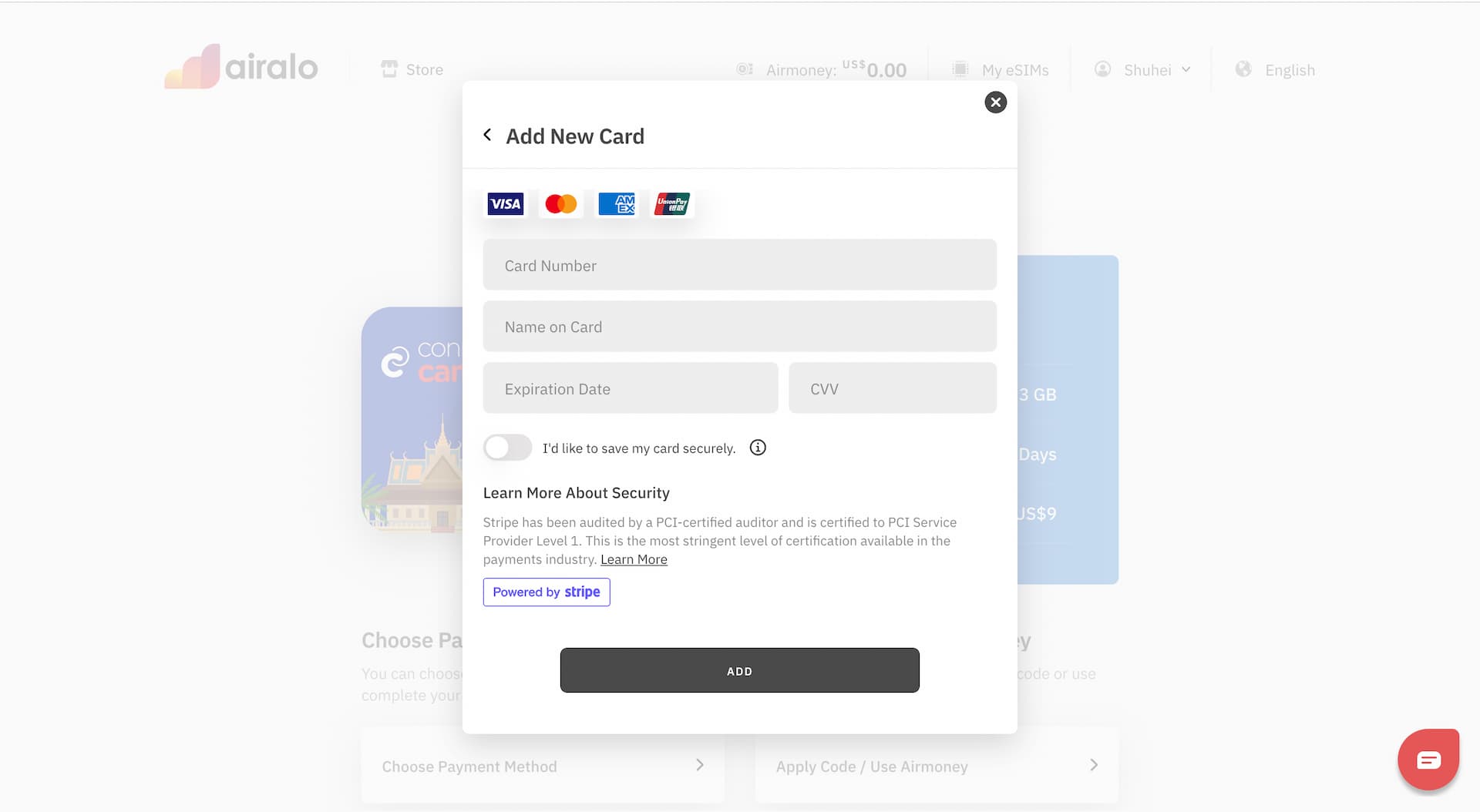 Once you've selected the payment method, all you have to do is click the COMPLETE ORDER button at the bottom of the page.
But before you do, make sure to apply the Promo Code ESIMDB10 to get 10% off if you have not used it yet.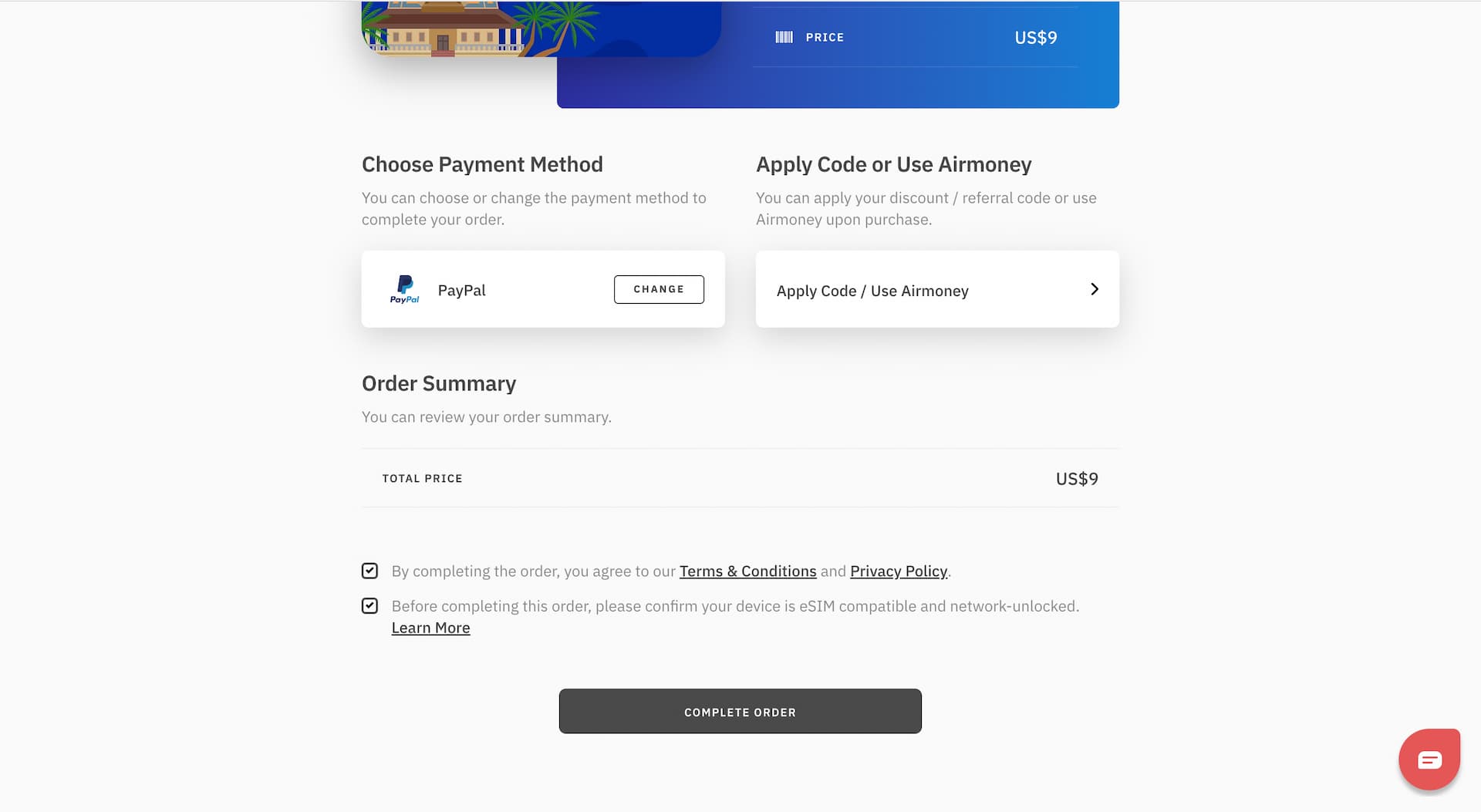 If payment is processed successfully, your order is completed and the eSIM is ready to install.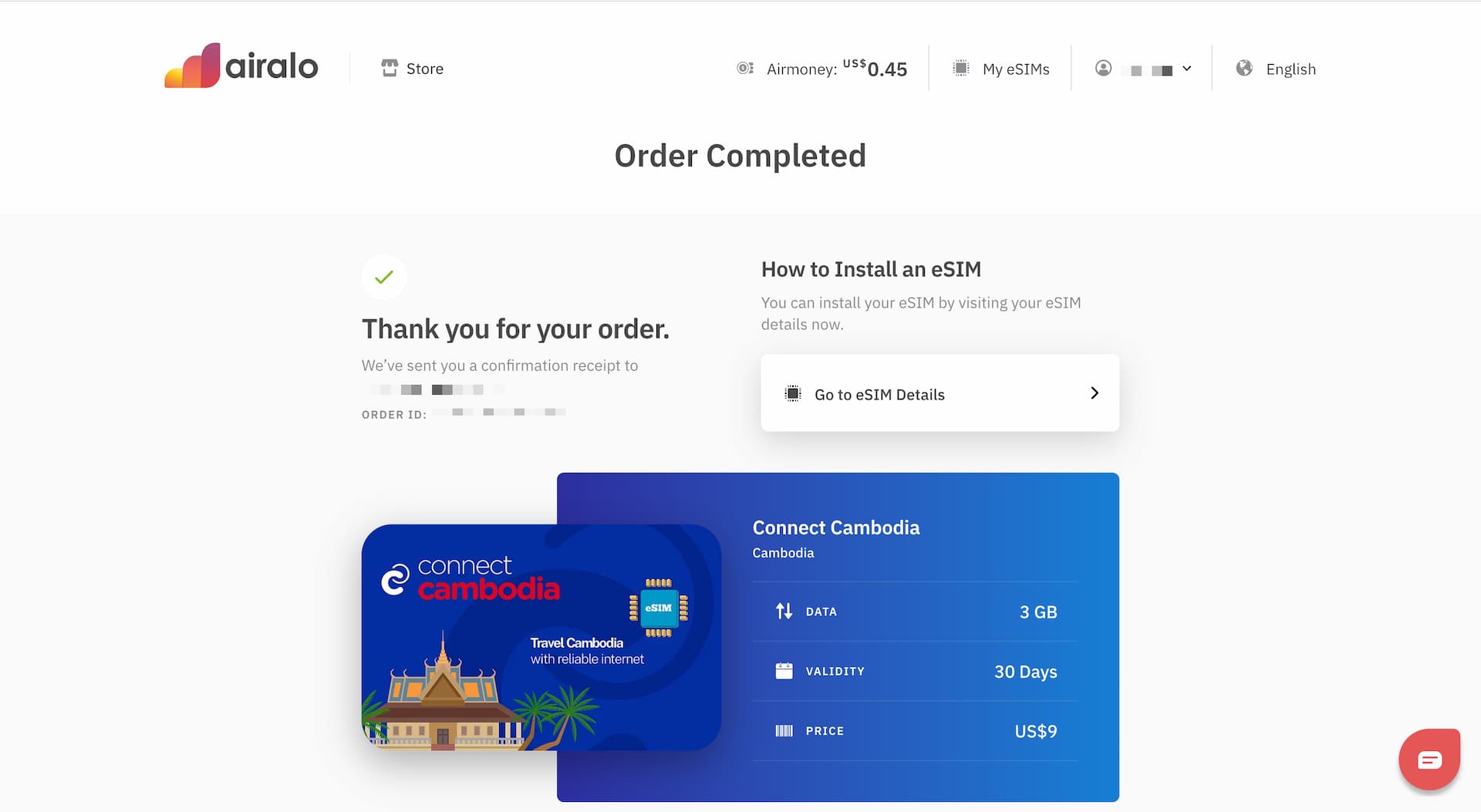 At this point, you will receive some Airmoney, Airalo's own currency, based on the amount you paid. You can use that Airmoney for your next purchase.
Mobile 📱
Airalo mobile app is well-crafted and easy to use.
iOS App
Install Airalo App from App Store.
Search for a country or select from the Popular Countries list.
You can switch to Regional eSIM or Global eSIM from the tab if you are looking for eSIM that covers more than one country.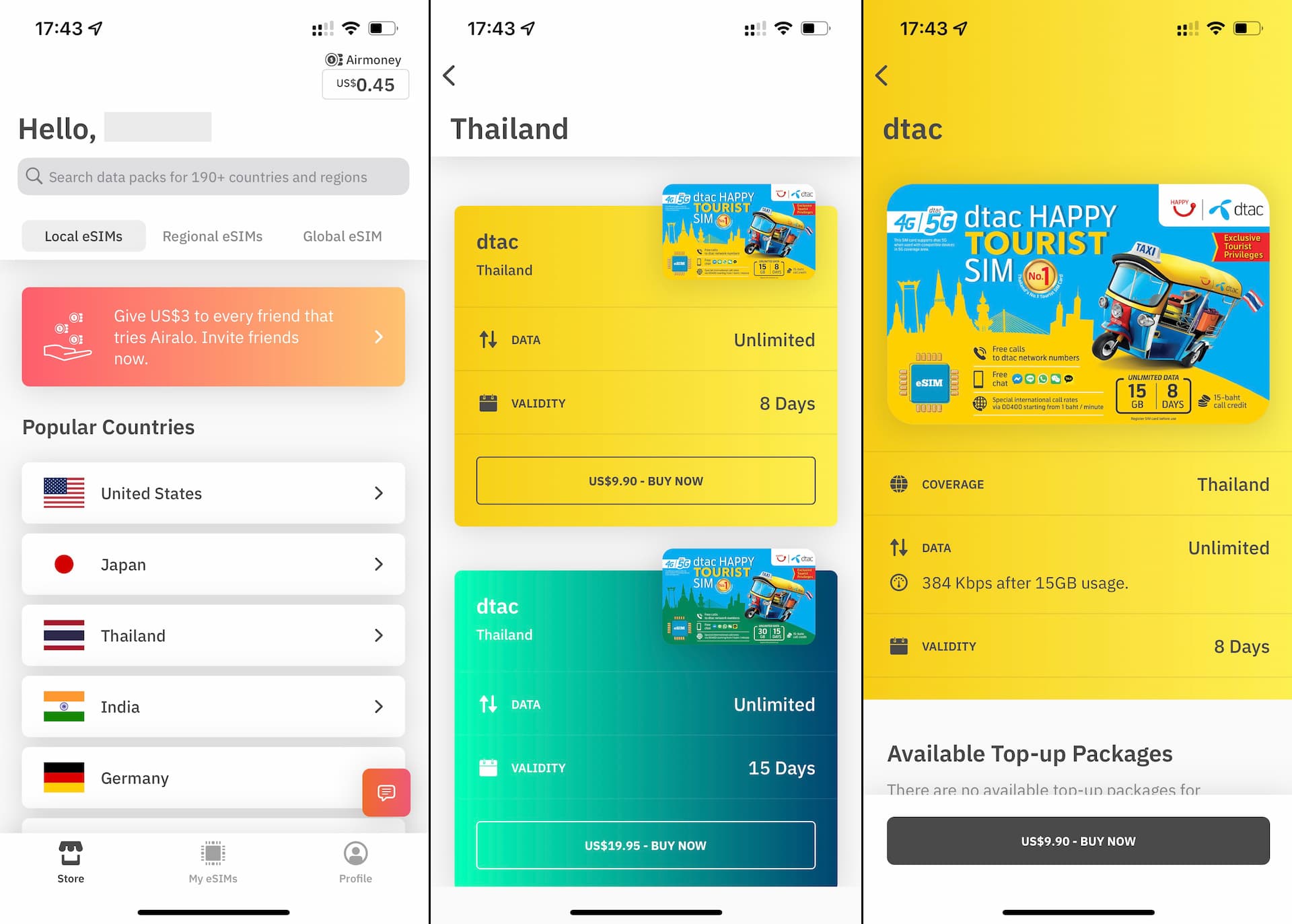 When you decide which eSIM to buy, tap BUY NOW button at the bottom.
If you do not have an Airalo account, you need to sign up here. The easiest way would be to sign up with Apple ID.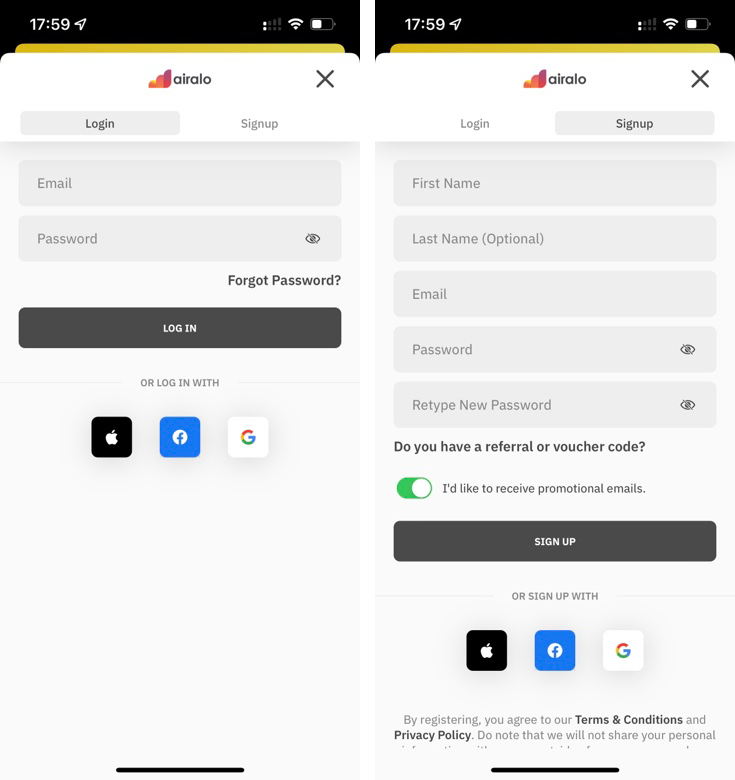 Once the sign up is complete, what's left is checkout which is very straightforward on their app.
Select your preferred payment method from Apple Pay, Credit / Debit Card, PayPal, or Alipay.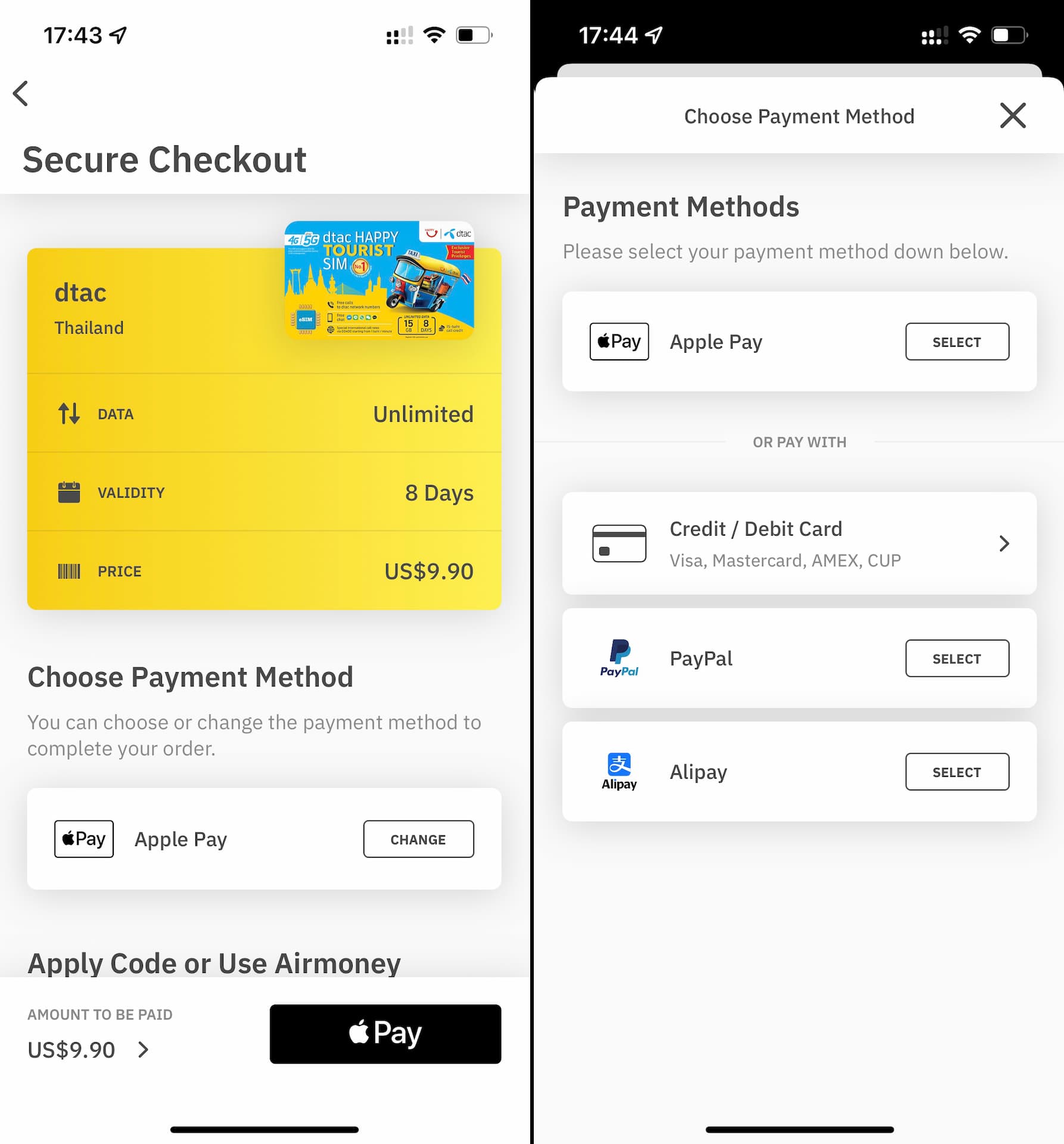 Lastly, hit Pay and it's done.
If the transaction went through successfully, you will see the order summary and the eSIM you just bought is added in My eSIMs.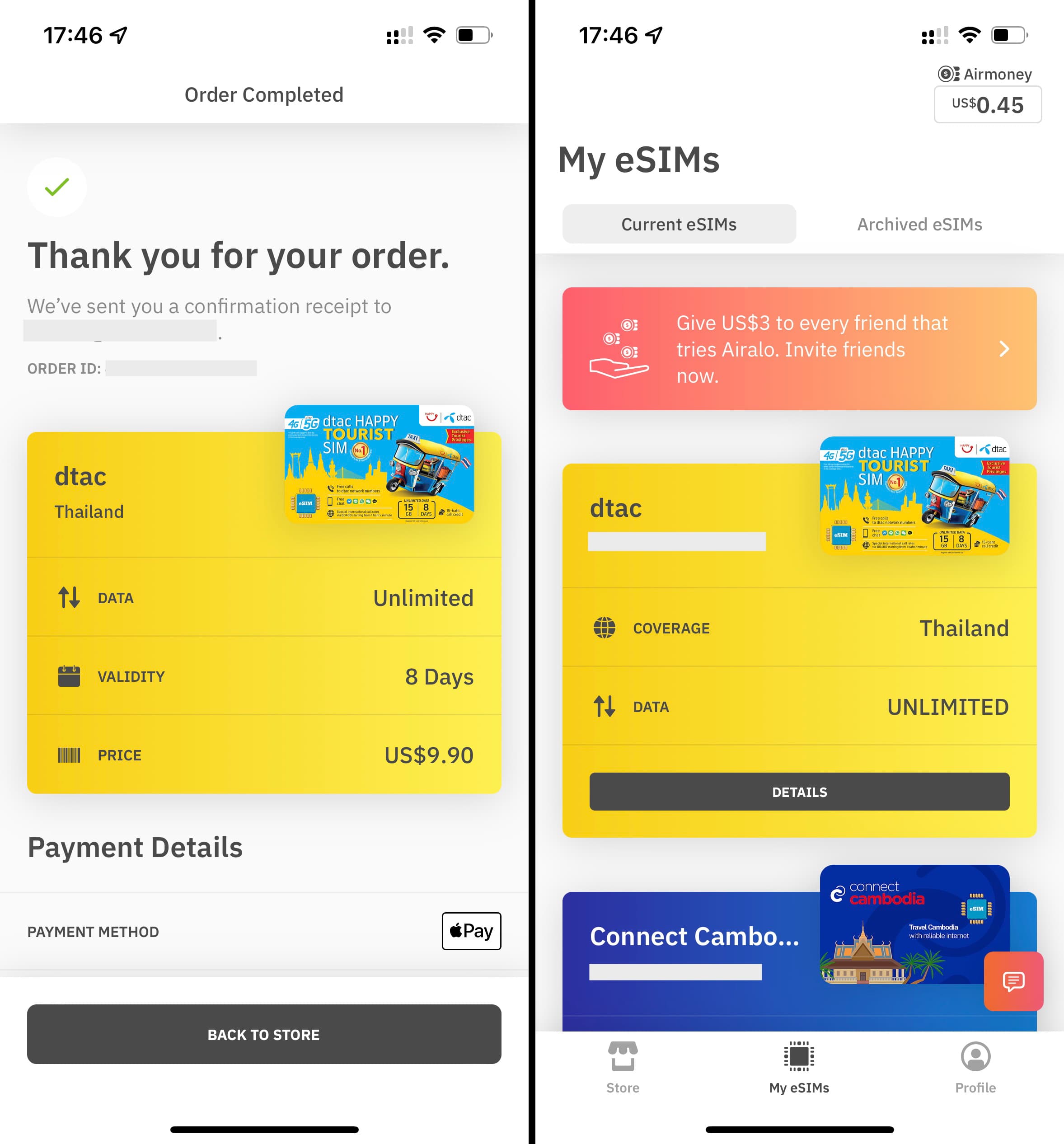 Android App
To be added.
---
How to install Airalo eSIM
💡
Stable internet connection is required when installing an eSIM.
💡
Most prepaid eSIM can only be installed once. You should not stop/cancel the process once started or remove the SIM from your phone as you cannot re-install it.
iPhone / iPad
*In this section, we explain the eSIM installation process for iPhone but iPad should be pretty much the same.
There are three methods to install eSIM on your phone.
Direct install (in-app installation)
QR code
Manual install
You can find the detailed instructions for each method on Airalo app (web/mobile) by navigating to My eSIMs > eSIM you purchased > Details > Install eSIM/Access Data like so in the screenshots below.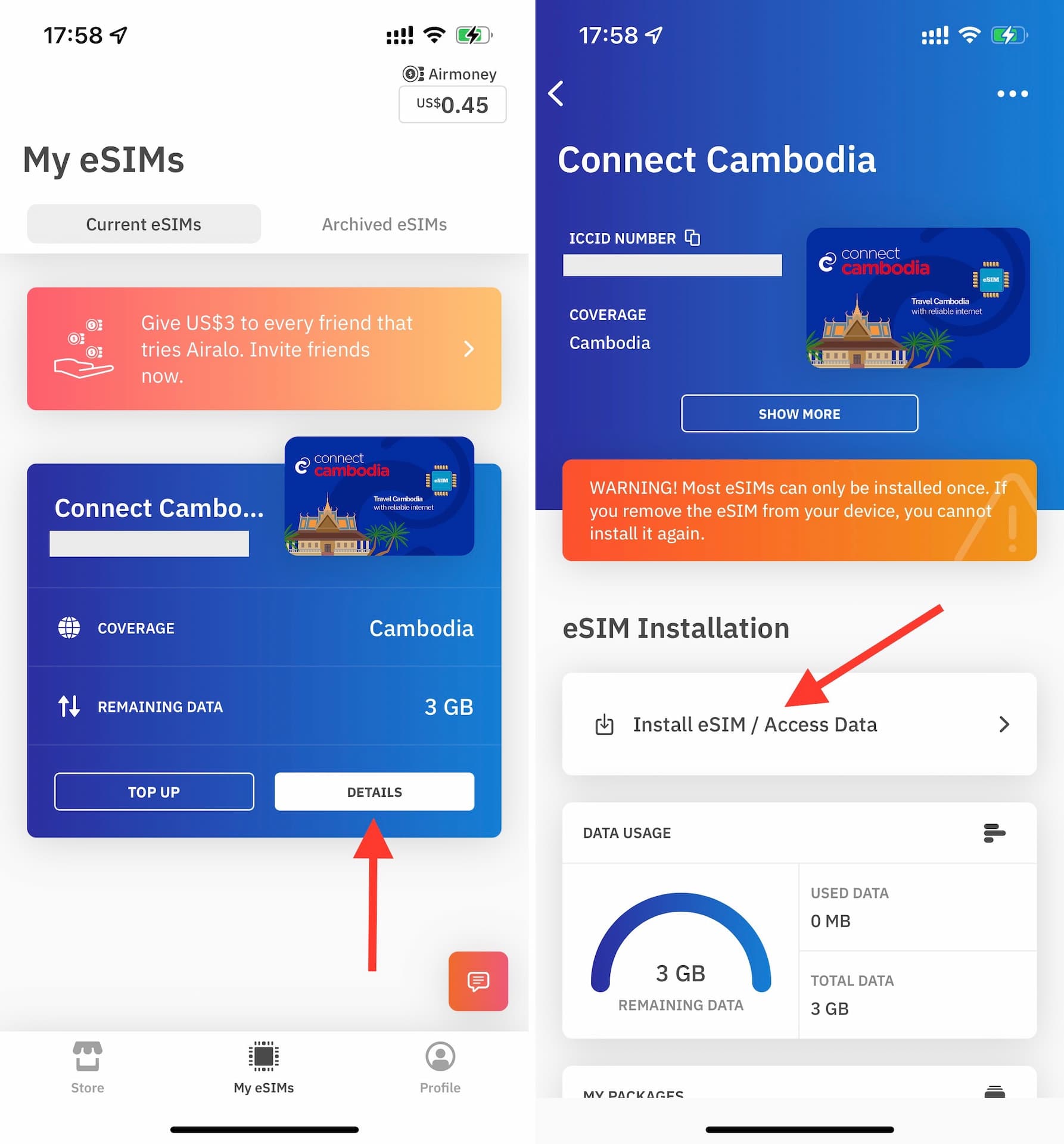 Direct install
Direct install is by far the easiest method and people should try this first.
All you have to do is tap the INSTALL eSIM button in the screen below and the Cellular Plan (= eSIM) can be added directly on your phone from there.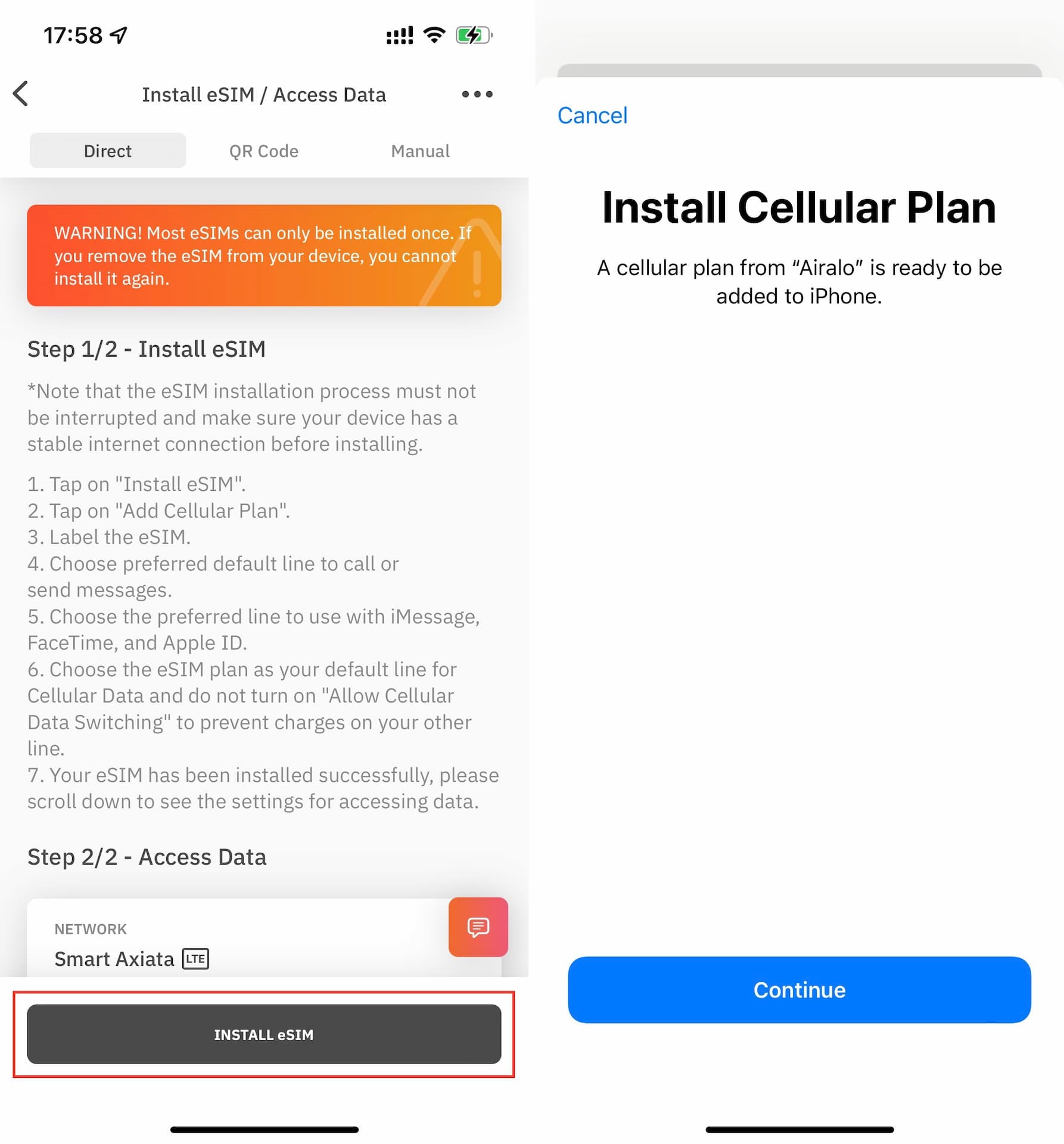 QR code
Installing an eSIM with QR code requires either an additional device (other than the one you want to install the eSIM on) or a printed paper to display the QR code.
QR code can be found on Airalo app. It also allows you to share easily.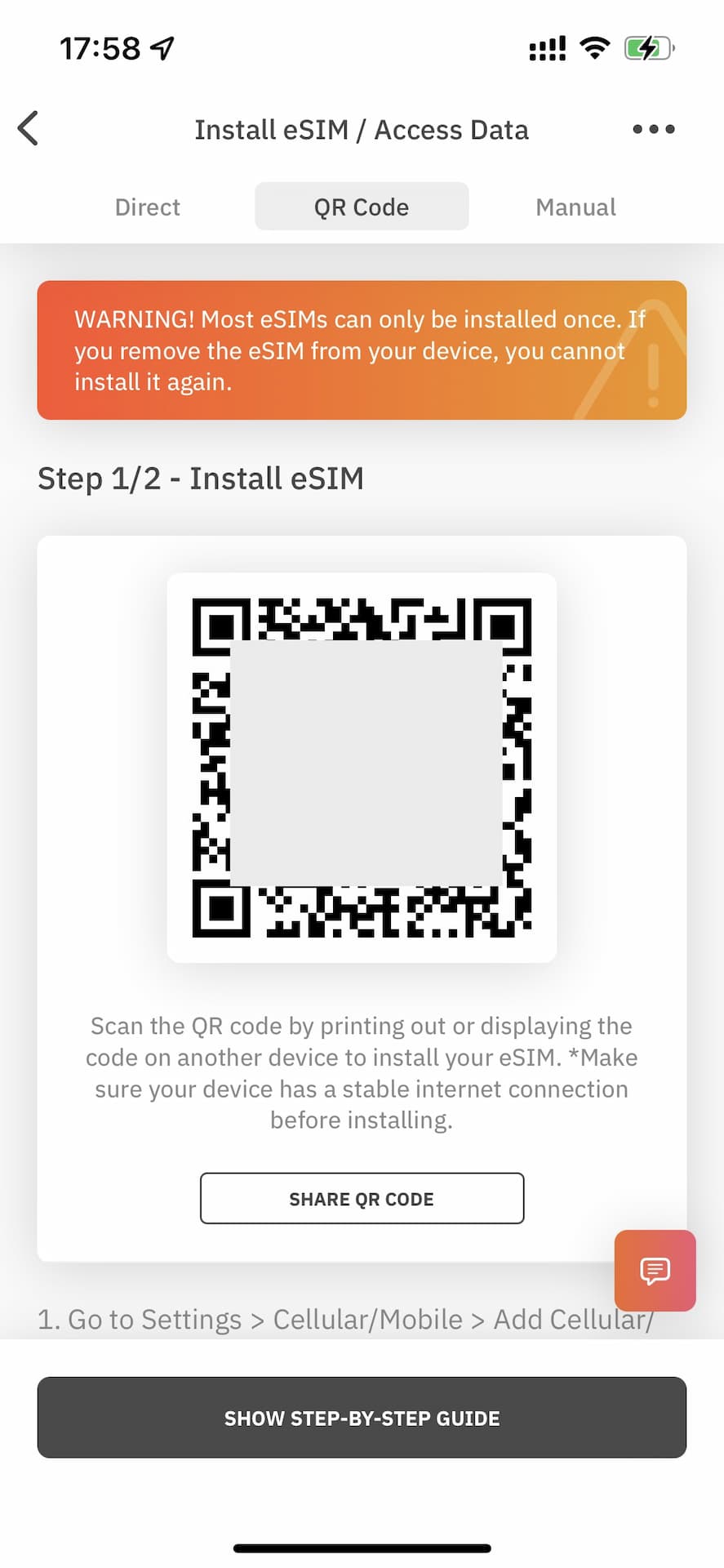 Print it on a paper or display it on another device to scan it. You can either launch the native Camera app or go to Settings > Cellular > Add Cellular Plan for the scanning.
If you are new to installing an eSIM using QR code, below is the detailed instructions of it for iPhones.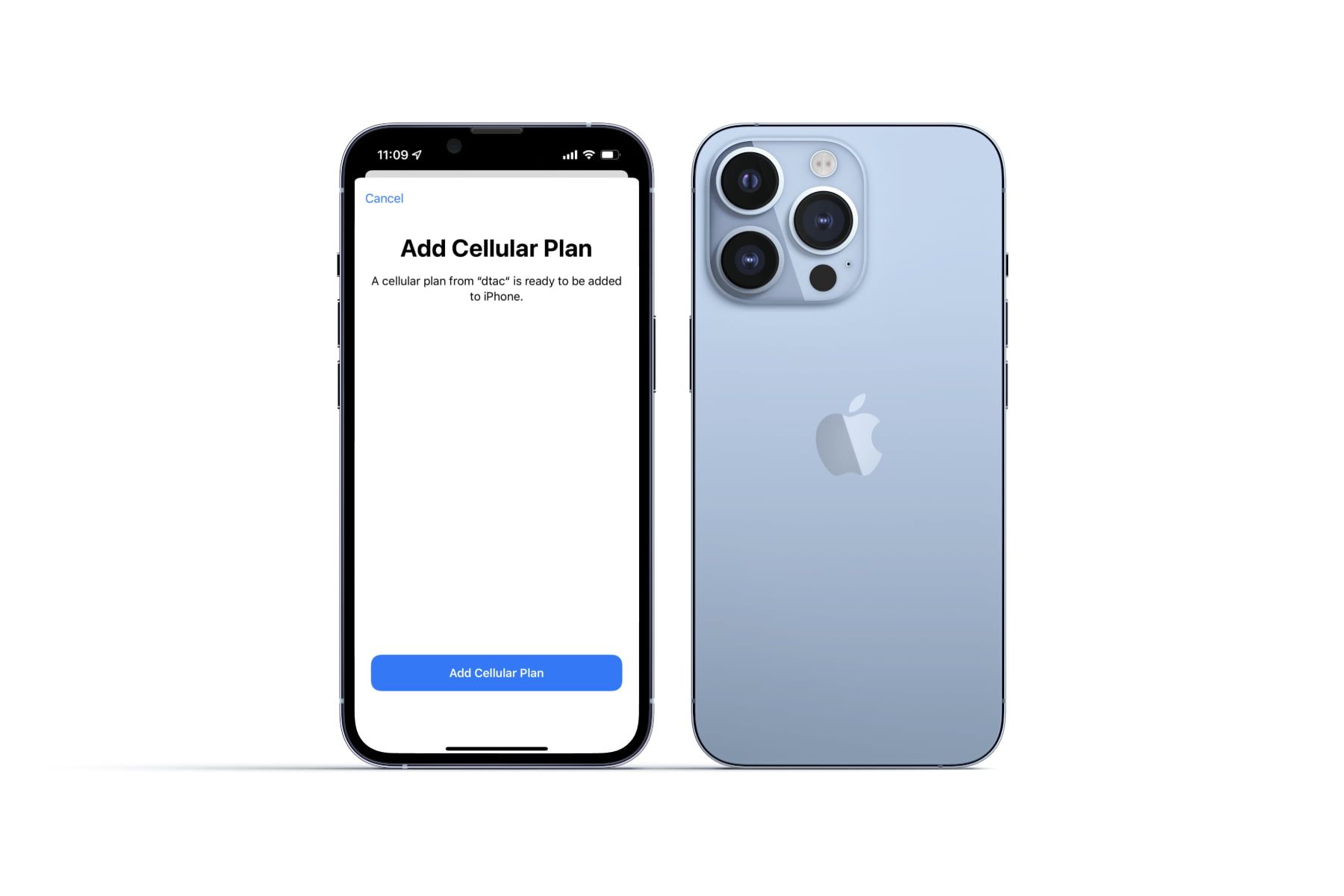 Manual install
This method uses SM-DP+ Address and Activation Code that can be found on Airalo app (web/mobile).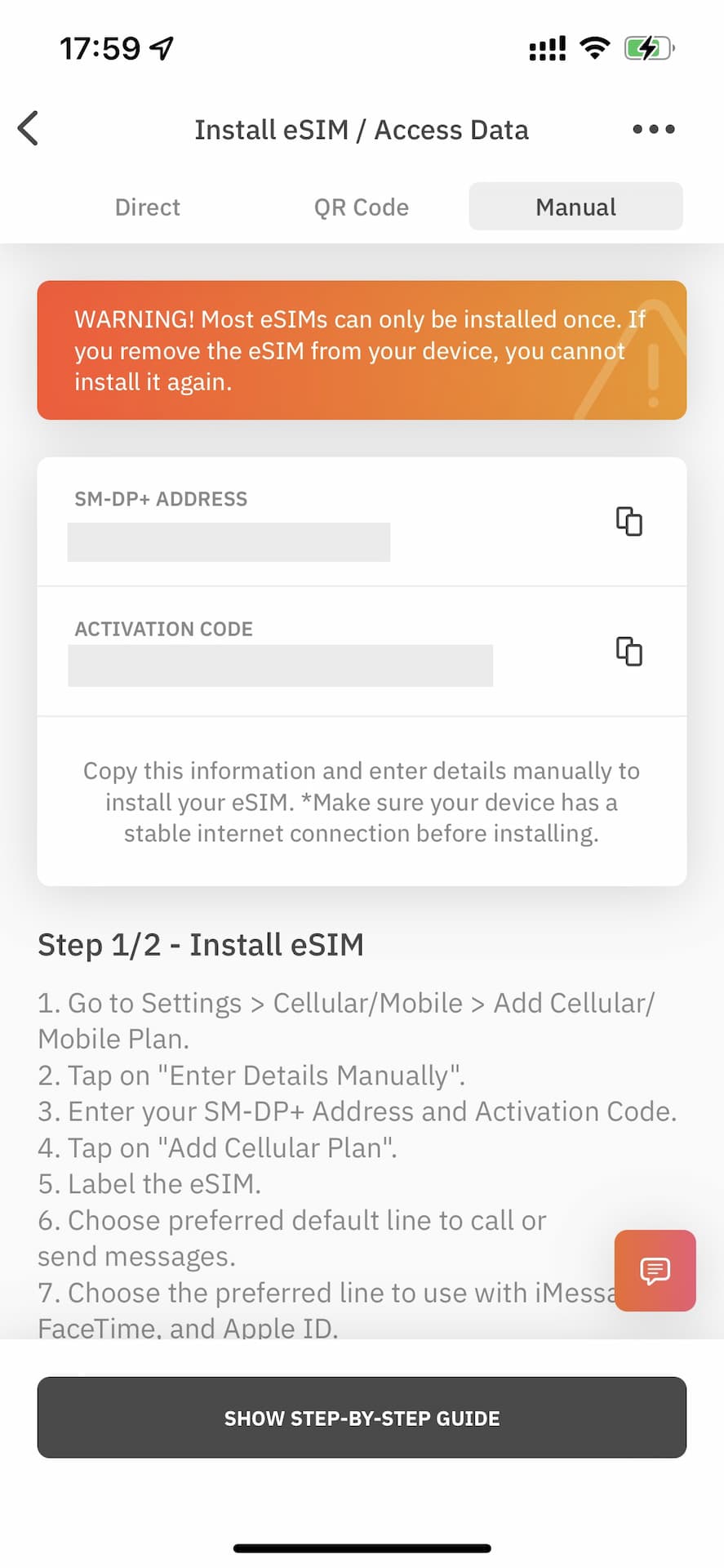 To manually install an eSIM on iPhone, go to Settings > Cellular > Add Cellular Plan > Enter Details Manually. From there you can enter the information.
Android
For eSIM-compatible Android phones, direct install is not yet supported at the time of writing. You will need to use QR code to install eSIM and the article below explains it step-by-step for those who are new to eSIM installation on Android phones.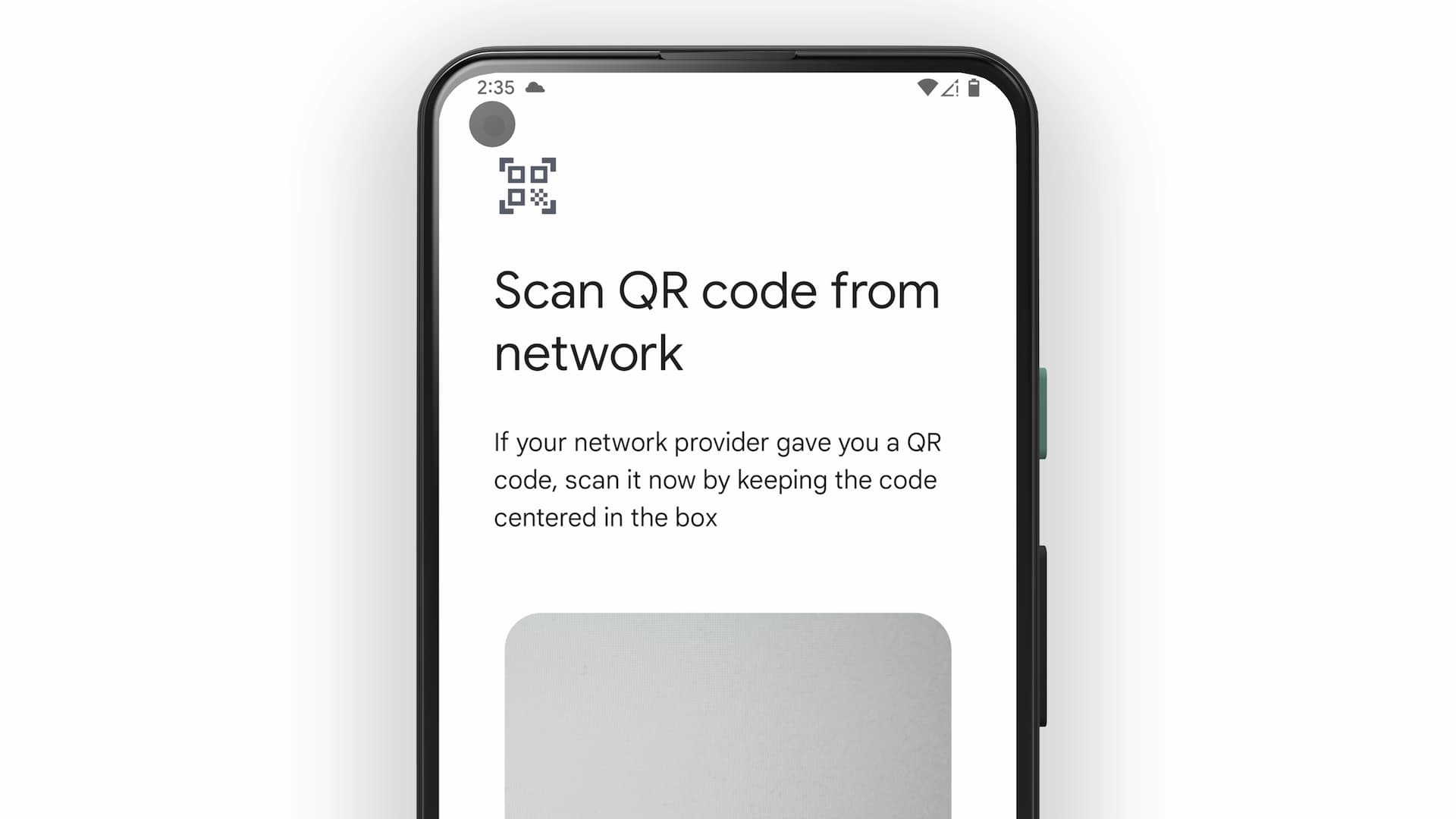 ---
Search and compare travel eSIMs on esimdb 👍
Looking for a prepaid eSIM for your next trip? Go check out esimdb.com where you can find the best data plan from more than 20 eSIM providers 👇