Best Hong Kong Travel eSIM Options based on Testing & Reviews
A summary of the top recommended eSIM for those traveling to Hong Kong.
I've personally tested several eSIMs on my recent trip to Hong Kong. This article is to share my experiences and reviews about them, aiming to compare their performance.
As of April 2023, Hong Kong has lifted all COVID-related travel restrictions, and visitors can now enter the country as it was before the pandemic. If you're considering using an eSIM for mobile internet during your visit, I hope this article will help you make an informed decision.
But please note that there are many travel eSIM services available in Hong Kong, and this article only covers a few of them (though some of the bests). For a comprehensive list of options, please check out esimdb.com 👇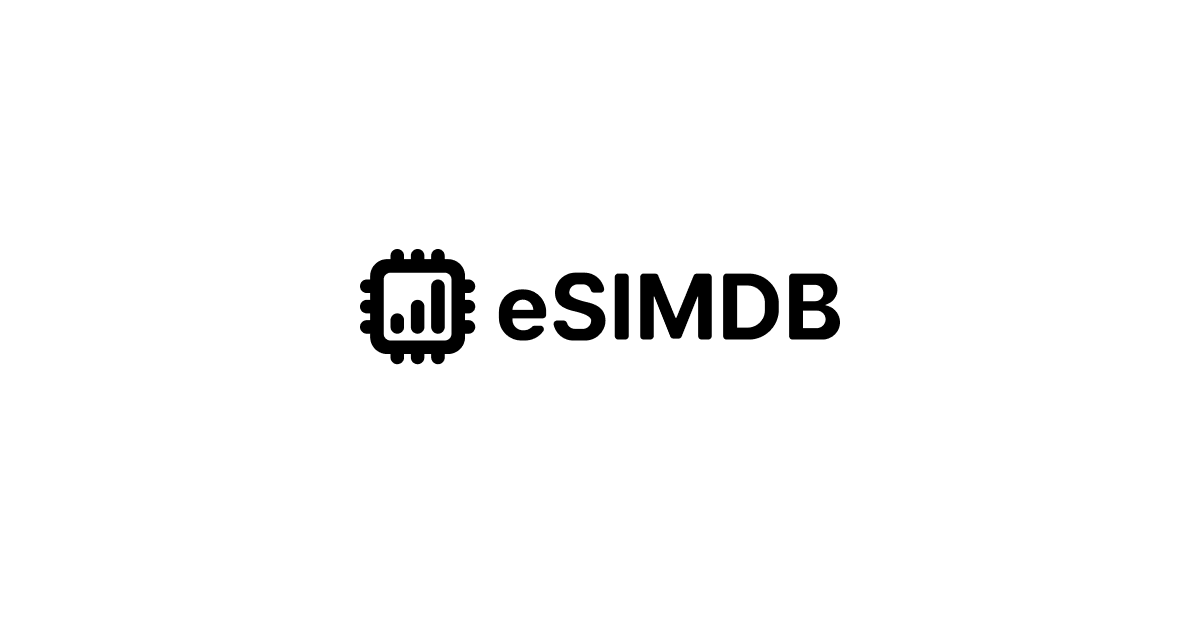 Although the number of eSIMs I've tested so far is limited, I plan to continue testing more as I get the chance to update this article.
*As an iPhone user, all my tests were conducted using an iPhone.
---
Mobile Carriers in Hong Kong
Hong Kong has several mobile carriers such as China Mobile Hong Kong (CMHK), 3 (a.k.a. 3HK), SmarTone, and PCCW group (including HKT & CSL). But the difference in coverage areas between those carriers should be trivial given the size of the country.
When I asked Perplexity (a large language model / AI similar to ChatGPT that can answer questions based on web information) about it, it gives me a similar answer.

Sources like nPerf suggest that there should be no significant issues with network coverage for any of the carriers, at least for 4G coverage.
---
Ok, now on to the actual travel eSIM reviews...
Airalo
Arguably the most well-known travel eSIM service, Airalo offers best-in-class user experience with a wide range of data plans for various parts of the world.
For those who are new to Airalo, step-by-step guide to purchasing their eSIM, including how to use the 10% discount promo code "ESIMDB10", can be found in the article linked below.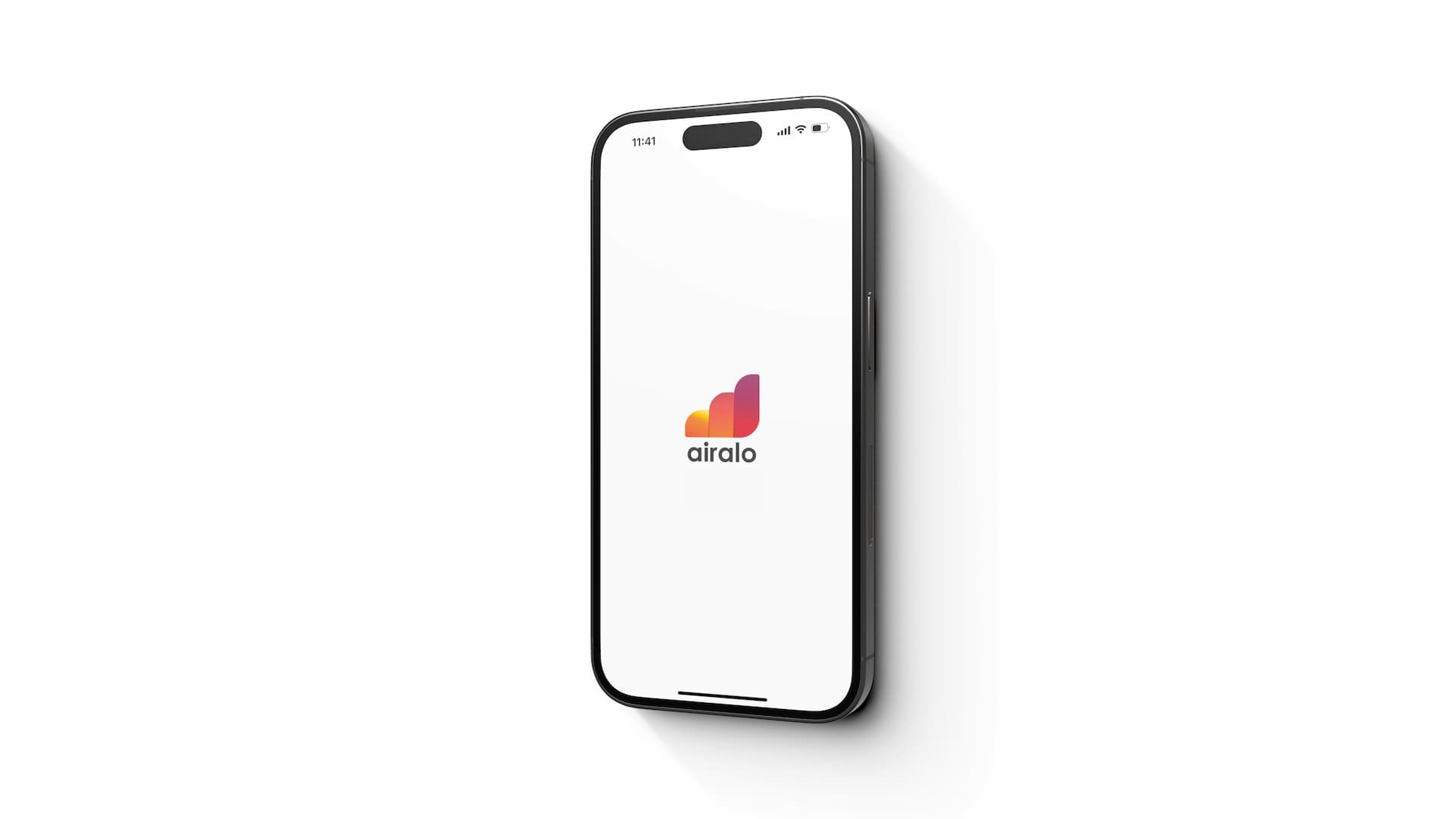 Their eSIM can be installed directly from the app without a QR code, making it easy for people trying out a travel eSIM for the first time.
Airalo's Hong Kong Data Plans
Although Airalo seems to have lost some of its competitive edge in terms of pricing in recent years (imo), it still offers reasonably-priced plans for Hong Kong.
*The information below is accurate as of the time of writing. Please check Airalo's official website for the most up-to-date information.
Their Hong Kong eSIM, named Hkmobile, offers four different plans: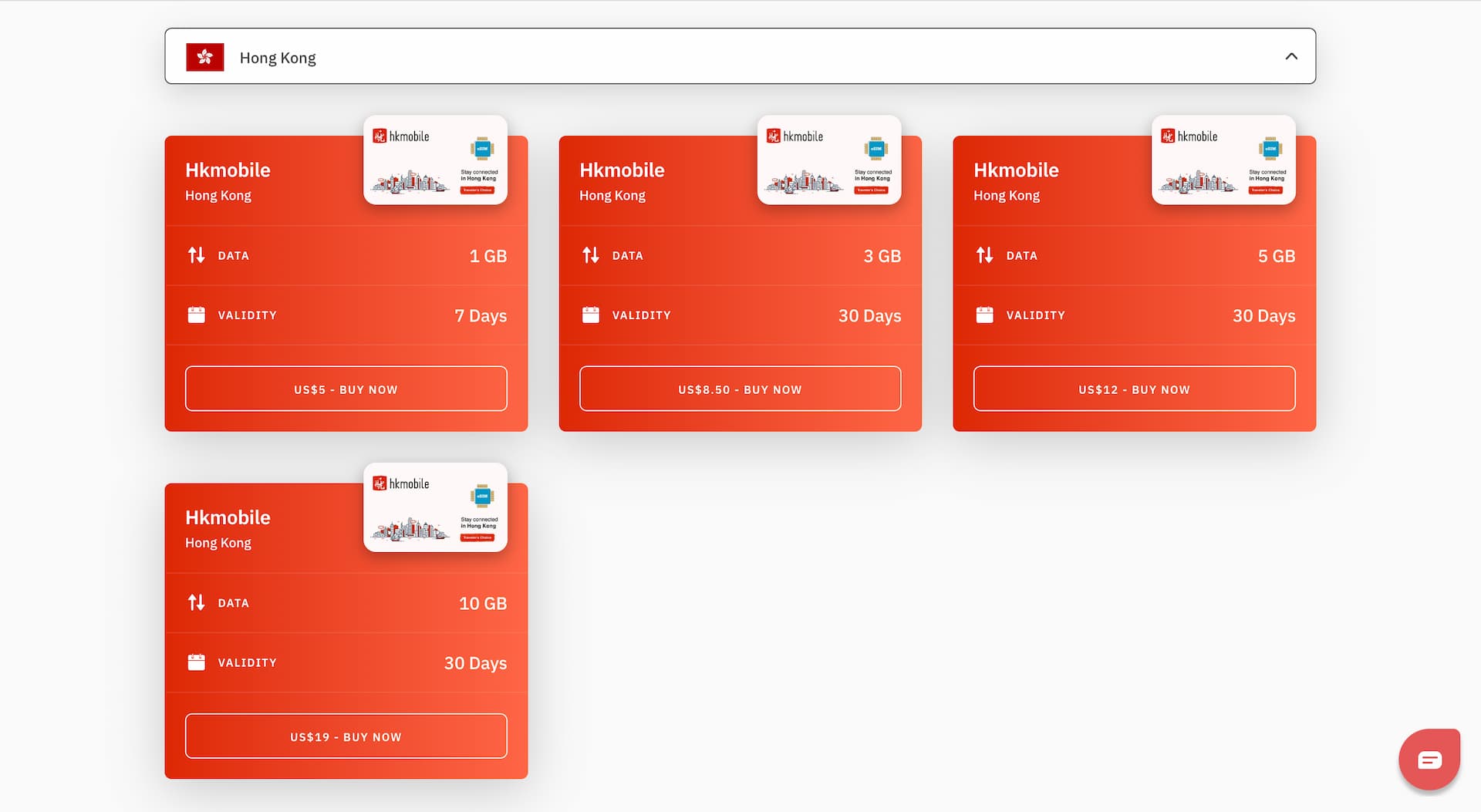 1GB / 7 days: $5
3GB / 30 days: $8.5
5GB / 30 days: $12
10GB / 30 days: $19
For short-term stays like vacations or business trips, the 3GB or 5GB plans should be adequate amount of data for most users.
With the 10% discount code "ESIMDB10", the 5GB plan becomes $10.80, which is not too bad.
Heavy data users or those staying for a couple of weeks may find the 10GB plan more suitable. (Note that you can buy additional data / top up any time through their app.)
Since my trip was only a few days, I opted for the 3GB plan.
The plan validity for Hkmobile plans begins when you first use the eSIM to connect to the internet in Hong Kong.
Actual Performance in Hong Kong
Upon arriving at Hong Kong International Airport, I turned on data roaming for my Airalo eSIM and set it for cellular data. It connected to the internet right away.
The local network it connects to is CSL 4G.

Although I didn't have time to visit outlying islands this time, I experienced no issues with coverage throughout my stay including the train from the airport to the city center (Kowloon and Hong Kong Island). I never encountered a single instance of being out of range even in Subway.
Network Speed
Below are the results of speed tests I conducted with Airalo's eSIM. The areas, from left to right, are Hong Kong International Airport, Mong Kok, and Central (in Hong Kong Island).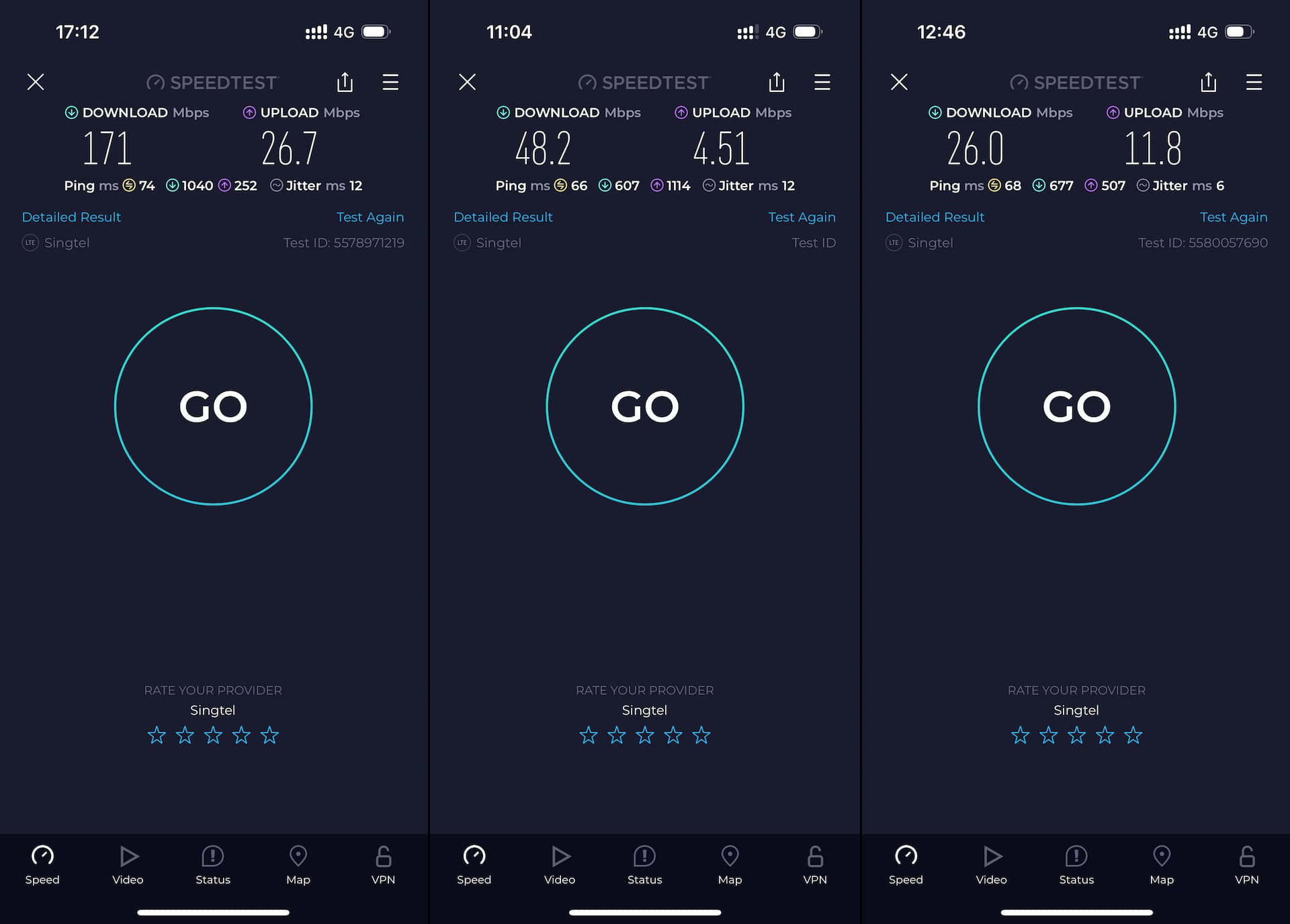 Download speeds ranged quite a lot, from tens to hundreds of Mbps, but it was mostly quite satisfactory. Upload speeds were relatively slower, at about 5-30 Mbps, but considering that generally speaking internet usage primarily involves downloading, this shouldn't be much of an issue. (At least it was not in my case.)
It appears that this eSIM uses Singtel's roaming network via Singapore, with Ping of around 70 milliseconds. This latency level is, in fact, better than average for a roaming network.
As far as my personal opinion goes, I found the connection "reasonably satisfying". The latency wasn't too noticeable, and the speed was decent, and I didn't encounter any major issues or downtime.
Tethering (Personal Hotspot) also works which is a plus.
Checking Data Balance
You can check your data usage and remaining balance through Airalo's official app (available for iOS and Android). When needed, you can also top up (buy additional data) through the app.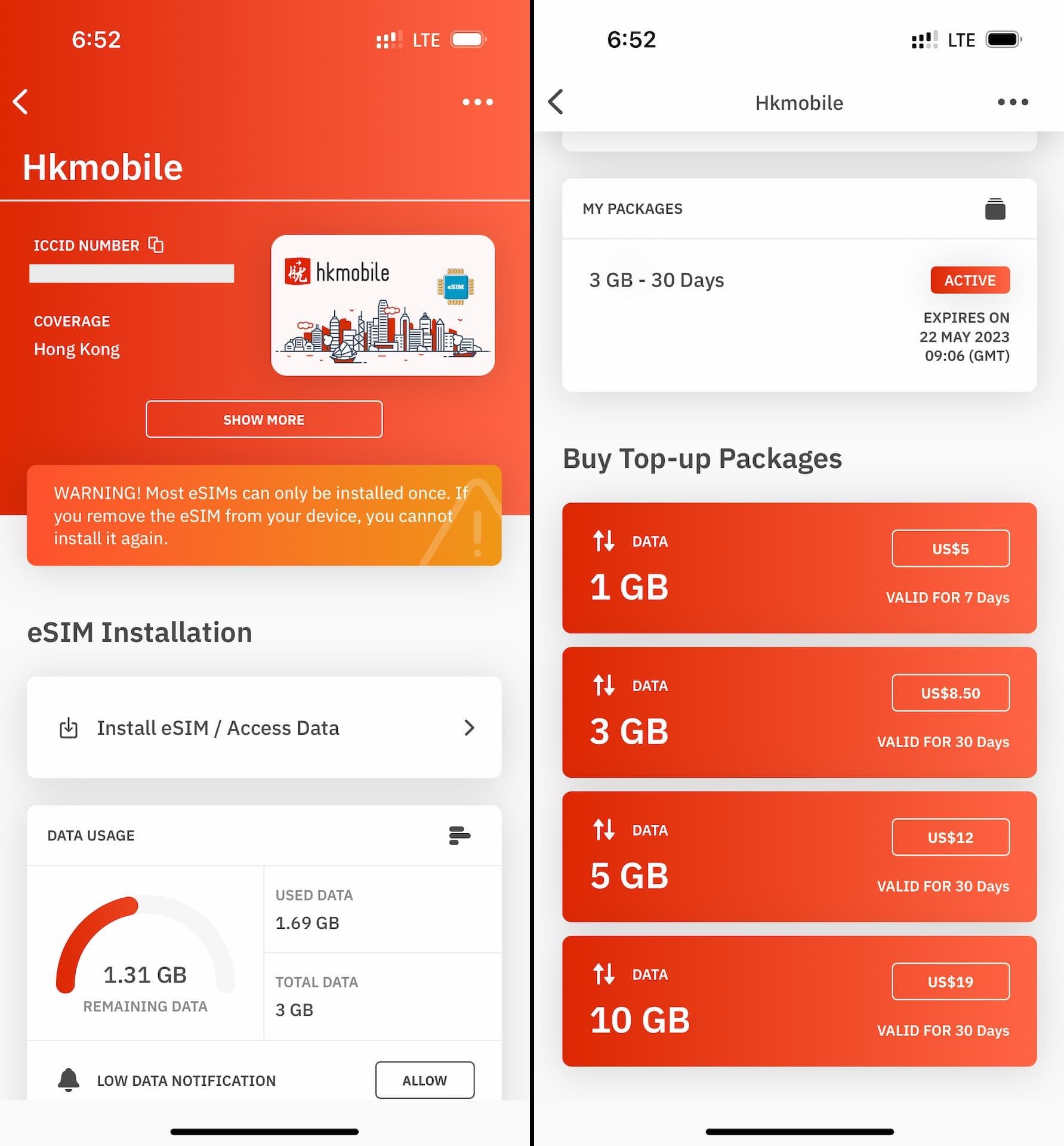 There are actually cheaper eSIMs out there but some don't come with a dedicated app. Keeping this in mind when choosing an eSIM may be helpful.
Airalo eSIM Summary
✅ The website and app are well-designed and user-friendly (and beginner-friendly)
✅ Their Hong Kong plan are reasonable, and the 10% discount code "ESIMDB10" is available to make them even more affordable
✅ The network quality in Hong Kong is more or less satisfactory (based on my personal experience)
Nomad
Nomad is another another eSIM startup, with a wallet-friendly pricing strategy (so to speak).
Over the past year or so, they've released an Android app and increased their data plan offering quite significantly, making them one of the most evolving travel eSIM services out there.
If you haven't used Nomad eSIM before, please refer to the article below for a detailed guide on purchasing and installing their eSIM (with plenty of images).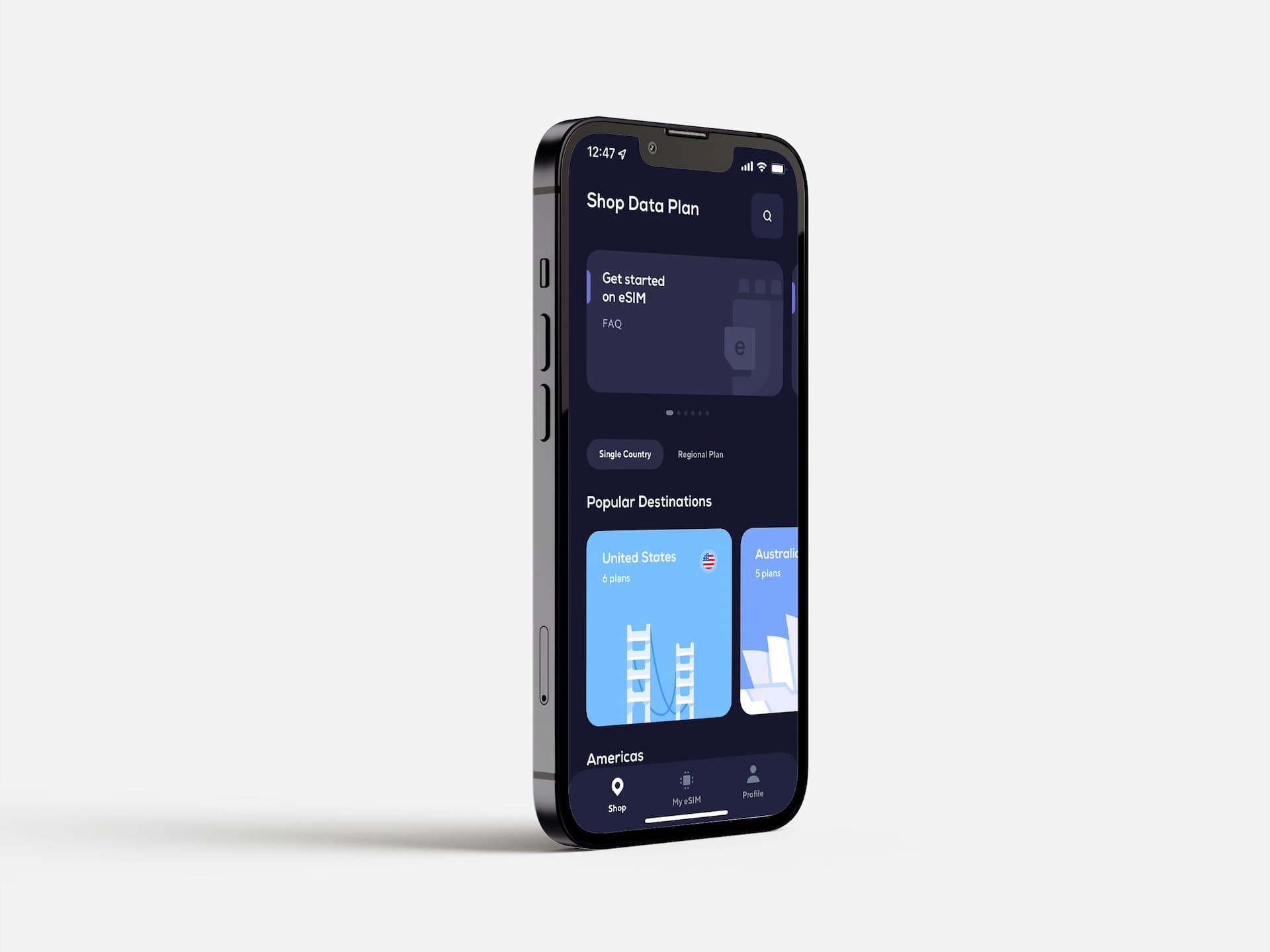 Also, don't forget to apply the $3 discount code "ESIMDB3" if you decide to go with Nomad!
Nomad's Hong Kong Plan Details
*The following information is accurate as of the time of writing. Please check Nomad's official website for the most up-to-date information.
There are five data plans for Hong Kong.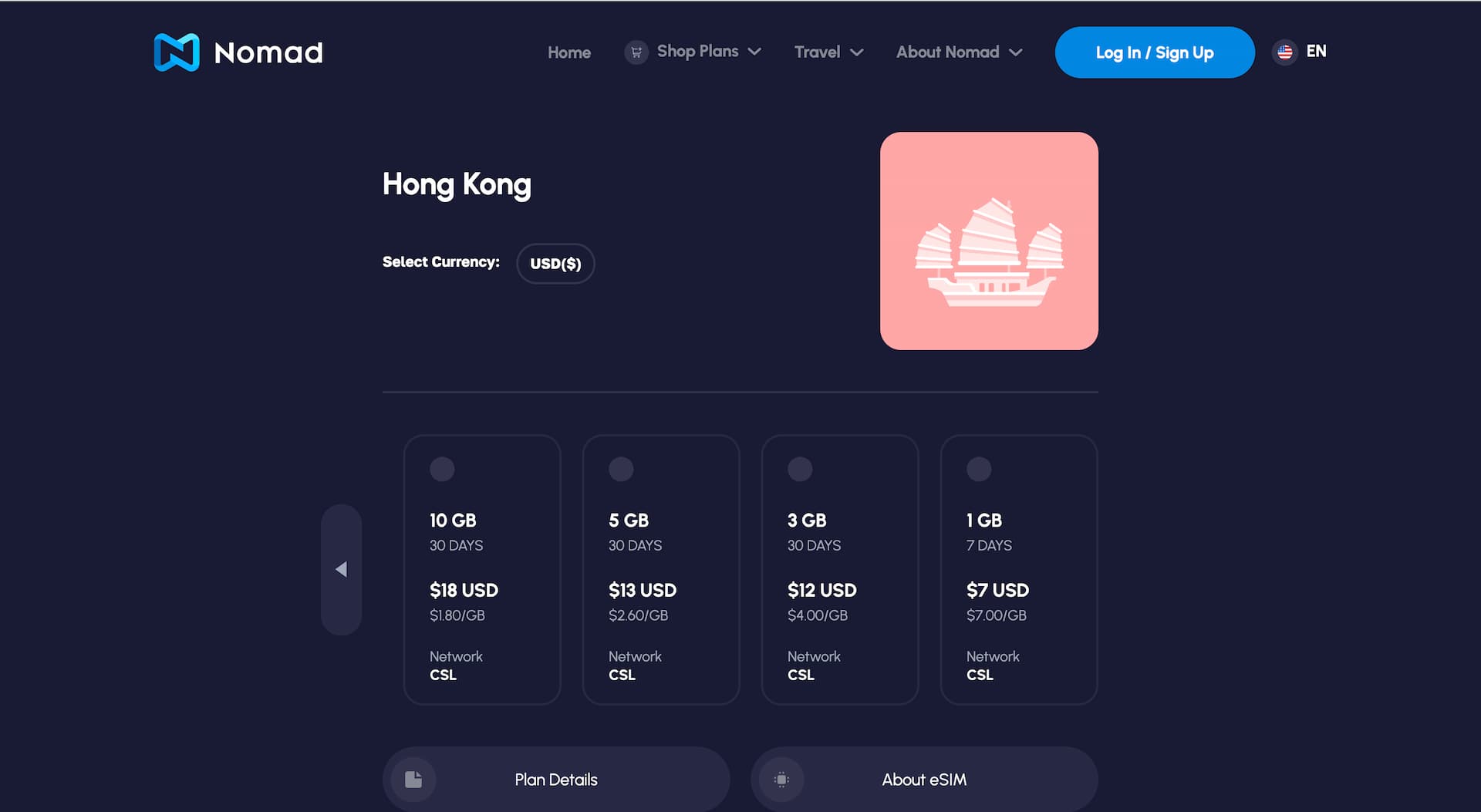 1GB / 7 days: $7
3GB / 30 days: $12
5GB / 30 days: $13
10GB / 30 days: $18
20GB / 30 days: $26
Setting aside the slightly puzzling pricing of only a $1 difference between the 3GB plan and the 5GB plan, the 5GB plan and above are likely the best deals especially with the $3 OFF code "ESIMDB3". The 1GB and 3GB plans seem less attractive.
If you go with the 10GB plan for example, the price comes down to $15 using the discount code, making it $1.5 per GB which is pretty good.
For my short stay, I chose their 3GB plan mainly for testing purposes.
Network Quality
One thing you need to remember is that to start using Nomad eSIM, you need to activate data. otherwise, you won't be able to access internet at your destination.
The process is straightforward. You just press "Activate Data Now" on the Nomad app or the website. That's it.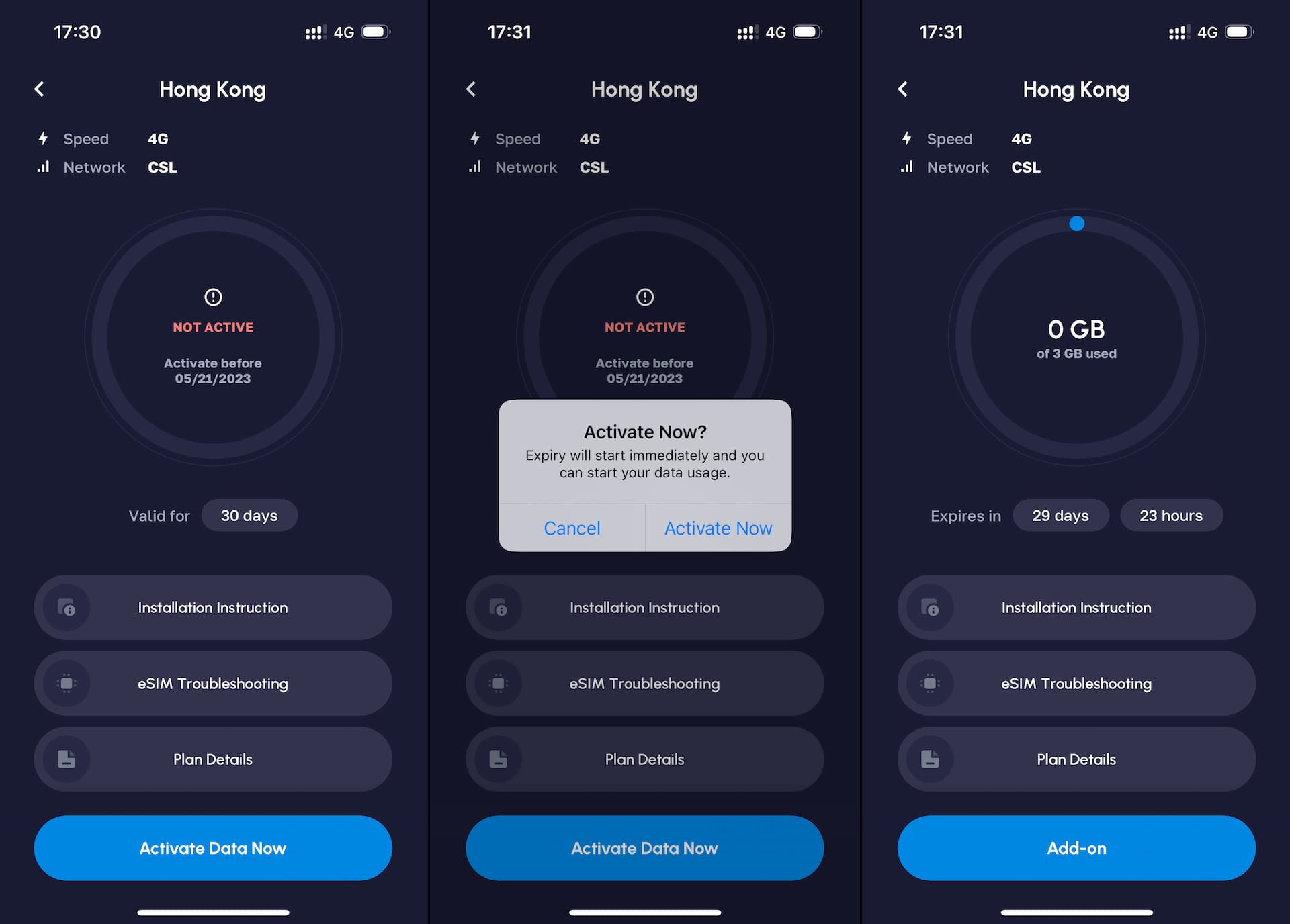 The plan's validity starts from this moment.
As long as data is activated, the settings you need to do to make it work is the same as Airalo:
Enable Data Roaming
Set it for Cellular Data
It connects to CSL LTE in Hong Kong.

Although there is a slight difference of 4G vs LTE, Nomad eSIM uses the same CSL network as Airalo's, so the coverage and reception was perfectly fine. I did not experience any network congestion in busy areas as well.
Speeds
Below are the results of speed tests I did with Nomad eSIM connected to CSL. From left to right, the locations are Hong Kong International Airport, Mong Kok, and Central.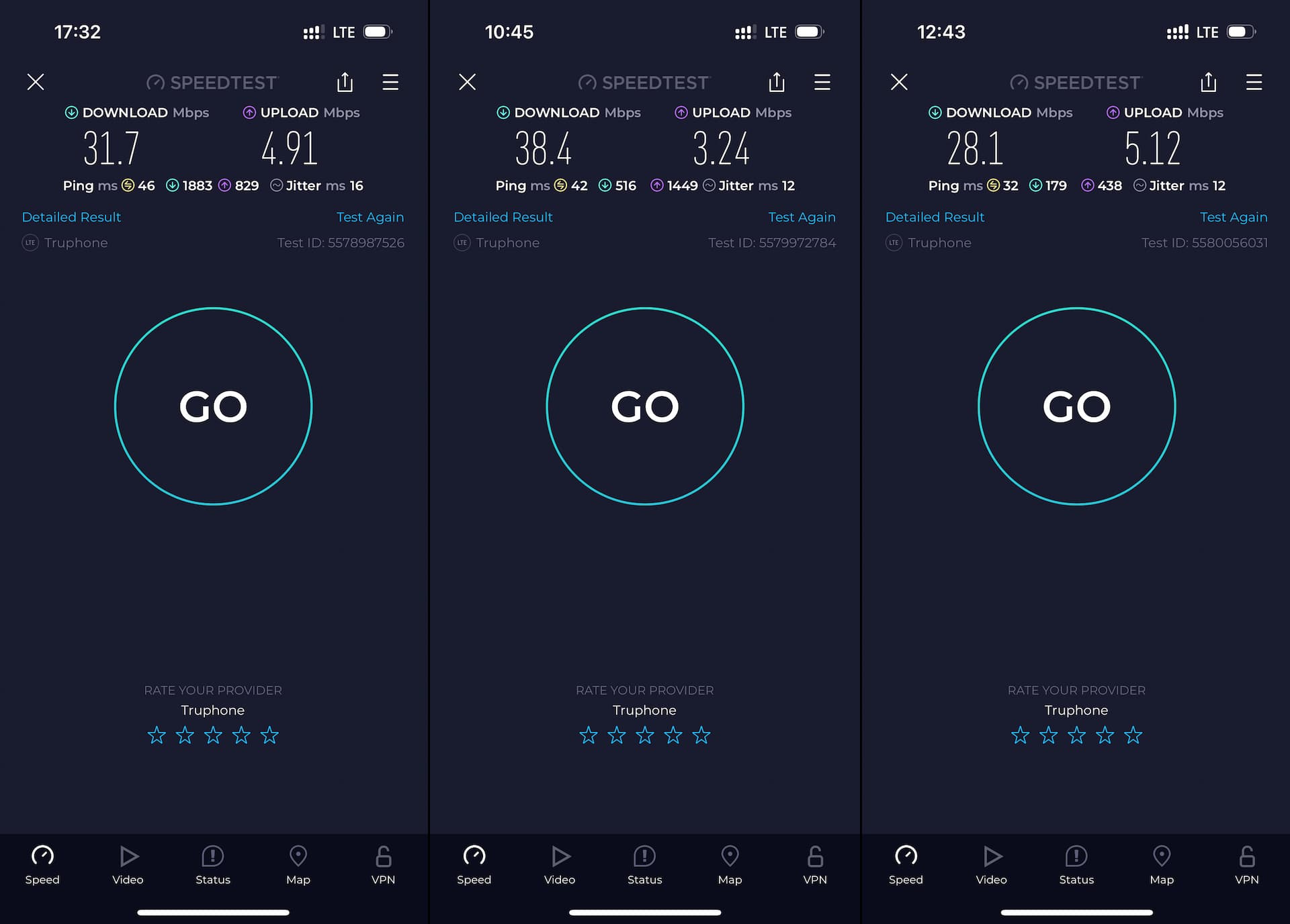 Both download and upload speeds are stable, although they're generally on the slower side. However, they were still perfectly usable for my internet use during my travel, such as Google Maps, Uber, Social media, browsing, etc.
This eSIM gets a Hong Kong IP address, resulting in a good Ping of around 40 milliseconds (IPS is PCCW Global).
So to summarize, speeds are slightly inferior to Airalo but latency is better. In terms of user experience, I didn't feel a significant difference between the two.
Tethering (Personal Hotspot) is supported.
Managing eSIM with Nomad App
You can check your real-time data usage and plan validity on Nomad's official web or mobile app, and you can also purchase additional data plans when needed (at the same price as the original plans).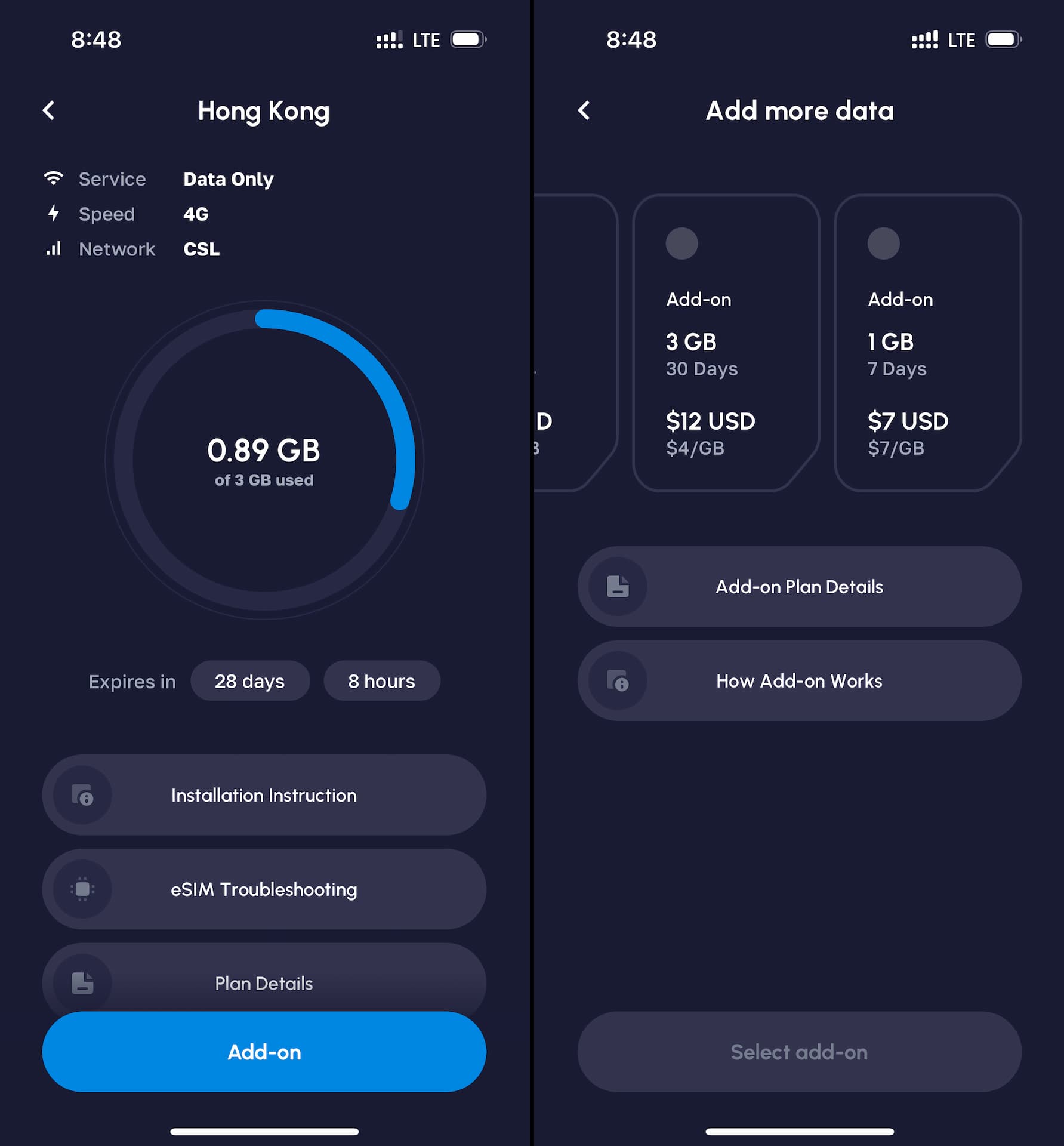 Their app is well-crafted and easy to use.
Summary of Nomad's Hong Kong eSIM
✅ The 5GB plan and above offer particularly good value for money, and the $3 discount code "ESIMDB3" is available to make them even more attractive.
✅ It uses CSL's network, providing decent speeds and low latency.
✅ Both their official web and mobile apps have a refined interface that makes it easy to manage eSIMs.
MobiMatter (3HK eSIM)
MobiMatter offers a variety of affordable eSIM products, including the ones from "3" Hong Kong (commonly known as 3HK). Most of the eSIM plans they sell are budget-friendly, so definitely worth checking.
The 3HK eSIM I tested comes with a Hong Kong phone number (+852) and free call minutes which make it attractive, though it requires user registration (eKYC) which I'll explain further in the later section.
For details on how to buy eSIMs through MobiMatter's website, as well as the benefits of registering an account, refer to the following article: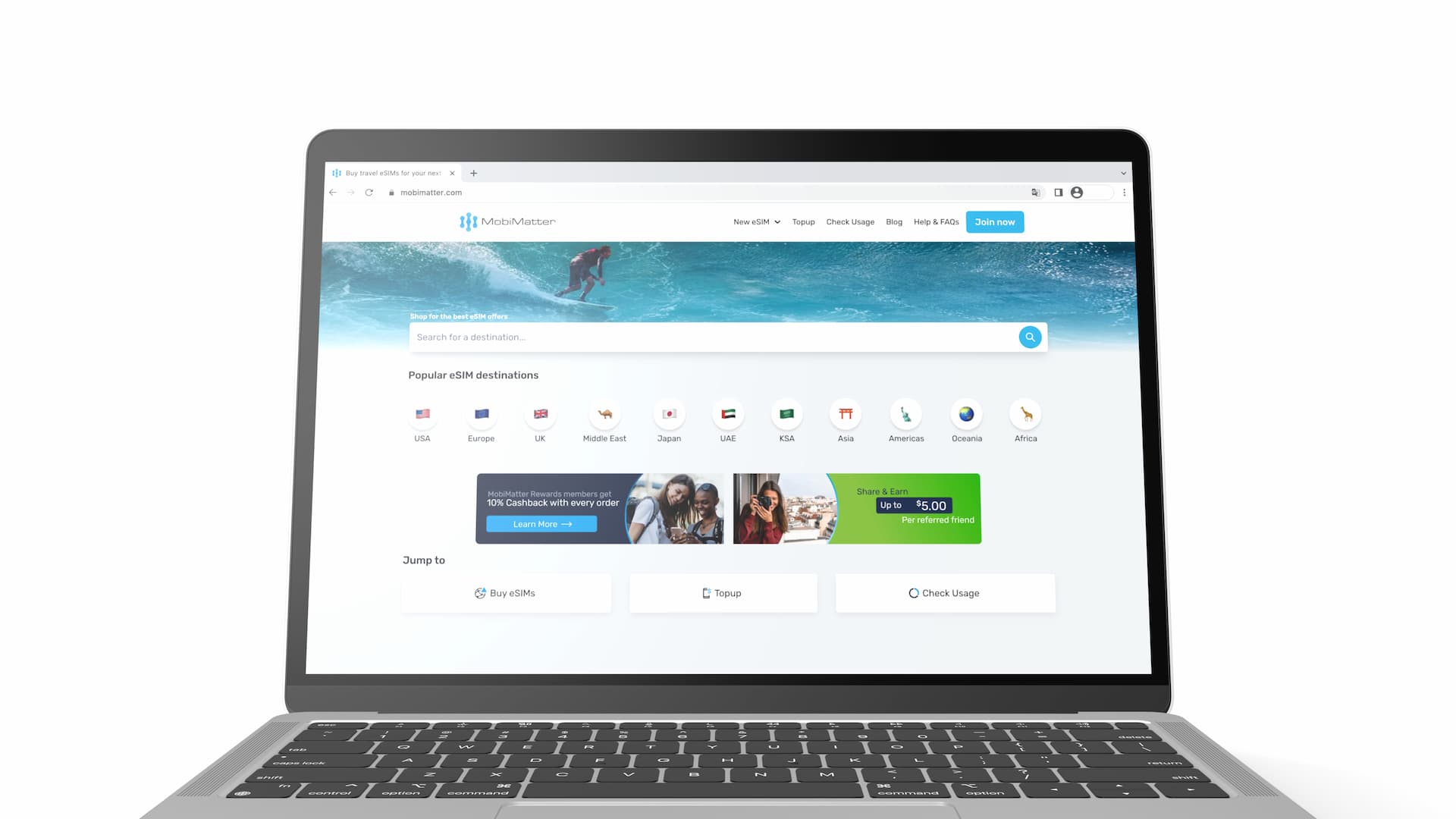 3HK Prepaid eSIMs from MobiMatter
The MobiMatter's Hong Kong eSIM page shows a list of eSIMs that work in Hong Kong.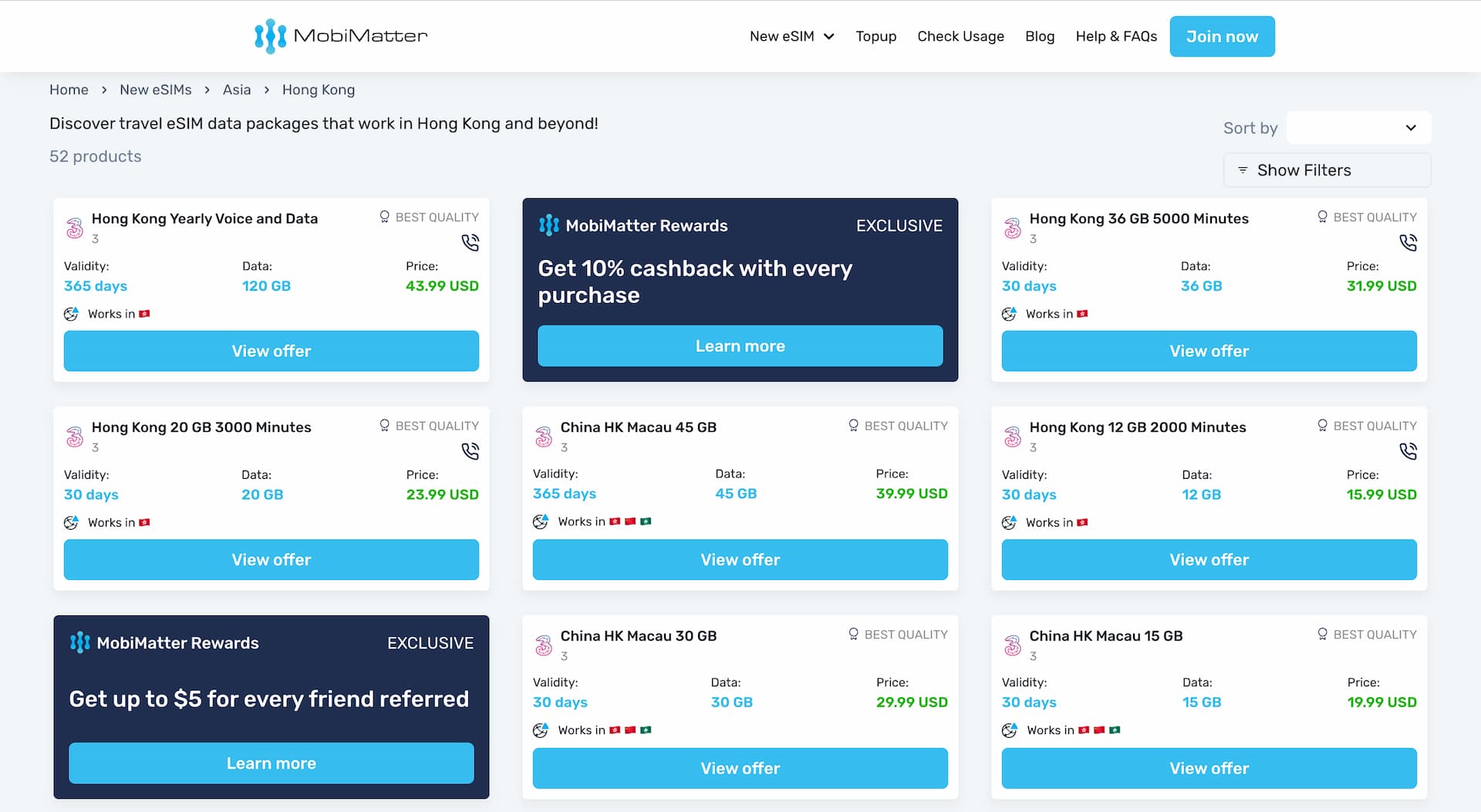 Most of them are under the 3 brand, and some of them are regional / multi-country use.
FYI, Hong Kong > MobiMatter page on esimdb might provide a clearer overview of their entire eSIM product lineup.
Among these eSIMs, the following four are exclusive to Hong Kong:
12GB / 30 days: $15.99 (w/ 2000 voice minutes)
20GB / 30 days: $23.99 (w/ 3000 voice minutes)
36GB / 30 days: $31.99 (w/ 5000 voice minutes)
120GB / 365 days: $43.99 (w/ 10,000 voice minutes)
All of them are provided by 3HK and come with a +852 phone number.
As you can see from the GB and price, these plans are excellent value for money. For most people, the 12GB plan should be sufficient unless you are staying for more than a month. If you register an account on MobiMatter, you can get 3% discount when purchasing, making it even more affordable.
The 1-year plan could be a really sweat deal for those who visit Hong Kong multiple times a year.
Some features and precautions of the 3HK eSIM include:
eKYC required through 3 Hong Kong's official website (*explained later)
Must be activated within 6 months
Plan validity starts upon scanning the QR code and installing the eSIM on your device
Tethering (Personal Hotspot) is supported
💡
MobiMatter also offers eSIMs that work in Hong Kong, Mainland China, and Macau. They are a great choice for those planning to visit neighboring areas as well.
Online Real-name Registration for 3HK eSIM
Since 3HK eSIMs come with a local Hong Kong phone number, eKYC called real-name registration is required under the law.
The process is explained in the email sent by MobiMatter, but below are the steps.
After arriving in Hong Kong, set your eSIM to cellular data and open the registration page (https://www.three.com.hk/prepaid/account/en/rnr-reg)
The eSIM's phone number or ICCID (identification number) will be automatically detected / entered (if not, you copy and paste either of them manually)
Scan your passport and the information will be entered automatically
Done
In my case, however, I couldn't access the URL in step 1 for some reason. So, I had no choice but to use Wi-Fi to access the webpage and manually copy-paste my number.
(For iPhone users, you can find the ICCID by going to Settings > General > About.)
In case you can't access the registration page using eSIM
If you open the registration page on a device connected to the internet via WiFi, you will see a screen where you can choose to log in with either a mobile phone number or ICCID. For mobile phone number, enter the 8-digit number without the initial +852; for ICCID, copy-paste the entire number. Then, you will receive an OTP (one-time password) via SMS to log in.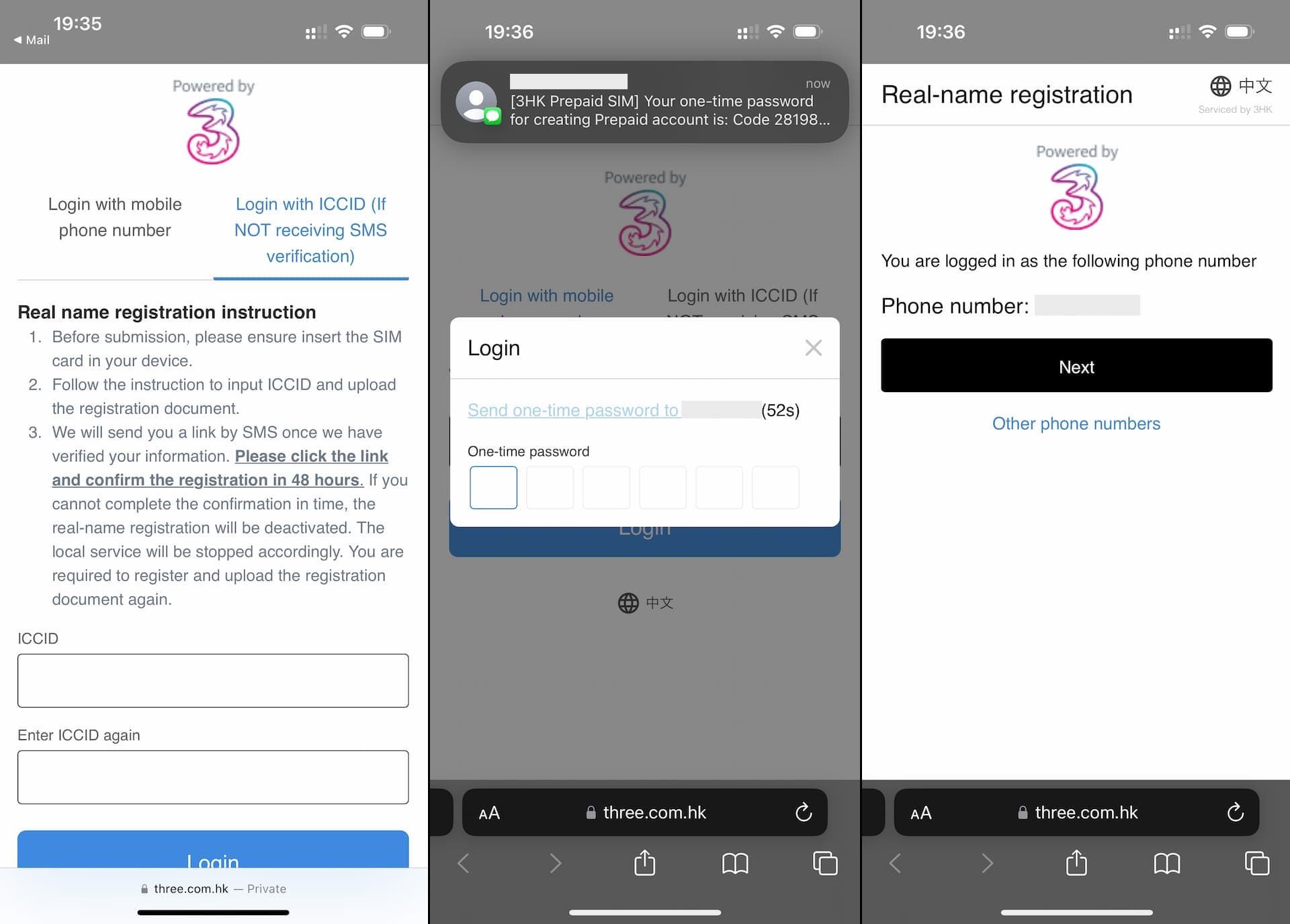 Once you log in, you'll choose between Individual user and Organization user. Select Individual user, scan your passport, check the auto-entered information, and press Confirm to complete the real-name registration.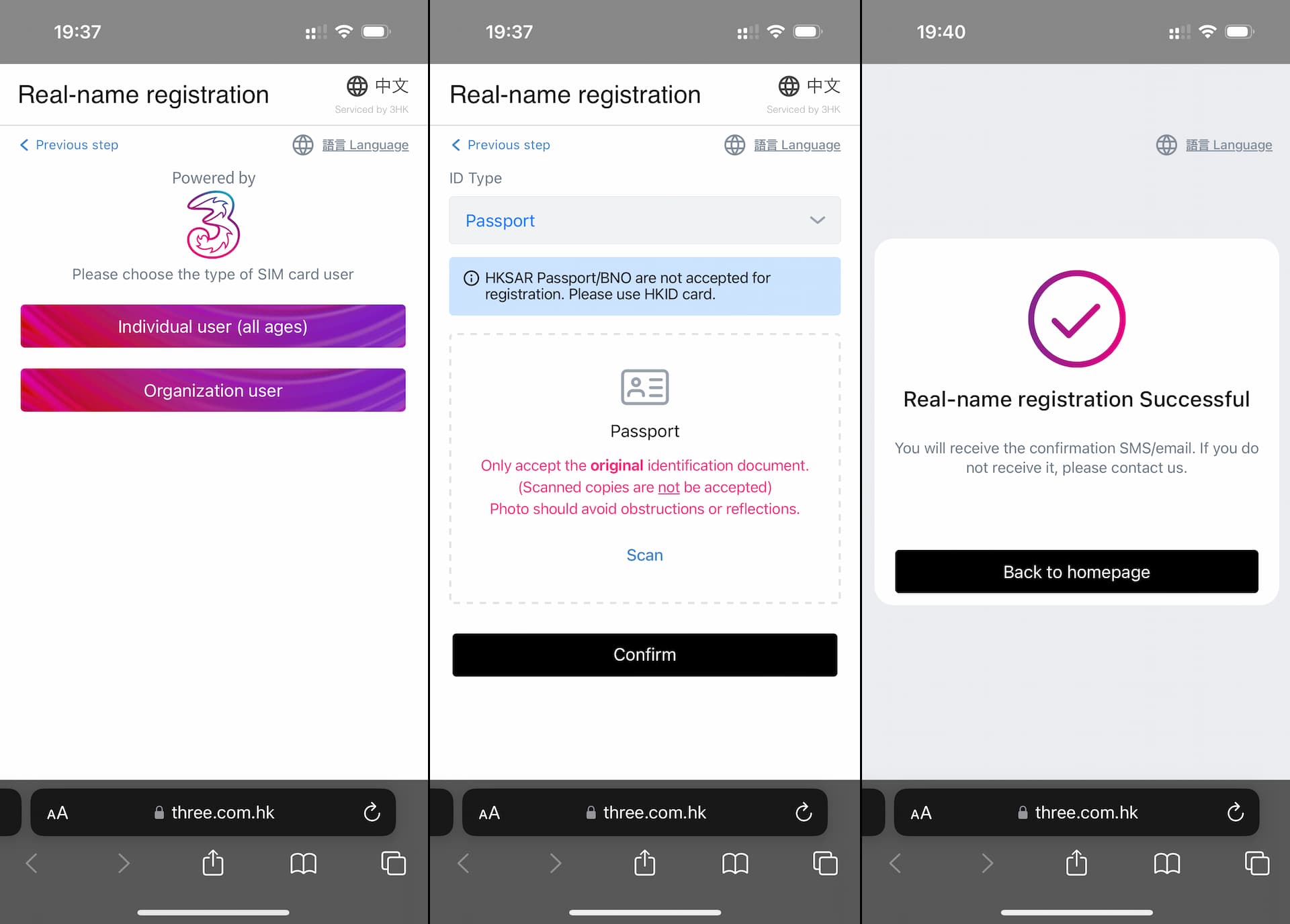 You'll receive a SMS shortly after when it's successful.
Although the process is a bit cumbersome, it should not take more than a couple of minutes, and your eSIM will be activated right away. I believe you can complete the process using the free Wi-Fi at the airport after you arrive in Hong Kong.
It would be ideal if you could complete the whole registration process before going to Hong Kong, but since you need to receive the OTP via SMS, it's only possible to do it in Hong Kong (physically).
Network Quality
As far as I observed, it was mostly on LTE, with occasional 5G.

There were no signal issues in the airport, Kowloon Peninsula, or Hong Kong Island.
Speeds
The screenshots below show the actual speed test results for the 3HK eSIM on LTE. From left to right, the locations are Kowloon Bay area, Mong Kok area, and Central area.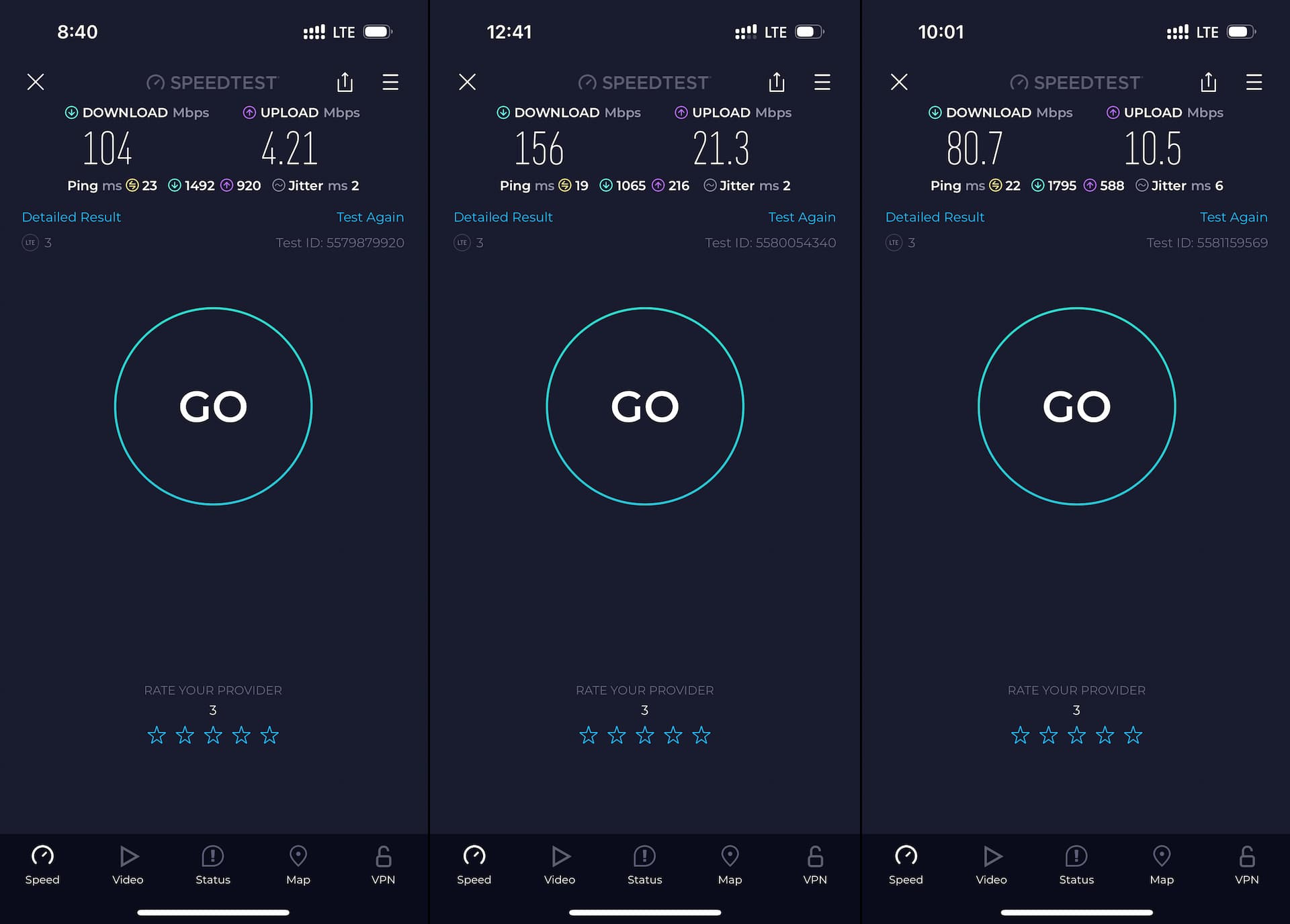 Since it's not a roaming connection, Ping is around 20 ms which is great. The download speeds are also good.
With a speed like this, it should be sufficient enough for most of the internet activities while traveling I believe.
You can check the remaining data using MobiMatter's official website or their mobile app.
3HK eSIM (sold by MobiMatter) Rundown
✅ Great value for money, probably the cheapest price per GB in the market
✅ User registration required for activation but can be done online with little effort
✅ Good Ping and satisfactory speeds for travelers
---
eSIM has potential
Prices for typical Hong Kong SIM cards usually fall between $10 and $20, depending on the data capacity (to my knowledge). I believe this article demonstrates that there are a number of eSIM options available at comparable prices as well.
Although physical SIM cards may still have the edge in terms of cost, I personally believe that eSIMs are a viable alternative, considering that they eliminate concerns about losing or swapping tiny cards.
And if/when you are considering eSIM for your trip, not just to Hong Kong but in general, be sure to compare various options on esimdb.com 👇