A Review of Best Travel eSIM Options for Taiwan
A summary of my actual experience using multiple prepaid eSIMs in Taiwan.
In this article, I've put together the information about leading prepaid eSIM options for people traveling to Taiwan, particularly focusing on two travel eSIMs - ones from Nomad and MobiMatter (provided by 3HK) which I personally tested during my recent trip to Taipei.
If you're planning a trip to Taiwan, be it for leisure or business, and considering an eSIM for your mobile internet needs while there, hope this article helps you find the right option.
There are a number of travel eSIMs available for use in Taiwan (over 30 at the time of writing) beyond those mentioned here. If you want to check various options and compare them, make sure to go check on esimdb.com for a comprehensive list. Although this article aims to present the best options available in the market, you may stumble upon new and attractive eSIM alternatives.
At present, the number of eSIMs I have personally tested is still quite limited. However, I plan to try out more eSIMs and update this article as opportunities arise.
*Since I'm an iPhone user, the information provided in this article is based on my experience with the iPhone.
---
Nomad
Nomad is a well-known traveler-focused eSIM service that excels in affordability and ease of use. I have personally used it several times in the past.
While there are a few eSIMs that are marginally cheaper than Nomad when looking solely at price, the difference is not significant (imo). In such cases, I tend to lean towards options that are more user-friendly and less stressful. Therefore, I chose Nomad this time.
For those who are new to Nomad, the article below will provide you with a clear picture of what the eSIM purchase process looks like.
✍️
$3 discount promo code "ESIMDB3" is available for Nomad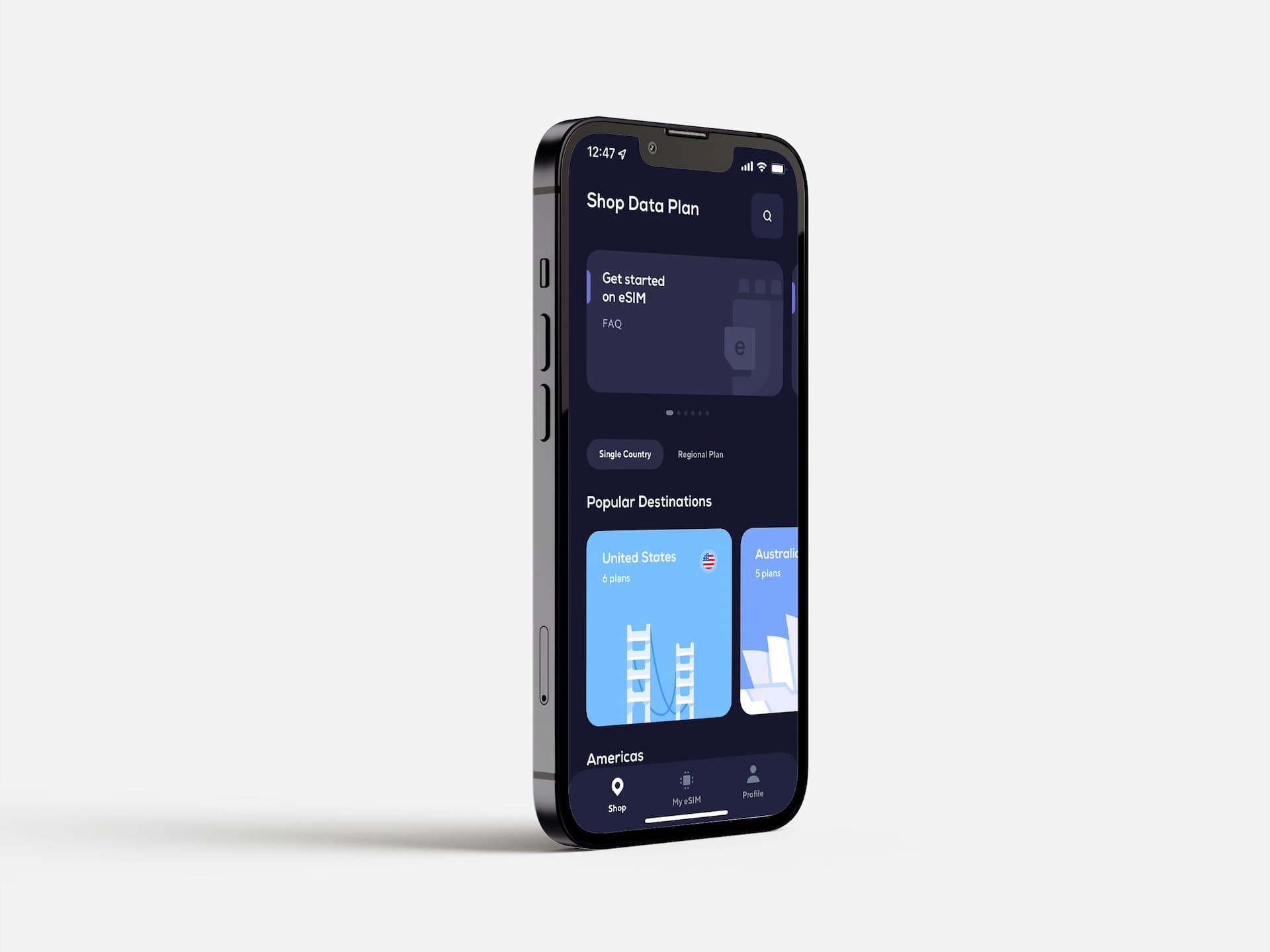 Taiwan Data Plans
*The following information is correct at the time of writing. Please check Nomad's official website for the latest information.
Nomad offers a total of 13 data plans for Taiwan. However, three of them (provided by Truphone) are way more expensive than the others, thus the following 10 plans as practical choices.
| | Data | Validity | Price | Price/GB |
| --- | --- | --- | --- | --- |
| Local Taiwan | 1GB | 7 Days | $4 | $4 |
| Local Taiwan | 3GB | 15 Days | $6 | $2 |
| Local Taiwan | 5GB | 15 Days | $9 | $1.8 |
| Local Taiwan | 10GB | 30 Days | $15 | $1.5 |
| Local Taiwan | 15GB | 30 Days | $19 | $1.27 |
| Local Taiwan | 20GB | 30 Days | $34 | $1.7 |
| Local Taiwan | 30GB | 30 Days | $60 | $2 |
| Local Taiwan | 40GB | 30 Days | $75 | $1.88 |
| Local Taiwan | 50GB | 30 Days | $90 | $1.8 |
| Local Taiwan | 100GB | 60 Days | $170 | $1.7 |
Nomad offers a diverse lineup of data plans ranging from 1GB to 100GB, all of which are quite affordable. However, as you'll notice when looking at the cost per GB, plans over 20GB become less cost-effective (quite surprising). The 15GB plan offers the best value for money, but any plan between 3GB and 15GB is also reasonably good.
In my case, as it was only a short stay of a few days and I had other eSIMs to test as well, I opted for the 3GB plan.
Note that these are all data-only plans and do not include voice/SMS.
Network Quality in Taipei
For Nomad eSIM, some plans require Data Activation before use, but the Taiwan plan/eSIM I purchased this time from them did not require that. After purchase, all you need to do is install it on your device, and it's good to go. Once you arrive in Taiwan, you can start using mobile data by
Enabling Data Roaming
Set it for Cellular Data
then you should be able to access internet within 10 seconds or so. (At least that was the case for me.)
The local network it connects to is Chunghwa Telecom. And I got 5G pretty much all the time.

Chunghwa Telecom is the largest telecom company in Taiwan, representing more than 40% market share in the mobile market. Their coverage is excellent (although 5G is available only in major cities).
During my stay in and around Taipei, there were instances where the signal dropped to two bars, but I never experienced being out of service.
Speeds
To put the conclusion first, it worked okay, but it wasn't as fast as I had expected. Below are the actual results from the speed test I conducted. From left to right, the locations are Taiwan Taoyuan International Airport, Taipei Station, and near Taipei 101.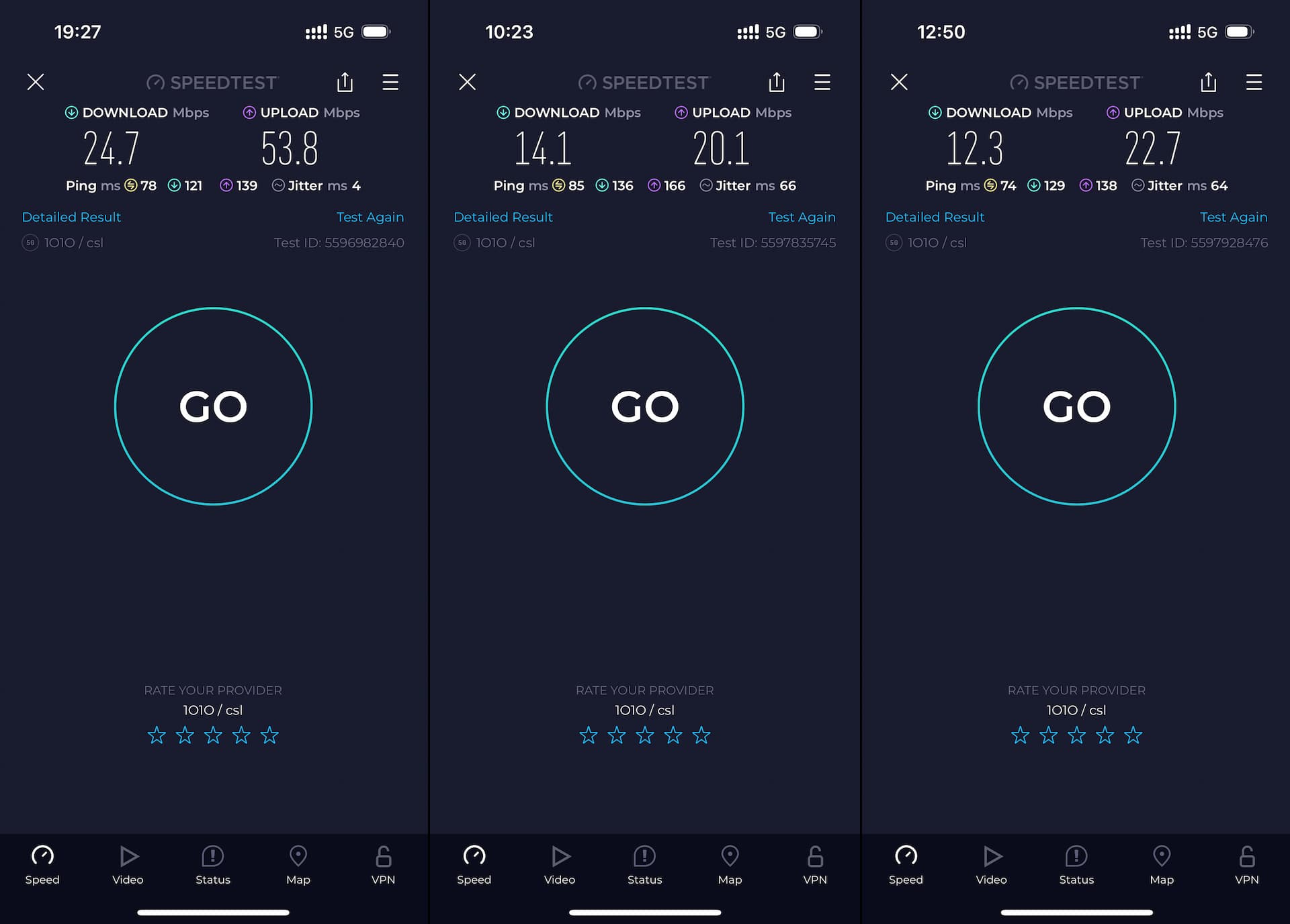 On the whole, the upload speed was slightly better than the download speed. However, with speeds around a couple of tens of Mbps, it's on the slower side, though still okay-ish for travel needs.
Although this Nomad eSIM displayed csl from Hong Kong as the provider, the IP address I got was Singapore's, resulting in a ping (which indicates the degree of delay = latency) of around 80 milliseconds.
Throughout my use in Taipei, the service was mostly adequate, except one occasion where it was noticeably slow, suggesting possible data congestion.
This eSIM service supports tethering, allowing you to share internet connection with multiple devices.
Checking Data Balance
You can check your data usage and, if needed, purchase additional data plan(s) through the Nomad app (available on iOS and Android) or on their website (web app).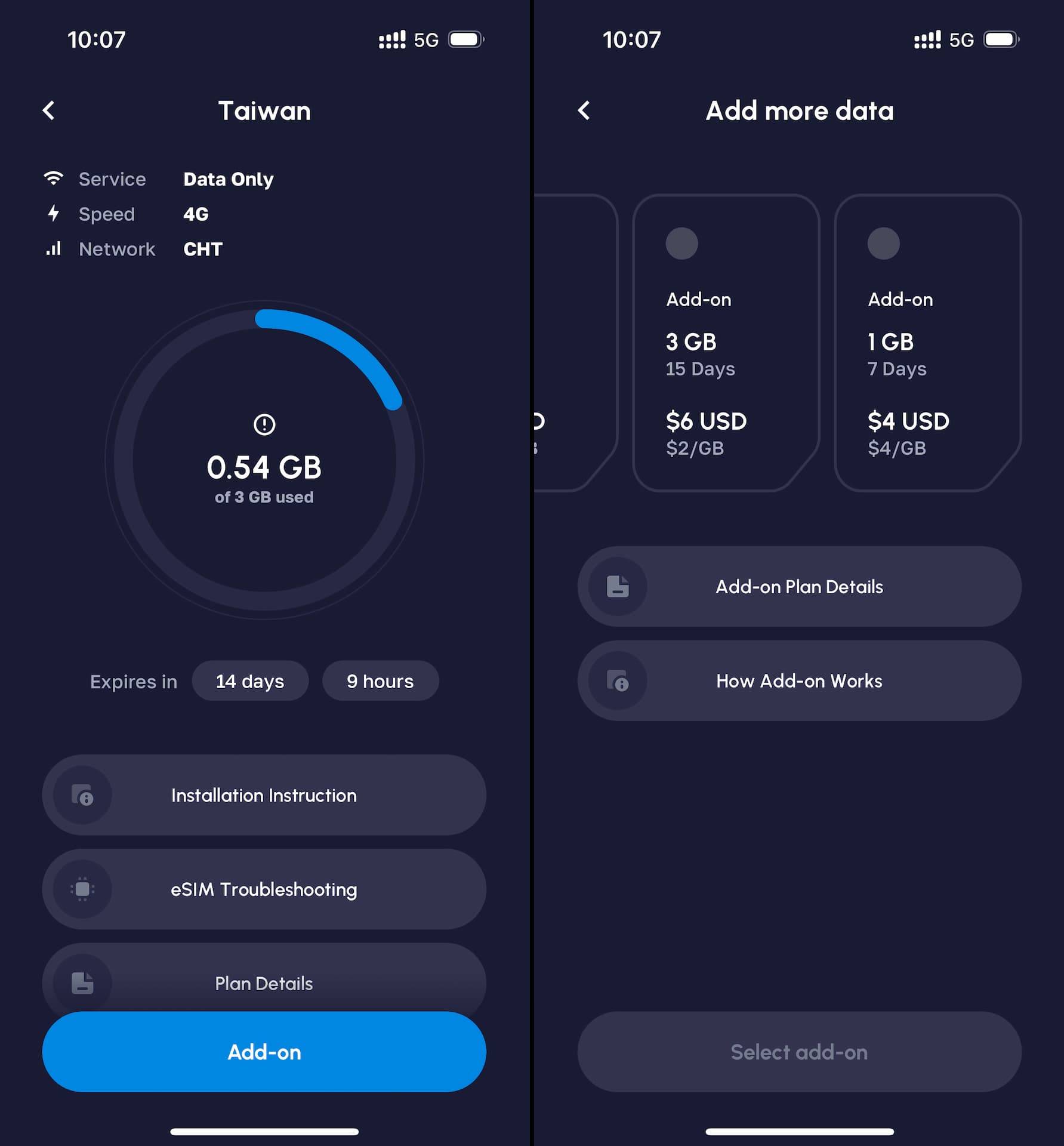 Some eSIM resellers do not offer apps or features like this, so be sure to check how easy it is to check data balance before purchasing your eSIM.
Nomad's Taiwan eSIM: Recap
✅ The plan options are quite extensive, with the sweet spot being between 3GB and 15GB. A promo code 'ESIMDB3' is available for a $3 discount.
✅ No activation or registration required, making it easy to start using the service. In Taiwan, it connects to Chunghwa Telecom network with good 5G coverage in Taipei.
✅ While neither the speed nor the latency are particularly impressive, they are sufficient for mobile internet while traveling.
MobiMatter (3HK eSIM)
Next up is 3HK eSIM offered by MobiMatter. MobiMatter is a company/website that provides various prepaid eSIM products that are great value for your money. The Taiwan eSIM I tested this time, provided by the Hong Kong telecom company '3HK', is one of them.
Their website is pretty straightforward but if you are interested, feel free to check out the article below explaining a detailed, step-by-step guide on how to purchase an eSIM from their site.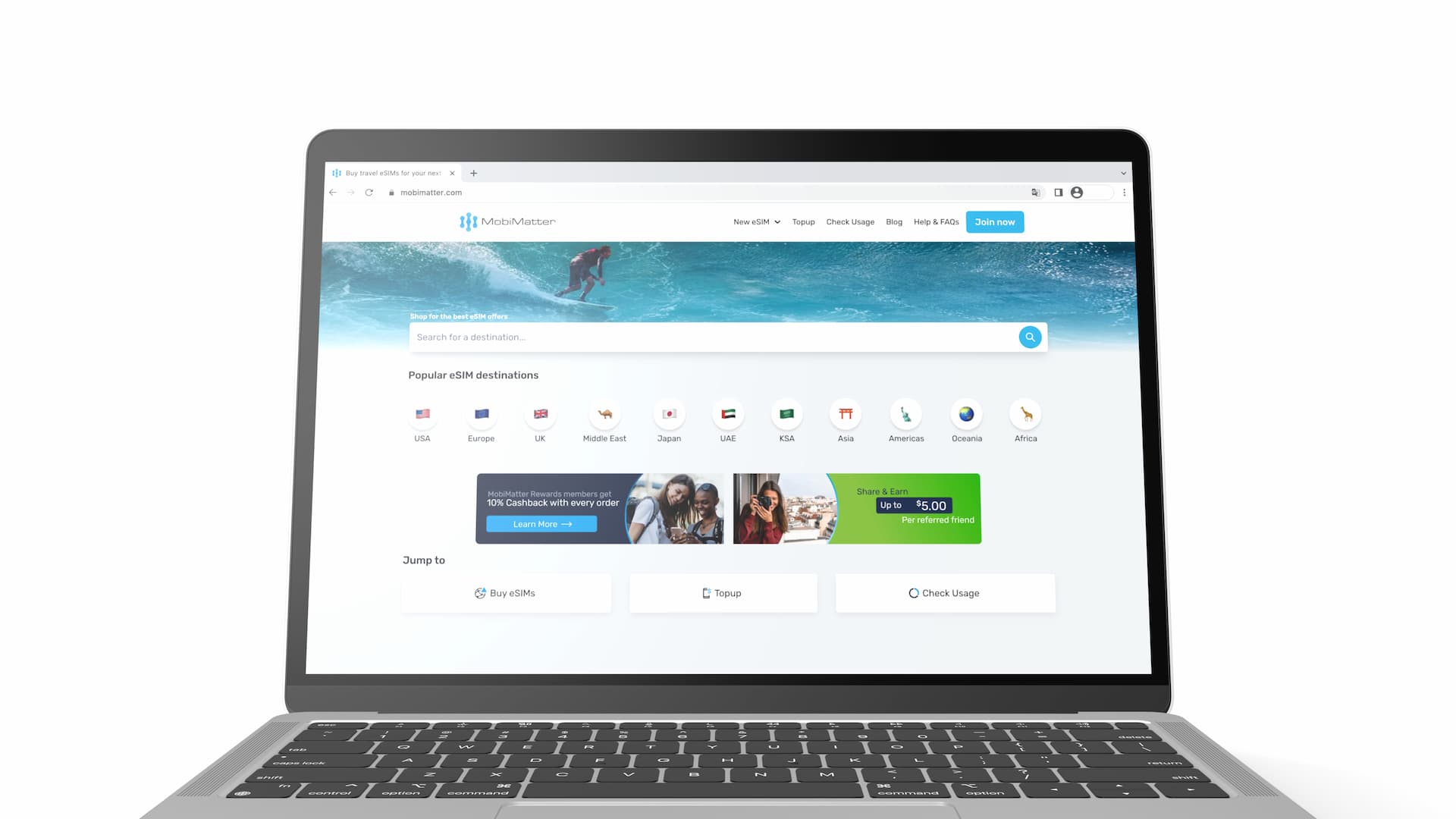 Overview of 3HK's eSIM for Taiwan
*The following information is correct at the time of writing. Please check MobiMatter's Taiwan eSIM page for the latest information.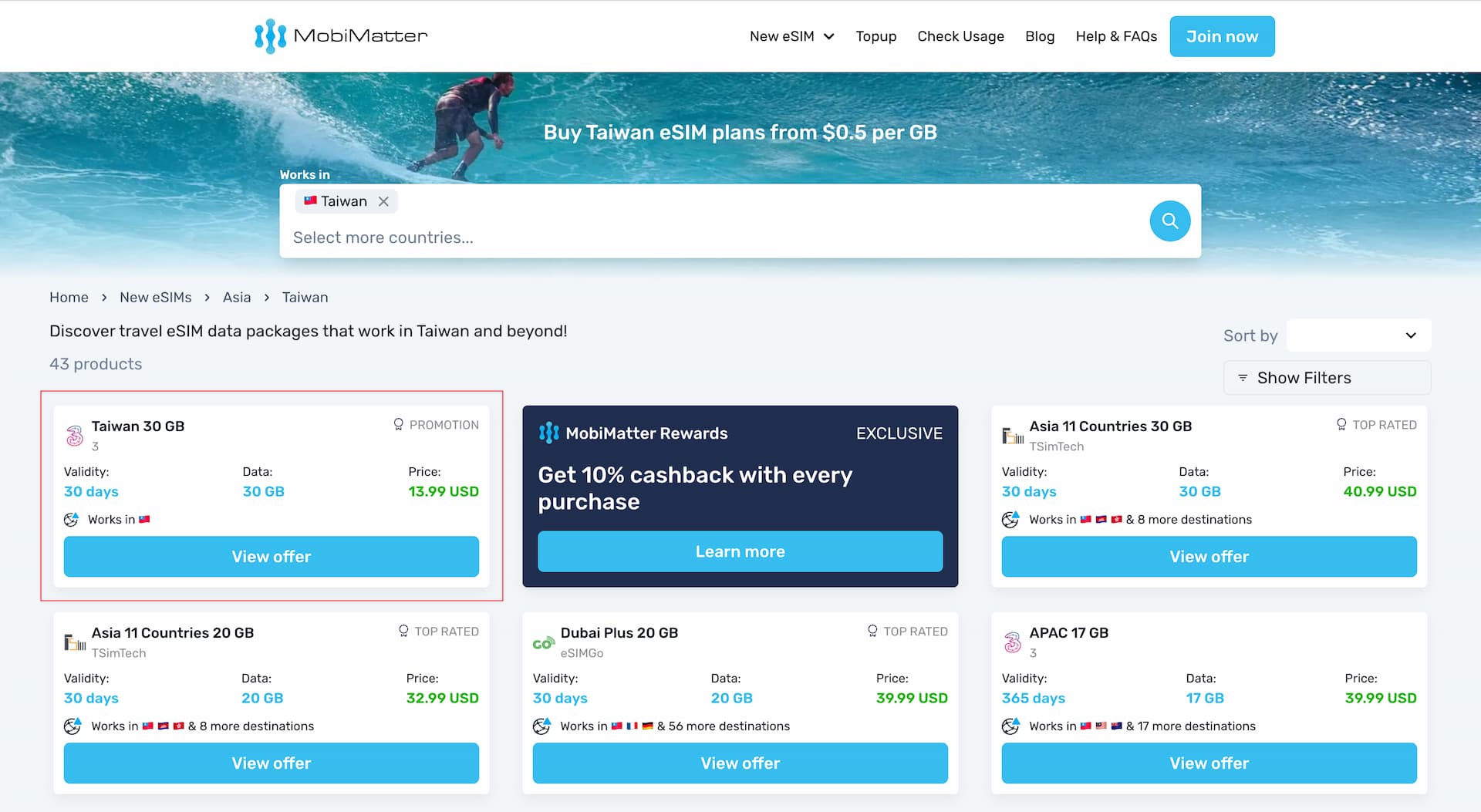 The Taiwan eSIM page on MobiMatter website showcases an array of travel eSIMs available for use in Taiwan, but the one that stands out for its exceptional cost-effectiveness (by far) is the 'Taiwan 30 GB' product offered by 3HK.
The details of the Taiwan 30 GB eSIM are as follows:
Data capacity: 30GB
Validity period: 30 Days
Price: $13.99
Price per GB: $0.47
You might think that 30GB of data is just way too much (although it'd depend on the length of stay of course...), but what attracted me was its low price despite its abundance of GB. When it comes to mobile data, more is always better. Having more GB means less worry about running out. Right?
Plus, this eSIM supports tethering (Personal Hotspot). Great for couples and families. Moreover, even if you use up the 30GB, you can continue to use data at a slower speed of 128kbps.
Regarding the price, you can get a 3% discount if you create a MobiMatter account, so the price would be slightly lower than the one mentioned above in that case.
A couple of things to note about this 3HK eSIM are that it is for data only (no voice/SMS), and the validity period starts as soon as you add the eSIM to your device.
While some of the 3HK eSIMs offered on MobiMatter require user registration or activation, this eSIM for Taiwan requires no registration.
Its Performance in Taipei
Much like the Nomad eSIM, you can start using this 3HK eSIM by simply enabling Data Roaming and assigning it to Cellular Data in Settings.
It might take a little time to connect at first, but you should be connected within a minute.
The MobiMatter website states that it would connect to Far EasTone network, but it connected to Chunghwa Telecom. The network showed LTE.

As I mentioned earlier, Chunghwa Telecom has great coverage across Taiwan. And I did not get any issues with reception in Taipei.
Speeds
It worked great. The connection was fast, and response was quick.
As supporting data, below are the Speedtest results. From left to right, the locations are Taiwan Taoyuan International Airport, Taipei Station, and near Taipei 101.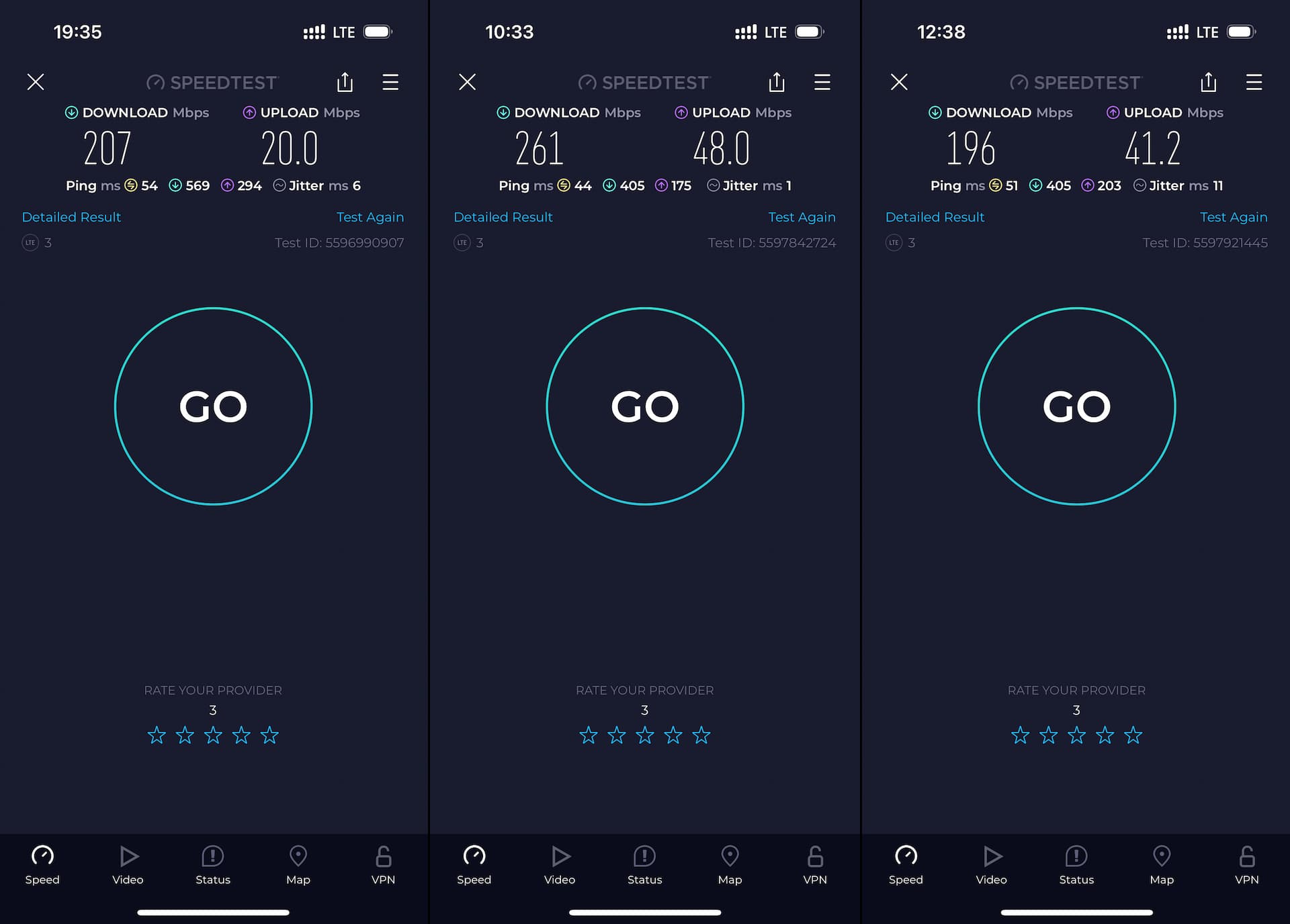 The upload is decent, but the download speed is an order of magnitude better than Nomad eSIM.
To help you picture the difference of how they performed, take how quickly media (images and videos) load on Twitter as an example. Using Nomad's eSIM, I experienced a slight delay before videos would autoplay, whereas with 3HK eSIM, videos started playing without any noticeable lag and loaded very smoothly.
Since data travels via Hong Kong with this eSIM, the expected latency (Ping) is around 50 milliseconds, which is totally acceptable imo and is better than Nomad.
Checking Data Usage
I received a short message from 3HK like the one below when my data usage reached 300MB. Presumably, they should send you a message like this each time you cross a certain threshold. (I only used about 6GB in total, so I only received the message once.)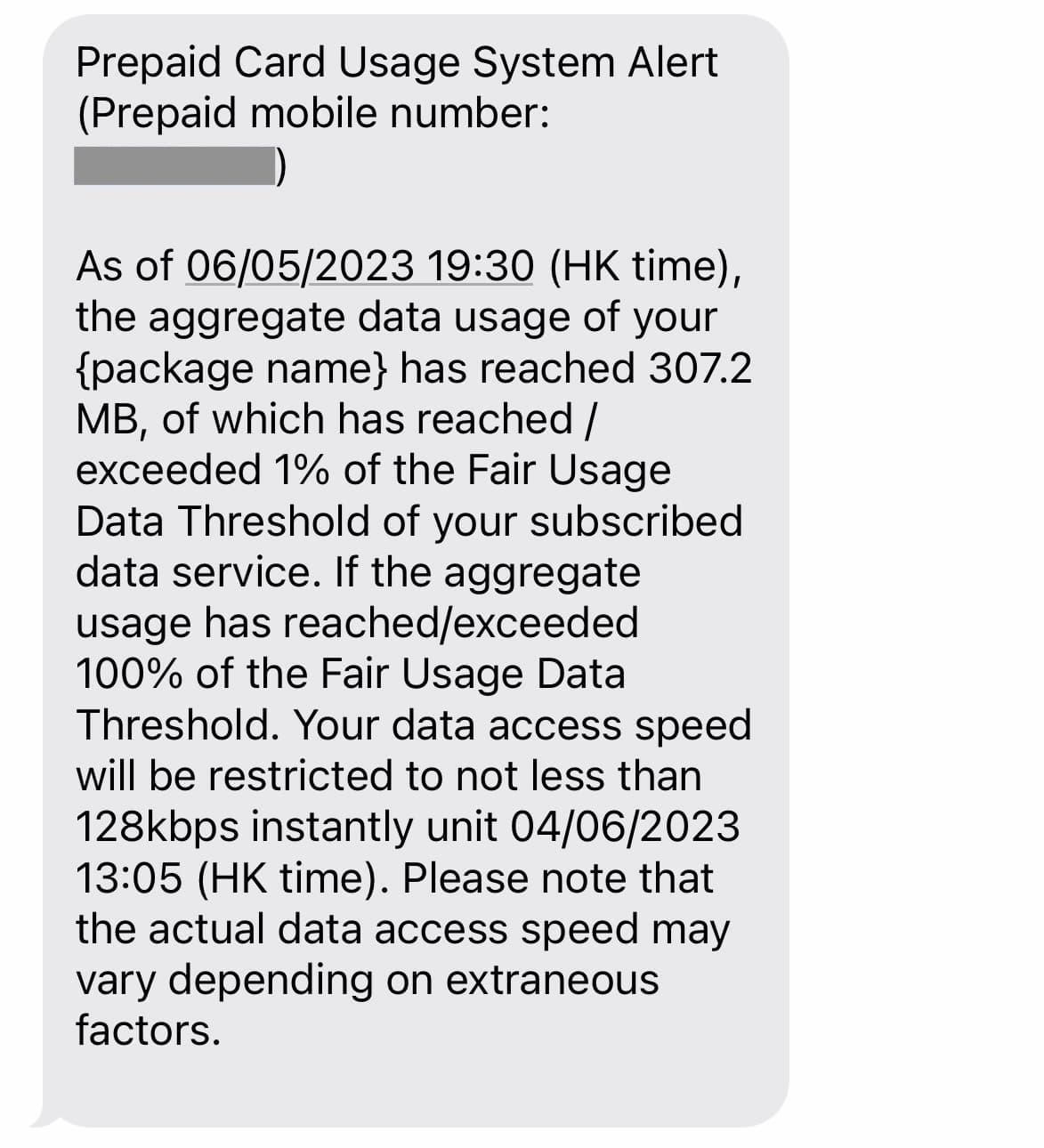 You can also check your data usage with MobiMatter mobile apps or on their website by logging in.
Summary of 3HK eSIM offered by MobiMatter
✅ There is only one plan but it offers unbeatable value for money with more-than-enough data volume. Tethering is also supported.
✅ Speed and latency are both satisfactory, with great coverage on Chunghwa Telecom's LTE network.
Be sure to check the Taiwan eSIM page below, as sometimes products on MobiMatter site are replaced or prices are changed.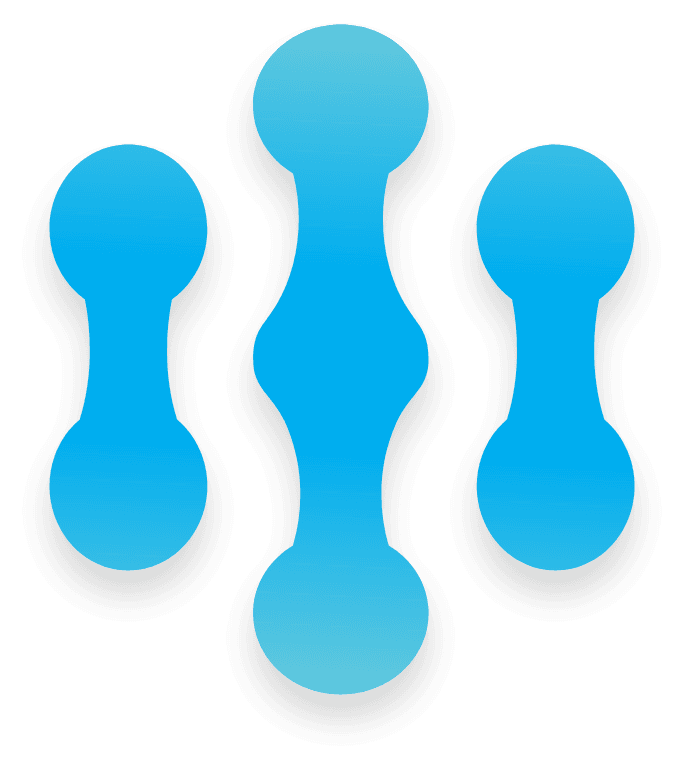 Other eSIM Options
Below are some more prepaid eSIMs that seem affordable (although I have not personally tested them in Taiwan myself).
Maya Mobile
Maya Mobile is an emerging travel eSIM service provider based in the US, offering extensive range of data plans at affordable price points.
Official Website 👇

The website is well-designed and easy to navigate / purchase.
They have 5 data plans for Taiwan, and all of them are valid for 30 days.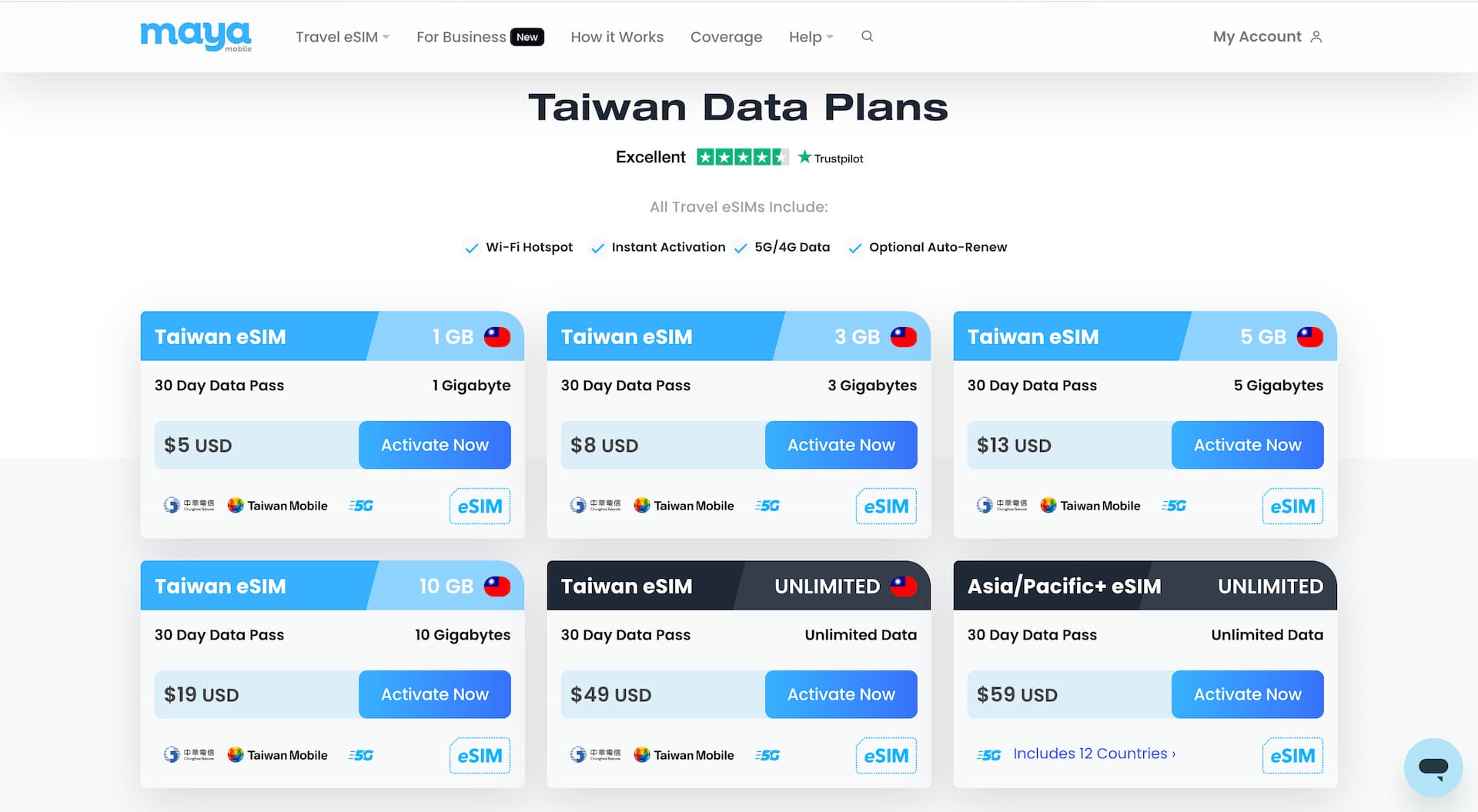 1GB / 30 Days : $5 USD
3GB / 30 Days : $8 USD
5GB / 30 Days : $13 USD
10GB / 30 Days : $19 USD
Unlimited / 30 Days : $49 USD
They also have more data plans for Asia/Pacific region (covering 12 countries) for those who are traveling several countries in the region.
Yoho Mobile
Yoho Mobile is another eSIM retailer with a vast collection of prepaid plans.
Taiwan eSIM offered by Yoho Mobile 👇
What makes them different from the other sellers, in my opinion, is their "10GB Daily" plans.
Below is a list of their 10GB Daily plans which I find very unique and interesting:
10GB Daily + Unlimited / 3 Days : $7.86
10GB Daily + Unlimited / 5 Days : $10.87
10GB Daily + Unlimited / 7 Days : $14.72
10GB Daily + Unlimited / 10 Days : $20.13
10GB Daily + Unlimited / 15 Days : $28.75
10GB Daily + Unlimited / 30 Days : $56.35
*With these plans, speed will be throttled down to 128kbps when you reach 10GB data usage in a day (reset daily).